United Church Of Christ Sues Over North Carolina Ban On Same-Sex Marriage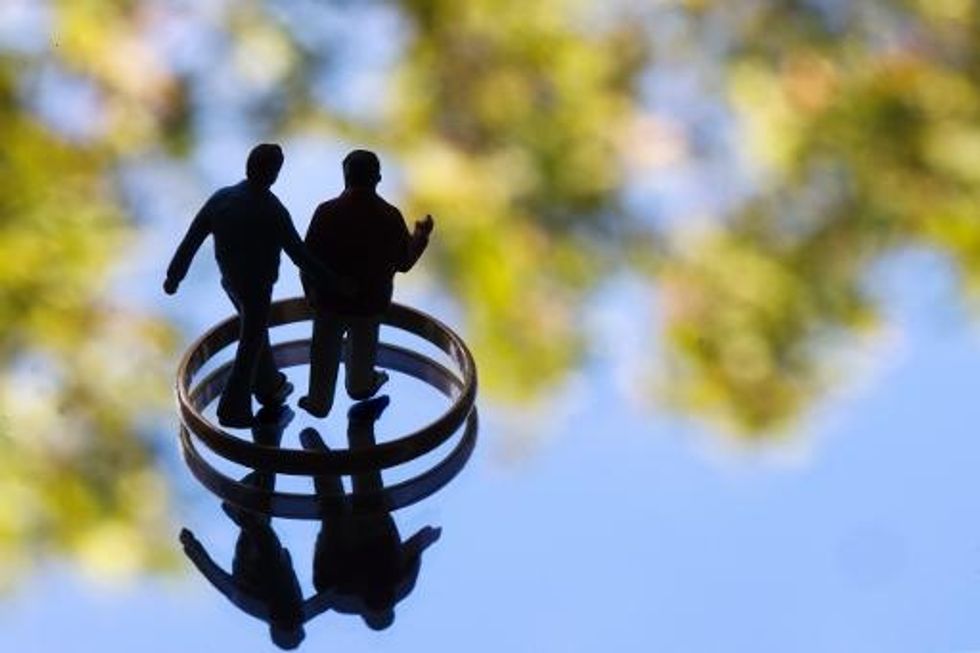 By Michael Gordon, The Charlotte Observer
CHARLOTTE, N.C. — A group of Charlotte-area ministers have helped launch the country's first faith-based challenge to a same-sex marriage ban, claiming in a lawsuit filed Monday that North Carolina's laws block them from practicing their religion.
The local religious leaders, who include a rabbi, are joined by colleagues from Asheville and Raleigh along with a national denomination, the United Church of Christ. All of them support the rights of same-sex couples to marry.
They say state prohibitions, including a constitutional amendment passed by voters in 2012, violate their First Amendment right of freedom of religion.
"The core protection of the First Amendment is that government may not regulate religious beliefs or take sides in religious controversies," says Jonathan Martel, a Washington, D.C., attorney helping with the case.
"Marriage performed by clergy is a spiritual exercise and expression of faith essential to the values and continuity of the religion that government may regulate only where it has a compelling interest."
The lawsuit was expected to be formally announced in 10:30 a.m. Monday press conference at Holy Covenant United Church of Christ. Church pastor Nancy Allison is one of the persons suing Attorney General Roy Cooper and other state officials, asking that the federal courts in the Western District of North Carolina strike the laws down.
It becomes the 66th legal challenge to marriage bans now in the courts, three of them in North Carolina. But it is the first to attack same-sex marriage bans on religious grounds, said Charlotte attorney Jake Sussman, lead counsel for the group.
It also marks the first time an entire denomination has joined the marriage battle. UCC, headquartered in Cleveland, Ohio, has more than 1.1 million members and 5,100 local churches. North Carolina is home to more than 24,000 members and 155 churches, including Holy Covenant in Charlotte and Trinity Reformed in Concord.
Joining the denomination and clergy as plaintiffs are same-sex couples in Charlotte, Asheville, Concord and Huntersville. They say the state laws violate their equal-protection and due-process rights under the 14th Amendment.
Betty Mack and Carol Taylor of Asheville have been in a committed relationship for 41 years, the lawsuit says. The women, both in their 70s, say they want to be married in their Unitarian Universalist church, and that they have requested a license but have been turned down.
State law says it is a misdemeanor crime for ministers to perform a marriage ceremony without having a marriage license for a couple.
The suit borrows heavily from U.S. Supreme Court Associate Justice Anthony Kennedy, who wrote the majority opinion last summer to strike down the Federal Defense of Marriage Act, which legally limited marriage to a man and a woman.
Kennedy wrote that marriage bans stigmatize couples, their families and their children. The new suit claims that houses of worship who want to marry the couples are lumped into that lower status.
"By denying same-sex couples the right to marry and prohibiting religious denominations even from performing marriage ceremonies for same-sex couples, the State of North Carolina stigmatizes same-sex couples, as well as the religious institutions and clergy that believe in equal rights," the suit says.
North Carolina's 2012 constitutional ban, widely known as "Amendment One," passed with 61 percent of the vote. The margin of victory was largely driven by social conservatives and conservative Christians. Many of them believe the Bible says marriage should be reserved for a man and a woman.
The clergy and couples filing the new lawsuit say it is not their goal "to compel other faiths to conform to their religious beliefs." Instead, they say they want "to assert their right to freely perform religious services and ceremonies consistent with their beliefs and practices, and to extend the equal protection of the laws to all of God's children."
North Carolina's other two legal challenges to the state's marriage laws have been filed in federal court in Greensboro. That means those cases cannot be consolidated with the complaint filed in Charlotte on Monday.
In the end, all three may take a back seat to a Virginia case scheduled to go before the Fourth Circuit Court of Appeals in two weeks.
The three-judge panel will hear the appeal of a lower court ruling that struck down Virginia's marriage ban as unconstitutional. If the judges let that decision stand, as many legal experts expect them to do, they could also erase marriage bans in West Virginia and the Carolinas, which are part of the Judicial Fourth Circuit. A ruling is expected by fall.
Cooper, a target of the Greensboro suits as well, has asked the court to delay one of those cases given how soon the Fourth Circuit is expected to rule. He may follow the same strategy with the new case in Charlotte.
AFP Photo/Joel Saget