United: Perez And Ellison Move Democrats Toward A Progressive Future
@PeterDreier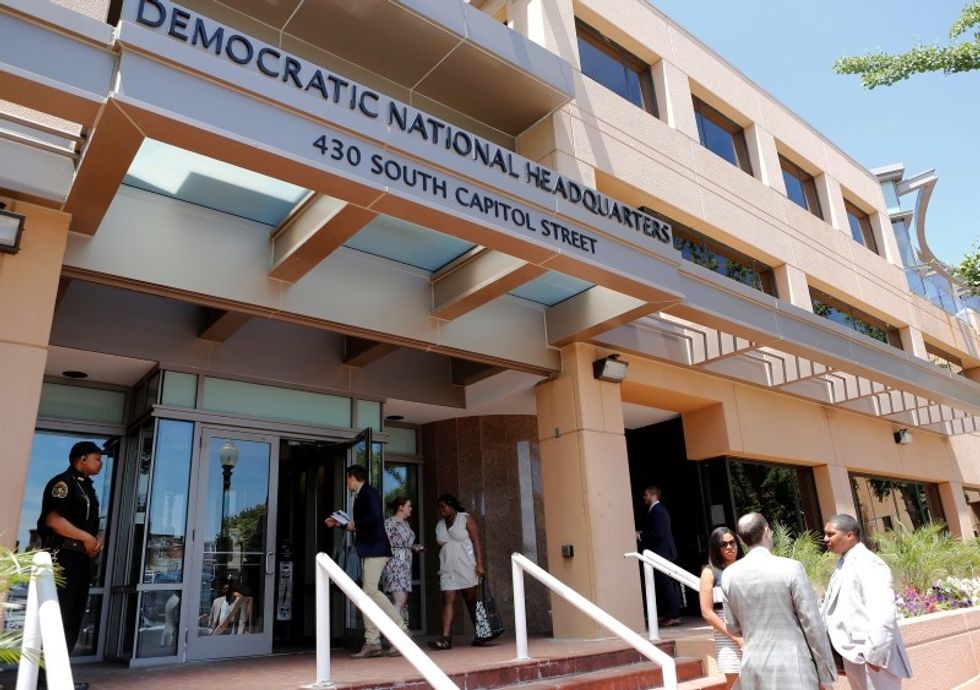 I was hoping that Rep. Keith Ellison (D-Minnesota) would win the Democratic National Committee chairmanship because of his experience as an organizer, but former Labor Secretary Tom Perez — who won a narrow victory at the DNC's Atlanta meeting today — is also a great choice. He's progressive, pro-worker, an accomplished advocate for civil rights and social justice, and the first Latino in that job. He immediately asked Ellison to serve as deputy chair — a smart move to bring the party together.
Importantly, the delegates at the Atlanta meeting also elected union organizer and immigrant rights activist Maria Elena Durazo — who supported Ellison for the top post — as DNC vice chair. The daughter of migrant farm workers, as head of UNITE HERE's LA local and then leader of the 800,000-member LA County Federation of Labor, Durazo helped elect progressives throughout the state and helped transform the California Democratic Party into a voice for the disenfranchised, including immigrants.
We now have a Latino and an African American at the top of the DNC, a moderate Democratic minority leader in the Senate (Chuck Schumer) being pushed to the left by the grassroots resistance movement, a democratic socialist (Bernie Sanders) with a large and energized base within the party, and a charismatic and principled progressive woman (Elizabeth Warren) as the strongest voice within the party and the most likely candidate for president in 2020. These are all positive signs.
The battle between Ellison and Perez was often portrayed as a struggle between the party's "progressive" and the "establishment" wings. That's a mischaracterization. Both Ellison and Perez are long-time progressives. Perez is hardly a corporate Democrat or a tool of the party's Wall Street wing. His entire career has been devoted to fighting for civil rights, workers' rights, and social justice.
Perez is certainly the most progressive DNC chair since Oklahoma Senator Fred Harris occupied that post in 1970. Since then, the position has been held primarily by corporate fundraisers and moderate-to-liberal politicians, including Larry O'Brien, Jean Westwood, Robert S. Strauss, Ken Curtis, John C. White, Charles Manatt, Paul Kirk, Ron Brown, David Wilhelm, Chris Dodd, Donald Fowler, Roy Romer, Steven Grossman, Ed Rendell, Joe Andrew, Terry McAuliffe, Howard Dean, Tim Kaine, and the recently deposed Debbie Wasserman Schultz.
It would be a huge mistake for my fellow Ellison supporters to diss Perez and threaten to leave the Democratic Party. No doubt a handful of Ellison supporters will feel the need to go on the warpath. I hope the media don't manufacture a phony party crisis by giving a megaphone to the small number of Ellison supporters who think that Perez's victory is a defeat for progressives. It isn't.
After he lost the primary fight, Bernie endorsed Hillary. Some of Bernie's followers attacked him for doing so as a sell-out. A few drifted over to embrace Green Party candidate Jill Stein. But the media exaggerated the extent of the desertion. In fact, about 95% of Bernie supporters voted for Hillary. We need that kind of unity now.
As my friend Gerry McDonough, a long-time progressive activist in Massachusetts, observed: "We're in a war against fascists. There's no time for infighting."
Ellison echoed those sentiments. "If you came here supporting me, wearing a Keith t-shirt, or any t-shirt, I'm asking you to give everything you've got to support Chairman Perez," he said after the vote. "You love this country, you love all the people in it, you care about each and every one of them, urban, rural, suburban, all cultures, all faiths, everybody, and they are in need of your help. And if we waste even a moment going at it over who supported who, we are not going to be standing up for those people. We don't have the luxury, folks, to walk out of this room divided."
The task ahead — which Perez supports — is to rebuild the Democratic Party as an organizing party that can take advantage of the growing grassroots resistance movement that has emerged since Trump's inauguration. That means raising money to hire organizers and put them in states and Congressional districts where liberal and progressive Democrats can win governors' seats, state legislative races, and the House and Senate races. It means working in collaboration with unions, community organizing groups, environmental and LGBT groups, the Dreamers and other immigrant rights activists, Black Lives Matters, Planned Parenthood, Indivisible and other groups that are already mobilizing on the ground.
The anti-Trump resistance movement is way ahead of the party. The five million strong Women's March, the battles at airports against Trump's travel ban, the recent wave of town hall meetings all over the country where angry voters (many of them politically involved for the first time) confronted Republican members of Congress, and the 7,000 local groups galvanized by the Indivisible website all happened without Democratic Party involvement. But we need the party to help expand the protest movement and channel that energy into an electoral movement to put progressive and liberal Democrats in office.
Let's get behind the Perez/Ellison team, strengthen the progressive movement, and defeat the pro-Trump Republicans in 2018 and 2020.