United States Completes Task Of Destroying Syria's Chemical Agents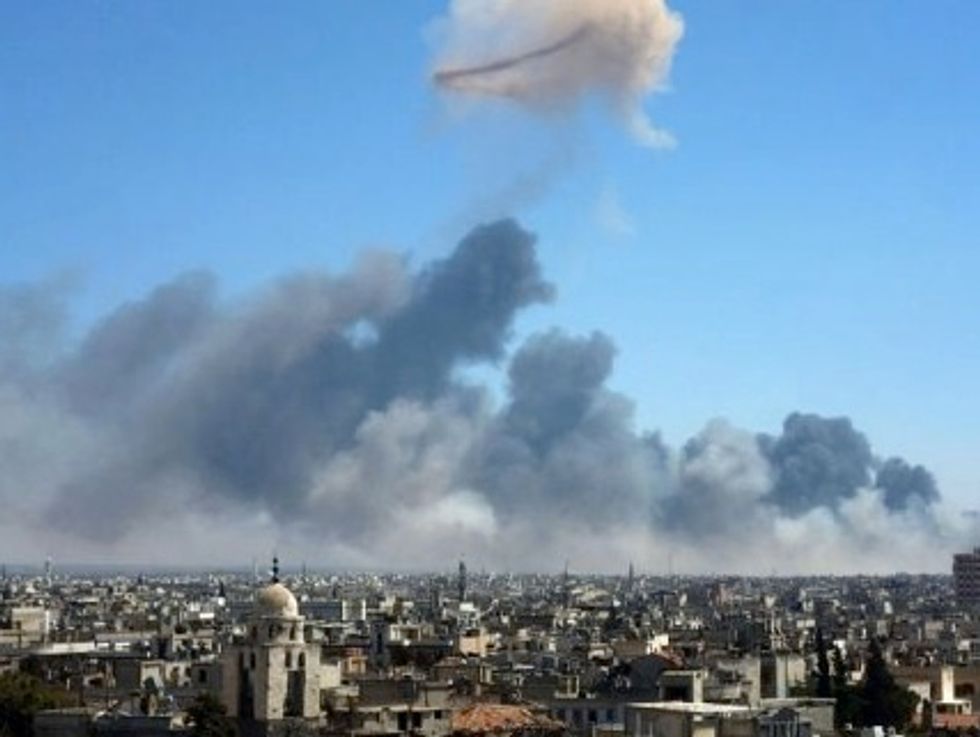 By W.J. Hennigan, Los Angeles Times
WASHINGTON — The Obama administration said Monday that it has finished destroying the lethal chemical agents that were removed from Syria after President Bashar Assad's forces were accused of using poison gas against civilians a year ago this week.
In a statement, President Barack Obama hailed the joint civilian and military effort, which destroyed more than 600 tons of sarin and mustard agents, as "an important achievement in our ongoing effort to counter the spread of weapons of mass destruction."
"Going forward, we will watch closely to see that Syria fulfills its commitment to destroy its remaining declared chemical weapons production facilities," Obama said.
After nerve gas killed more than 1,000 people in rebel-held suburbs of east Damascus last Aug. 21, according to U.S. estimates, Assad agreed to surrender his poison gas arsenal and production equipment to international chemical weapons inspectors and thus avoid a threatened retaliatory attack by the U.S. military.
The deal was brokered by Russia, an ally of Assad, to help prevent U.S. airstrikes. But no country agreed to eliminate the dangerous materials on U.S. land. Ultimately, authorities decided to destroy them in international waters.
As Syria's civil war continued to rage, the warheads were collected at several sites, trucked to a Syrian port and hauled aboard the Cape Ray, a 647-foot U.S. cargo ship. It was outfitted with two specially developed hydrolysis machines that use water or bleach to neutralize the chemicals that produce nerve gases.
Once at sea, the machines eliminate 99.9 percent of the chemical agents, creating a liquid byproduct that is considered hazardous waste but has a low level of toxicity, according to U.S. officials.
"In record time, even amid a civil war, we removed and have now destroyed the most dangerous chemicals in the regime's declared stockpiles," Secretary of State John F. Kerry said in a statement.
The Pentagon said the material destroyed consisted of about 600 tons of methylphosphonyl difluoride, usually called DF, the main precursor of sarin and other nerve agents, and 20 tons of mustard, a blister agent.
The administration said it completed the work several weeks ahead of a schedule established by the Organization for the Prohibition of Chemical Weapons, the Hague-based group that worked with the United Nations to carry out the disarmament.
The operation is one of the few positive developments since the Syrian conflict erupted more than three years ago. The war has left more than 100,000 people dead — some estimates are far higher — and forced millions from their homes.
Kerry indicated that the administration has questions about discrepancies and omissions related to Syria's declaration of its chemical weapons stockpiles and production facilities, as well as reports of systematic use of chlorine gas in opposition-held areas.
"Each and every one of these issues must be fully resolved," Kerry said.
AFP Photo
Interested in world news? Sign up for our daily email newsletter!