University Of Cincinnati Officer Indicted On Murder Charges In Motorist's Shooting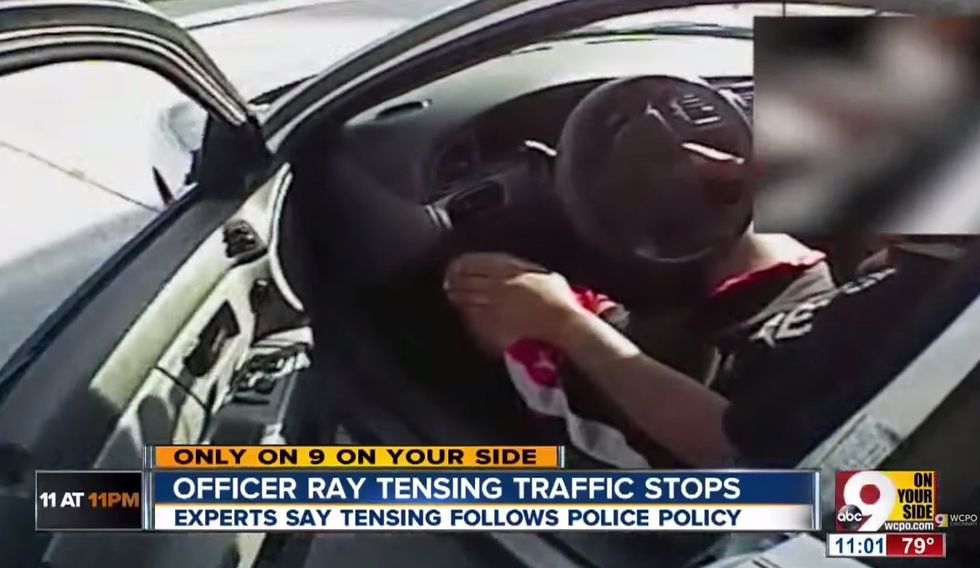 By Michael Muskal, Los Angeles Times (TNS)
In a year scarred by deadly confrontations between African-Americans and police, a white University of Cincinnati officer has been indicted on a murder charge in the shooting of an unarmed black motorist near the campus, officials said Wednesday.
The city had been bracing from the possible fallout as the Hamilton County grand jury weighed the evidence in the case of Officer Ray Tensing, who on July 19 stopped Samuel DuBose for a missing front license plate.
DuBose, 43, was shot and killed during the encounter, which was captured on video by the officer's body camera. The video was released Wednesday by Hamilton County prosecutor Joe Deters, who was sharply critical of the officer.
"I have been doing this for 30 years, and this is the most asinine act by a police officer I have ever seen," Deters said at a televised news conference.
"This type of senseless act, this doesn't happen in the United States, maybe in Afghanistan, but not in the United States," Deters said. "People don't get shot for a traffic stop."
The murder charges, which carry a maximum penalty of up to life in prison if convicted, come after a string of deadly confrontations in which blacks died at the hands of police officers, from Ferguson, Missouri, to New York's Staten Island, Cleveland, and Baltimore.
The indictment also comes as officials wrestle with the case of Sandra Bland, who was involved in a contentious traffic stop in Prairie View, Texas. Bland was found dead July 13 in her cell at the Waller County Jail in what officials call a suicide by hanging. Her family insists that Bland would not have killed herself.
"Cincinnati is showing the rest of us how to do this right," said Mark O'Mara, the attorney for the DuBose family. He and the family called for a peaceful response to the grand jury action.
O'Mara noted that it has been a period during which friction between cops and citizens and cops and blacks "have led to tragedy."
"We understand the concerns and we want the reaction to be completely peaceful. Sam was completely peaceful. … We want his memory to remain intact as a peaceful person."
O'Mara was the lead defense attorney for George Zimmerman, the Florida neighborhood watch volunteer who was acquitted two years ago of the 2012 killing of Trayvon Martin, an unarmed black teenager.
After the indictment was announced, Audrey DuBose thanked demonstrators who had marched in Cincinnati on behalf of her slain son. "I am ready to join the battlefield," she said of civil rights efforts.
Authorities have said that Tensing spotted a car driven by DuBose that lacked the required front license plate. Tensing stopped the car and the encounter quickly escalated after DuBose did not produce a driver's license.
Tensing has said he was dragged by the car and forced to shoot at DuBose, according to his lawyer, Stuart Mathews.
But prosecutor Deters rejected that contention, saying that the video from the body camera doesn't support that argument.
Tensing "fell backward after he shot (DuBose) in the head," Deters said.
"I think he lost his temper because DuBose would not get out of the car," Deters told reporters. "You won't believe how quickly he pulls his gun and shoots him in the head."
Tensing surrendered to authorities Wednesday afternoon to face the charges.
"He purposely killed him," Deters said of the defendant. "He should never have been a police officer."
Deters said he was shocked when he saw the video.
"I realized what this was going to mean to our community. It really broke my heart because it's just bad," Deters said. "I feel so sorry for this family and what they lost. And I feel sorry for the community, too.
"It was so unnecessary for this to have occurred," he said. "This situation should never have escalated like this."
Tensing has been terminated, University of Cincinnati President Santa Ono announced after the indictment was released.
"Beyond the criminal investigation the university is reviewing what has occurred and we will take all necessary steps," including training and staffing to upgrade the university force, he said.
Even after the charges were announced, city officials said they were concerned about the response and the expected demonstrations.
"We all hoped that the charges that came out of the grand jury would match the video," said Mayor John Cranley at a televised news conference of local officials. "We wanted the right thing to be done, the just thing to be done, the fair thing to be done."
Cranley noted that there have been violent demonstrations in other cities but said he hoped his city would be different.
"We respect the right for people to protest," Cranley said. "Our police department is prepared to respect that. Our police department is also prepared to deal" with protests.
Police Chief Jeffrey Blackwell, who like the other officials met with the DuBose family, said the department is hopeful that protest would be peaceful, but warned that "lawlessness cannot and will not be tolerated."
(c)2015 Los Angeles Times. Distributed by Tribune Content Agency, LLC.
This post has been updated.
Screenshot: WCPO/YouTube