5 Unreal Moments From Trump's Bizarre Press Conference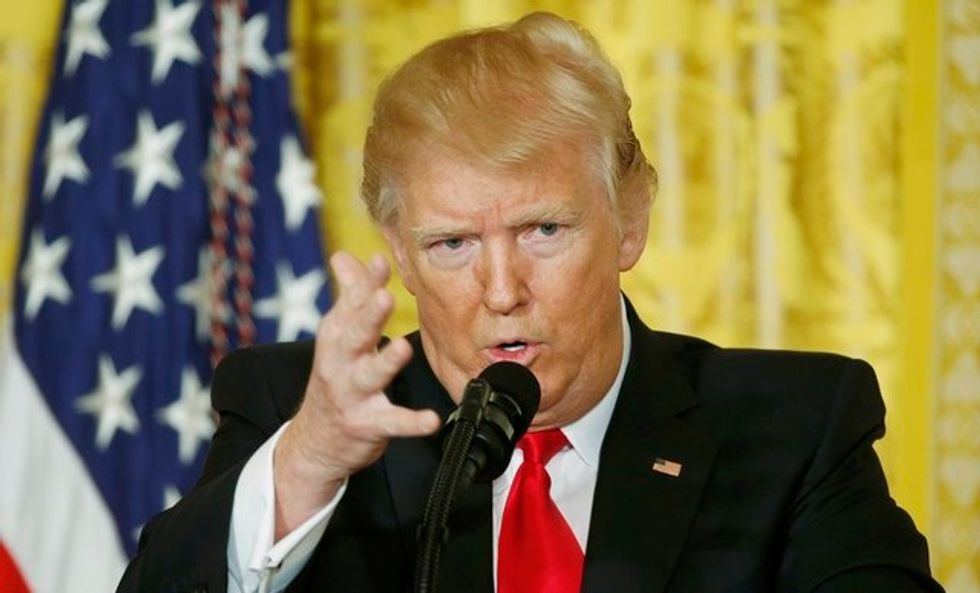 Reprinted with permission from AlterNet.
Donald Trump's erratic behavior has raised concerns about his mental health, even among Republicans, if Sen. Al Franken (D-MN) is to be believed. Thursday's press conference, which saw the president openly berate the White House press corps and suggest an African American reporter was friends with the Congressional Black Caucus, likely did little to assuage their fears.
It was, in a word, a mess. Here are the five most bizarre moments.
1. Fake news, real leaks.
During the press conference, Trump was repeatedly asked about contact between his campaign team and the Russian government. When confronted with the cold reality of White House leaks, he directly contradicted himself in two consecutive sentences.
"You know what they said, you saw it and the leaks are absolutely real. The news is fake because so much of the news is fake," Trump said.
2. Change your tone.
Trump was later asked to clarify his contradictory statements.
"You said that the leaks are real, but the news is fake. I guess I don't understand," one reporter asked. "It seems that there's a disconnect there. If the information coming from those leaks is real, then how can the stories be fake?"
"The reporting is fake," Trump said. "I'll tell you what else I see," he continued. "I see tone. You know the word 'tone.' The tone is such hatred."
"I'm really not a bad person, by the way," Trump insisted. "No, but the tone is such—I do get good ratings, you have to admit that—the tone is such hatred."
3. Fox News gets a friendly shout-out.
After watching all the network shows, Trump concluded, "Fox & Friends in the morning, they're very honorable people. They're very—not because they're good, because they hit me also when I do something wrong. But they have the most honest morning show. That's all I can say. It's the most honest."
Perhaps having the word "friend" in the title doesn't hurt either.
"I want to find a friendly reporter," Trump said, scanning the crowd moments later. "Are you a friendly reporter?" he asked. "Watch how friendly he is. Wait. Wait. Watch how friendly he is."
4. Debate déjà vu.
"I have nothing to do with Russia," Trump hammered. "I told you, I have no deals there, I have no anything. Now, when WikiLeaks, which I had nothing to do with, comes out and happens to give, they're not giving classified information. They're giving stuff—what was said at an office about Hillary cheating on the debates."
Trump remains convinced that this, like the terror attacks, was largely unreported. "Nobody mentions that Hillary received the questions to the debates," Trump said.
Yet the story was reported by The New York Times, Washington Post, Huffington Post, New York Post and Fox News, among others.
"Can you imagine—seriously—can you imagine if I received the questions?" Trump asked. "It would be the electric chair."
5. You're hired, for a job you didn't ask for.
"When you say the inner cities, are you going—are you going to include the CBC, Mr. President, in your conversations?" veteran White House correspondent April Ryan asked Trump.
The president was baffled.
"Am I going to include who?" Trump asked.
"Are you going to include the Congressional Black Caucus…?" Ryan repeated.
"Well, I would," Trump told her. "I tell you what, do you want to set up the meeting? Are they friends of yours?"
"I'm just a reporter," she told him.
Watch:
Alexandra Rosenmann is an AlterNet associate editor. Follow her @alexpreditor.
IMAGE: U.S. President Donald Trump takes a question during a news conference at the White House in Washington, U.S., February 16, 2017. REUTERS/Kevin Lamarque