US And Allies Strike Syria In Retaliation For Chemical Weapon Attacks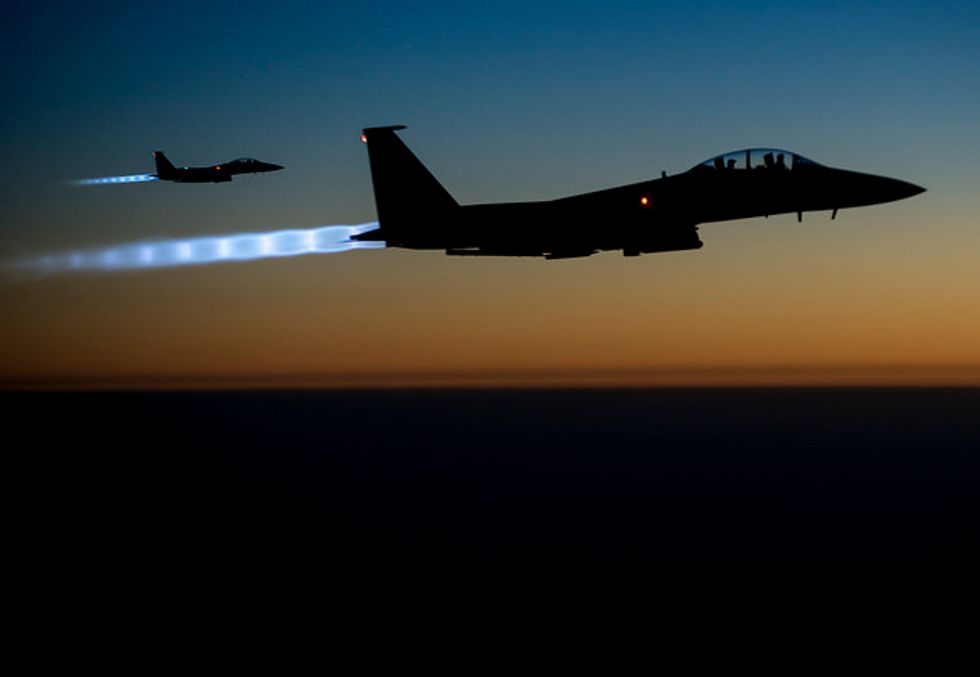 The United States, Britain, and France struck targets in Syria on Friday night to penalize the regime in Damascus for its alleged use of chemical weapons against civilians a week ago.
In a televised address announcing the air strikes under way, President Donald Trump said of Syrian president Bashar al-Assad: "These are not the actions of a man. They are the crimes of a monster instead." Trump described the precision attack as a "sustained response" to a "vital security interest of the United States."
But in a later press conference, Defense Secretary James Mattis called the strikes "a one-time shot," although he suggested that if the regime uses chemical weapons again that could provoke another Allied assault. He said that US forces had hit Syrian stockpiles of chemical weapons and weapons research facilities as well as military bases. Speaking alongside Mattis, Joint Chiefs of Staff chair Gen. James Dunford said that the US assault has ended.
The American action came in the wake of recent reports that Trump intends to withdraw U.S. forces from Syria altogether. These strikes mark the second time that the administration has ordered retaliation against the Syrian military for the use of poison gas against civilians. It did so for the first time a year ago.
Mattis told reporters that the US and its allies had hit more targets this year than in April 2017, however, with twice as many munitions. He said that the Pentagon had employed "de-confliction" channels with Moscow to avoid engaging any Russian forces.
Reacting to the strikes, the Russian foreign ministry lamented the American failure to heed the Kremlin's warnings and accused the US of acting without proof that the Syrians had used chemical weapons.
IMAGE: A pair of U.S. Air Force F-15E Strike Eagles fly over northern Iraq  after conducting airstrikes in Syria. (U.S. Air Force photo by Senior Airman Matthew Bruch/Released)