US Envoy To Russia Won't Resign — But Won't Defend Trump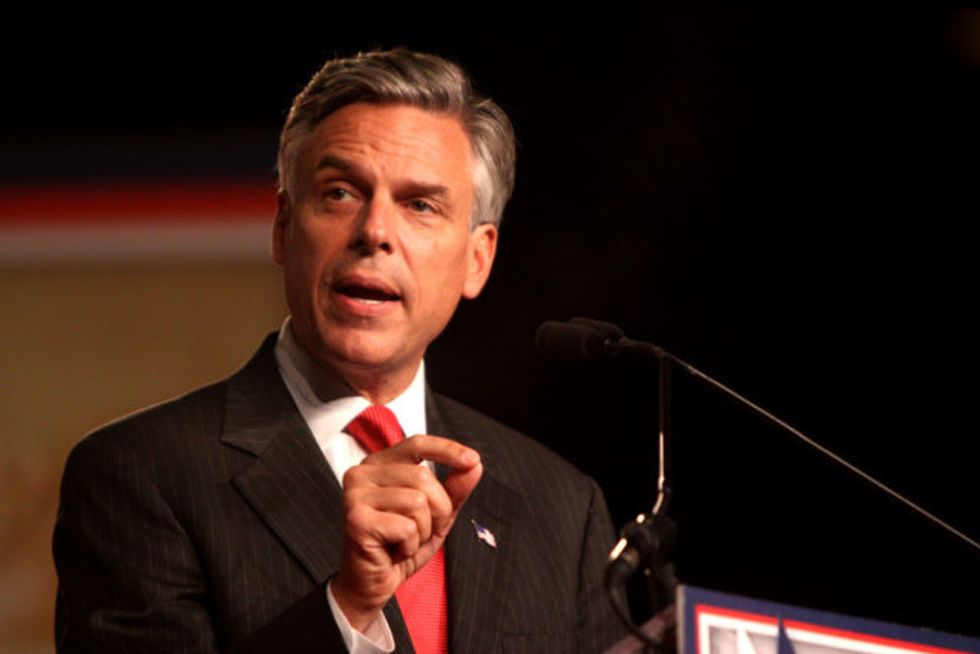 Reprinted with permission from AlterNet.
Huntsman, the U.S. ambassador to Russia, on Saturday responded to a column by Salt Lake Tribune columnist Robert Gerke, explaining why he won't step down from his role even after Donald Trump appeared to side with Russian President Vladimir Putin during a press conference last Monday. But, Huntsman offered little in the way of support for the president's actions.
Huntsman was responding to a column published Tuesday in the Tribune, the Utah paper owned by Huntsman's brother, Paul Huntsman. In that article, Gerke called on Hunstman to resign, writing, "Huntsman, you work for a pawn, not a president." That article was published in the wake of Trump's stunning performance last Monday in Helsinki, during which the president cast doubt on U.S. intelligence agencies and appeared to accept Putin's denial of Russian interference in the 2016 presidential election.
Writing for the Tribune, Huntsman defended his position as U.S. ambassador to Russia, explaining that he is "charged with representing our country's interest, which in the case of Russia are complex and little understood."
"Popular punditry is ill-suited to describing the acts of courage, dedication and patriotism I regularly witness as chief of mission overseeing one of America's most sensitive overseas outposts," Hunstman wrote. "Our work has been made more difficult over the past year by the loss of hundreds of colleagues through unprecedented expulsions of diplomats and a staff drawdown imposed by the Russian government."
In his op-ed, Hunstman likewise defended the "representatives of our foreign service, civil service, military and intelligence services" who work to "stabilize the most dangerous relationship in the world, one that encompasses nuclear weapons, fighting terrorism, stopping bloodshed in Ukraine, and seeking a settlement of the seemingly intractable Syrian crisis."
"Their dedication to service to their country is above politics, and it inspires me to the core," he added. "It is my standard."
Still, Huntsman offered no defense of the president, whose action on Monday were panned by critics and supporters alike.
"I have taken an unscientific survey among my colleagues, whom you reference, about whether I should resign," Huntsman insisted. "The laughter told me everything I needed to know. It also underscores the fragile nature of this moment."
Read Huntsman's full op-ed at theSalt Lake Tribune.
Elizabeth Preza is the Managing Editor of AlterNet. Follow her on Twitter @lizacisms.