USA Today Keeps Promoting Climate Denial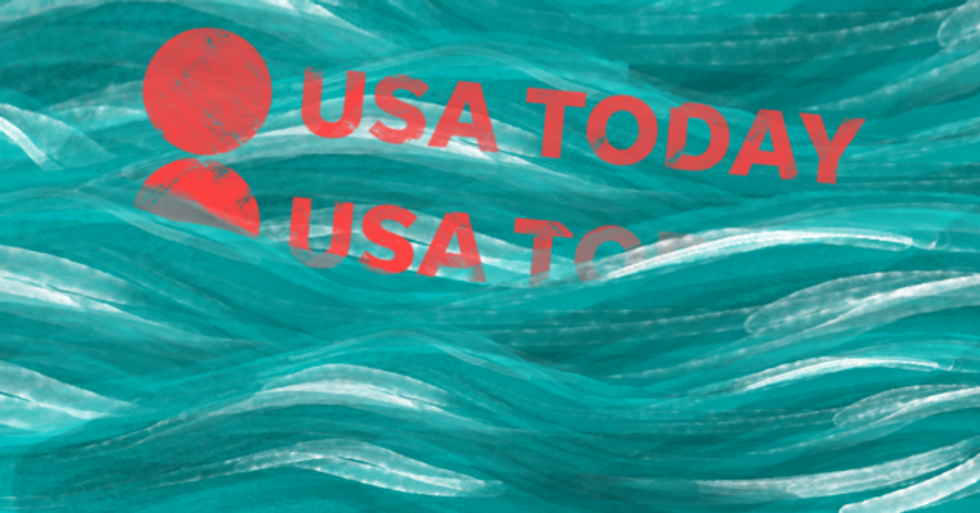 Reprinted with permission from MediaMatters.
On September 13, USA Today's editorial page published a piece that denied the settled science of climate change, despite the page's editor pledging earlier this year, "We won't run pieces that deny the reality of human-induced climate change."
On September 14, the paper doubled down, running a longer op-ed by another climate denier, Roy Spencer, who argued, "If humans have any influence on hurricanes at all, it probably won't be evident for many decades to come."
Spencer's piece was chock-full of misinformation. As numerous climate scientists have explained this week, climate change is increasing the destructive power of hurricanes.
Climate scientist Michael Mann, director of the Penn State Earth System Science Center, told Media Matters, "There is not a single sentence in that piece, near as I can tell, that is factually defensible. Roy Spencer is an equal opportunity science denier. He denies evolution and he denies climate change."
Indeed, Spencer has disputed the theory of evolution in his writings and in public testimony, including telling a congressional committee in 2013, "Evolutionary theory is mostly religion."
Spencer also has a long history of climate denial. His website claims, "The extra carbon dioxide we pump into the atmosphere is not enough to cause the observed warming over the last 100 years." Spencer has gone on The Rush Limbaugh Show and Fox News to spread misinformation about climate change.
In addition to being employed as a scientist at the University of Alabama, Huntsville, Spencer is a senior fellowat the Cornwall Alliance for the Stewardship of Creation and a member of the group's advisory board. The Cornwall Alliance is committed to climate denial, claiming, "There is no convincing scientific evidence that human contribution to greenhouse gases is causing dangerous global warming."
Climate scientists dispute Spencer's arguments
Three climate scientists contacted by Media Matters disputed the central claim in Spencer's USA Today piece.
Mann just published an op-ed in the Guardian that lays out the clear links between human-caused climate change and more devastating hurricanes, including Florence. Last year, he co-authored a piece in Scientific American on the same topic. Mann has also been doing media appearances this week to explain the science connecting climate change and stronger hurricanes.
Scott Mandia, professor of Earth and space sciences at Suffolk County Community College in Long Island, pointed out that Spencer neglected to mention sea level rise in his piece, one of the most clear ways that climate change leads to more damaging hurricanes. Mandia explained in an email:
ALL coastal storms are now worse due to sea level rise caused by human activities that are warming the climate. A warmer climate means more ice melt, which adds water to our oceans. Warmer water expands and thus rises upward. A double-whammy for sea level rise.

Imagine a basketball hoop ten feet above the floor and consider a dunk to be a storm over-topping a sea wall or other barrier. Now imagine humans have caused that floor to rise by a foot. It is much easier to dunk a basketball now. More flooding just like we saw in Sandy, Harvey, Maria, Florence and EVERY hurricane from now onward.

Do not be fooled by Roy Spencer's misdirection. He cannot deny human-caused sea level rise and that is why he chose not to mention it to USA Today's readers.
Kevin Trenberth, senior scientist in the Climate Analysis Section at the National Center for Atmospheric Research, also explained how climate change affects hurricanes. Trenberth was lead author on a studypublished in May that determined, "[Hurricane] Harvey could not have produced so much rain without human-induced climate change."
"Hurricanes are natural, but climate change is supercharging them!" Trenberth wrote in an email to Media Matters. His comments:
Human-caused increasing greenhouse gases in the atmosphere produced an energy imbalance and its partitioning between atmospheric, ocean, cryosphere and land heat reservoirs govern how the global climate evolves. Most of the imbalance, over 90%, goes into the ocean and accordingly ocean heat content (OHC) provides a primary indicator of climate change, along with sea level rise. 2017 was the warmest year on record for the global OHC down to 2000 m depth and the latest quarter (April to June) is the hottest on record. The heat fuels storms of all sorts and contributes to very heavy rain events and flooding.

Hurricanes are natural, but climate change is supercharging them! The observed increases of upper OHC support higher sea surface temperatures and atmospheric moisture, and fuels tropical storms to become more intense, bigger and longer lasting, thereby increasing their potential for damage. Sea level is also steadily rising, increasing risks from coastal storm surges.
While USA Today chose to elevate the perspective of a notorious climate denier, other papers made the more responsible choice to invite well-informed scientists and experts to explain the ways climate change exacerbates hurricanes — like The Washington Post, which ran a strong op-ed by meteorologist Eric Holthaus.
Holthaus ended his piece by saying, "It is a time for courageous action." Trenberth echoed that sentiment in his comments to Media Matters, emphasizing that we can and should be reducing greenhouse gas emissions and preparing for the future impacts of climate change:
The damage and loss of life from such storms does not have to be disastrous, however, if there is adequate preparation. We have the options of stopping or slowing climate change from humans, and/or adapting to and planning for the consequences, but we are not doing enough of either!
If outlets like USA Today educated people about the real dangers of climate change, instead of propagating climate denial, more Americans might be inspired to demand and implement real climate solutions.
Header image by Melissa Joskow / Media Matters