USC's Black House Proposal Raises Questions About Racial Tensions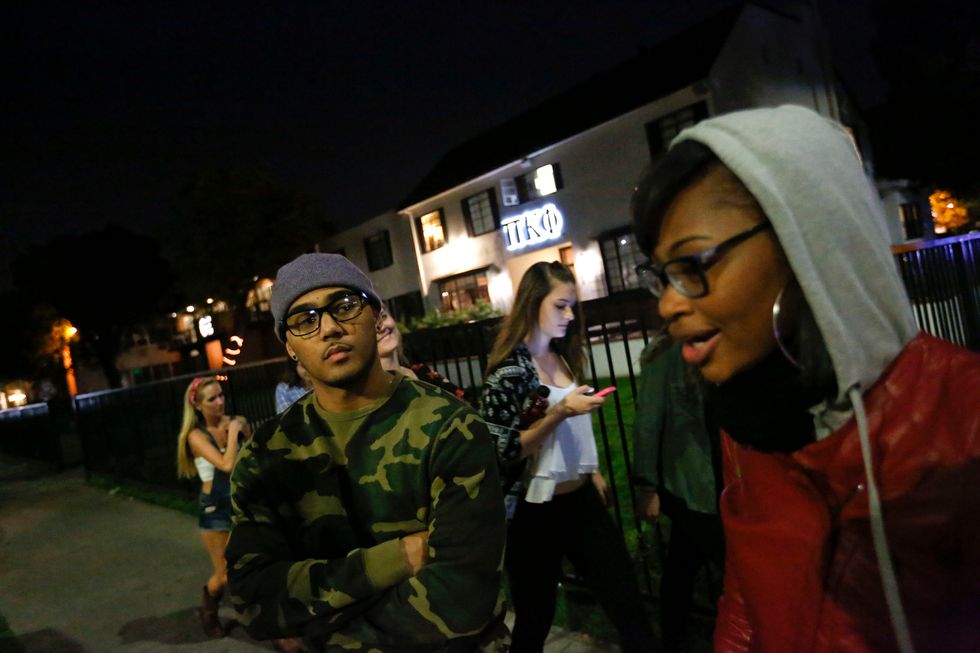 By Jerome Campbell and Jason Song, Los Angeles Times (TNS)
When some USC student government leaders voiced support for creating a cultural house for black students, Ama Amoafo-Yeboah thought she and other undergraduates were closer to having a space where they could hang out and hold events.
But before a vote was held, word spread that the house could be located on the Row, USC's two-block stretch of fraternities and sororities near 28th and Figueroa streets. Social media lit up.
"Why would they open a prison on the Row?" one user asked on Yik Yak, a popular social media app that allows anonymous comments from users within a 1.5-mile radius.
Student leaders passed a resolution on the house in late October. But Amoafo-Yeboah said the onslaught reinforced her sense that black students aren't always welcome at USC. That feeling of exclusion, she said, is especially obvious on the Row, the heart of the undergraduate social scene — which seems to be made of mostly white students, along with some Asians and a smattering of other minorities.
"The fact is, they don't want people like us," Amoafo-Yeboah said. "They just don't."
Rini Sampath, USC's student body president-elect, said she was disheartened by the online comments, even if it wasn't clear that a student wrote them. "It showed that there's a mindset about this school that we have to eradicate," she said. "It showed me that we need a space where students who feel like they're marginalized feel comfortable."
USC students said no Greek organization has been part of an incident as racially charged as one at the University of Oklahoma, where fraternity members recently were caught on video singing racist chants. But, they acknowledged, the Los Angeles campus is not immune to racial insensitivity. Some students said incidents on and off campus have led them to feel isolated and as though they are viewed with suspicion.
Two years ago, USC students held protests after police wearing protective gear broke up an off-campus party and arrested six people. Most of the partygoers were black, and some accused the police of racial profiling.
And in 2012, security was increased on campus after a Halloween party shooting, in which a black man fired into a crowd and injured four. Some black students said they felt less welcome at social events after the incident, even though the gunman was not a student.
"While USC is probably as inclusive as any predominantly white campus, beneath that surface is an ongoing tension and very real issues of race," said Melina Abdullah, who graduated from the university in 2002, taught there in 2008 and is now the chair of Pan-African Studies at Cal State L.A.
Abdullah said most other schools' cultural centers are in academic or more residential settings, and the USC project could be unique if it ends up in the midst of the Trojan party scene.
"Instead of retreating, it seems like those students are pressing forward and reminding the school that they have a right to be here in a very visible way," she said.
Student supporters said the proposal, which became known as the Black House, was modeled after programs at schools such as Stanford, Georgetown, and Yale universities. It would not be residential, and no alcohol would be allowed inside. Instead, the building is supposed to be a space where students can relax, hold cultural events and display some of the history of African Americans at USC.
The house would not be affiliated with undergraduate black Greek organizations, which are not on the Row. Overall, about 4,200 USC students are fraternity or sorority members. It is unclear how many Greek members are minorities, school officials said.
Of USC's nearly 19,000 undergraduates, about 720 — or four percent — are black, according to the school. Some black students report feeling isolated, saying they are often the only African American in their classrooms.
Abdullah, the USC alumna, said she and her friends "didn't have a defined space, so we'd hang out on the bookstore steps, which was problematic."
The Black House's student organizers are trying to raise up to eight million dollars within the next several years. Although many see the Row as an ideal location, buying there may not be easy. Most of the properties on the Row are owned by national Greek organizations that may be reluctant to sell real estate in what they consider a prime location.
Amoafo-Yeboah said she was ambivalent about where the building should be, but that the Row would be a powerful statement. "Nobody will be able to ignore us," she said. "We will be in the heart of the social scene, for better or for worse."
Others are more wary, saying that putting the Black House there might only raise tensions. "It would be perpetually toxic," said Levi Powell, a senior who is half black and half Filipino. He helped work on the student government resolution.
Jordyn Holman, a junior journalism major, said she was ambivalent about the Row as a possible destination because of her experiences there.
She tried to go to a fraternity party in the fall of 2013 with two friends who are also black. Before the trio could get into the party, a security guard asked to see their school and state identifications, she said.
Meanwhile, two white women entered the house without being stopped. When Holman and her friends couldn't produce their state identifications, the security guard asked them to leave, she said.
"I felt extremely hurt, like I had done something wrong," Holman said. "I wanted to cry."
Business major Skylar Dunn, who is working to get funders for the Black House, said he transferred from historically black Tennessee State University because he felt he would have more opportunities at USC. However, he said, he sometimes misses being part of mainstream campus life.
"Every place has a problem," Dunn said. "You have to ask yourself, what can you do to deal with that?"
Photo: Michael Robinson Chavez via Los Angeles Times/TNS