Utah Lawmakers Pass Bill Allowing For Execution By Firing Squad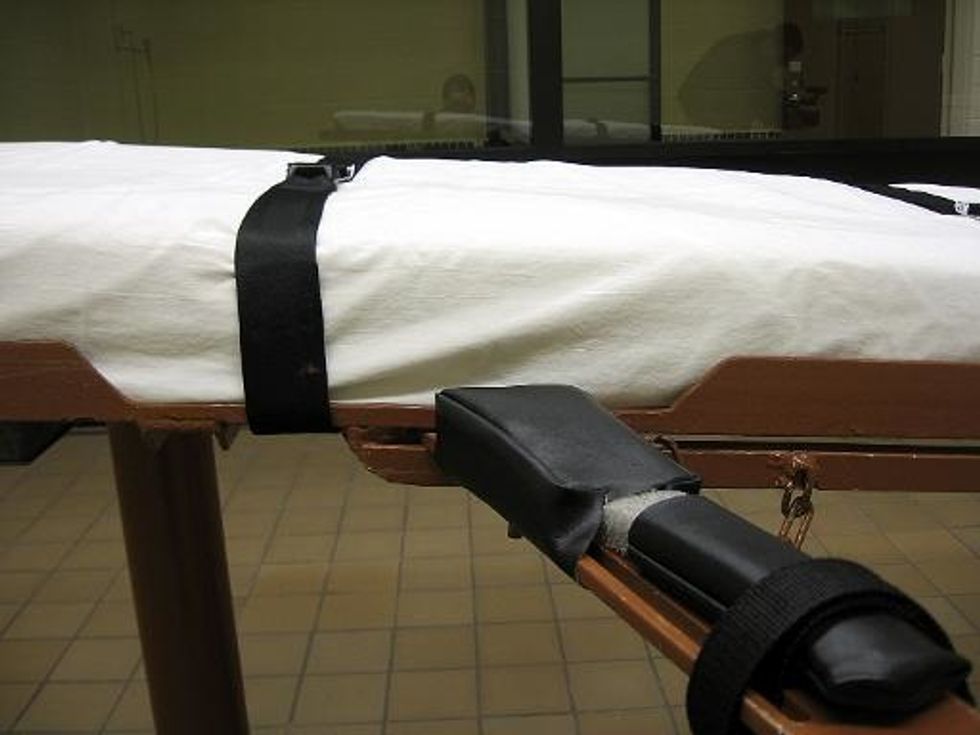 By James Queally, Los Angeles Times (TNS)
Utah will be able to use a firing squad to execute death row inmates when lethal-injection drugs are unavailable, as long as the governor signs a bill that cleared the state Senate on Tuesday.
The bill, sponsored by Republican Rep. Paul Ray, passed by a vote of 18 to 10. Ray introduced the legislation in December, but he said he began drafting it last March, long before a slew of executions in Oklahoma, Arizona and Ohio saw inmates gasping for air and cringing.
If Gov. Gary Herbert signs it, the bill will allow the Utah Department of Corrections to execute inmates by firing squad if the state does not have access to the drugs necessary to conduct a lethal injection. Ray said that Utah uses a three-drug cocktail to perform lethal injections, but that it no longer has access to pentobarbital, a necessary barbiturate for the procedure.
Utah and Oklahoma are the only states in the country where execution by firing squad is technically still legal. Death row inmates condemned in Utah before 2004 had the option to choose to die by firing squad.
"Any form of death is obviously a serious subject, so the two reasons I chose it were, obviously, No. 1, that's what we've done in the past, and secondly, out of all the other options, it is the most humane," Ray told the Los Angeles Times.
Utah has not executed a prisoner since 2010, when Ronnie Lee Gardner chose to die by firing squad, Ray said. Utah adopted lethal injection as its preferred method of execution in 2004, but inmates such as Gardner, who were sentenced before the law changed, had the option to die by firing squad.
The state is not scheduled to execute another prisoner until at least 2017, according to Ray, so it would be at least two years before a firing squad might be used in an execution.
Herbert has not said whether he will sign the bill, and a spokeswoman for Herbert told the Los Angeles Times that it was not clear when he would review Ray's legislation.
In a statement, Herbert made clear that lethal injection is the preferred method of execution in the state, but he acknowledged that Utah officials had struggled to obtain pentobarbital.
"We are dedicated to pursuing all reasonable and legal options to obtain those substances to make sure that, when required, we are in a position to carry out this very serious sentence by lethal injection," he said in the statement.
Since 1976, there have been only three executions by firing squad in the U.S., according to the Death Penalty Information Center, based in Washington, D.C.
In Oklahoma, death by firing squad remains legal only as a fail-safe, to be used in the event that death by lethal injection were ever ruled unconstitutional.
The use of lethal injection has been subject to scrutiny in the last year, as many defense attorneys and civil rights advocates have sued various states to obtain information about the drugs used in their execution cocktails.
Many states have turned to new chemical cocktails to carry out lethal injections, as foreign pharmaceutical companies that used to sell pentobarbital and phenobarbital in the U.S. have publicly opposed the drugs' use in executions in recent years.
The use of new drugs has led to a series of seemingly painful, mishandled executions. Oklahoma officials chose to use a sedative known asmidazolam for the first time as part of the lethal cocktail used to execute Clayton Lockett in April, and it took 43 minutes for the convicted murderer to die.
Similar incidents were reported during executions in Arizona and Ohio last year, and Ohio chose to suspend all executions for one year after deciding to discontinue a lethal-injection cocktail that included midazolam.
(c)2015 Los Angeles Times, Distributed by Tribune Content Agency, LLC
This November 30, 2009 photo shows the execution chamber of the "death house" at the Southern Ohio Correctional Facility in Lucasville, Ohio. Photo: Caroline Groussain via AFP