Valerie Jarrett Points To Trump In Racist Roseanne Blowup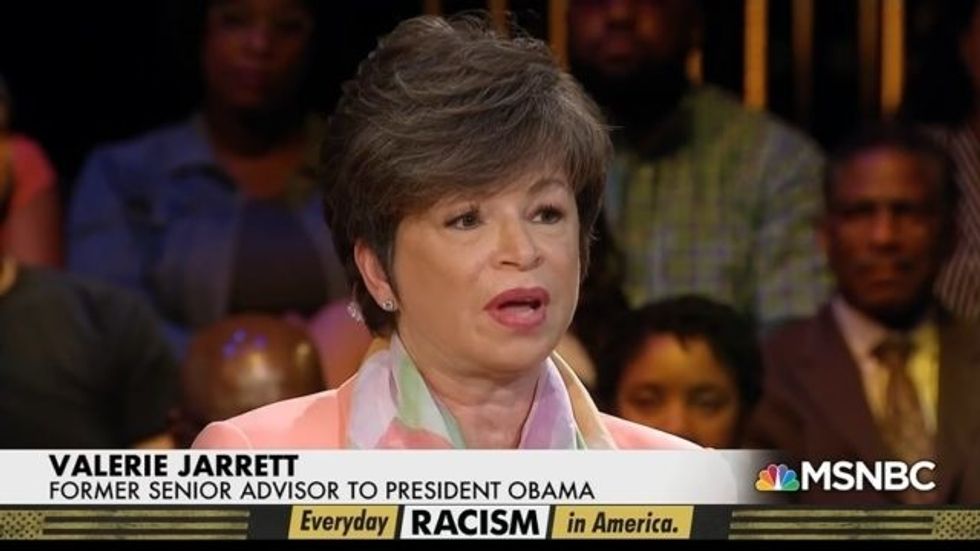 Reprinted with permission from AlterNet.
Valerie Jarrett, a former aide to President Barack Obama, responded to a racist tweet from comedian Roseanne Barr on Tuesday by tying the remarks to a "tone" set by President Donald Trump, who had repeatedly pushed racist views and policies since the beginning of his campaign.
Barr's tweet, which led to the cancelation of her popular sitcom hours later, targeted Jarrett, saying: "Muslim brotherhood & planet of the apes had a baby=vj." Its racism was widely condemned, and Jarrett's response came on an MSNBC panel.
"Tone does start at the top," Jarrett said. "And we like to look up to our president, and we feel as though he reflects the values of our country."
"But I also think every individual citizen has a responsibility, too. And it's up to all of us to push back," she said. "Our government is only going to be as good as we make it be. And as Reverend [Al Sharpton] always taught me, people on the outside have to push hard, and people on the inside have to listen."
Watch the clip below:
Watch MSNBC exclusive: Valerie Jarrett responds to Roseanne Barr's tweet
(full remarks will be aired during tonight's "Everyday Racism in America" town-hall) pic.twitter.com/dm0AI0pndX

— Deadline White House (@DeadlineWH) May 29, 2018
Cody Fenwick is a reporter and editor. Follow him on Twitter @codytfenwick.