The Vast Majority Of Californians Shun Quake Insurance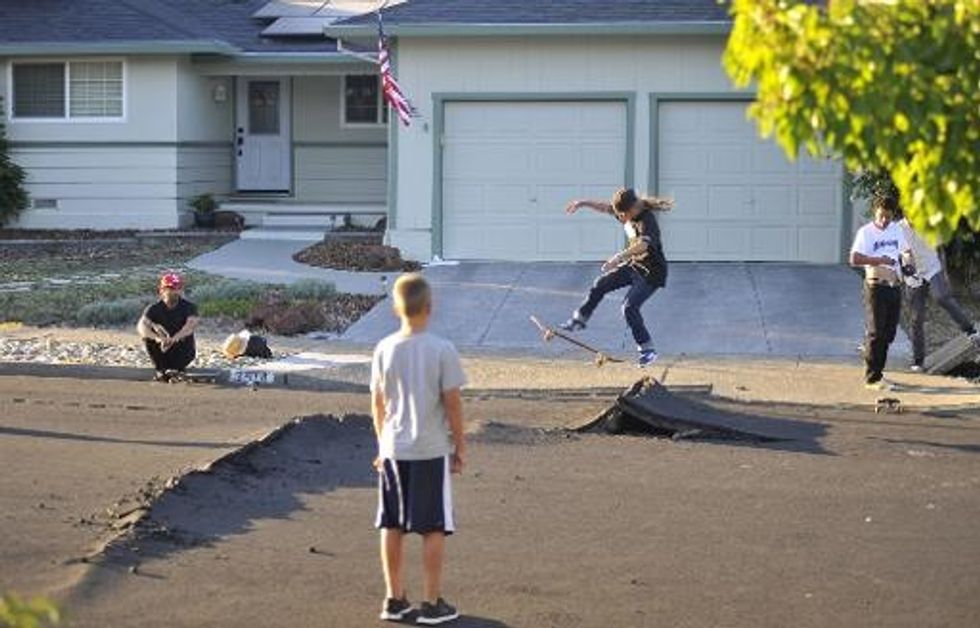 By Steve Johnson, San Jose Mercury News
SAN JOSE, Calif. — Despite California's ever-present risk of major earthquakes, the number of homeowners in the state with insurance coverage for quake damage has dipped significantly over the last several decades, from 33 percent in 1996 to just 10 percent today.
The reason, say experts and some homeowners: the high cost of coverage, the quarter century lapse in a major quake until Sunday's shaker in Napa County, and for some people the expectation that the state or federal government will step in to reimburse homeowners when the Big One hits.
"You think about it after the earthquakes," said 44-year-old Robert Jordan of Napa, who has avoided getting quake insurance despite living through the 1989 Loma Prieta quake and another shaker near his home in 2000. "But it's amazing how quickly we go back to our normal ways."
Despite having major damage to glassware and other breakable items in his kitchen during Sunday's quake, he added, he's still probably not going to get a quake policy because "it's expensive and major quakes happen so infrequently, it seems like a luxury more than a need."
Many other people share that view, said Glenn Pomeroy, CEO of the California Earthquake Authority, a public agency that provides about 70 percent of all of the residential quake policies in the state.
"It's out of sight, out of mind." Because it had been so long since a major temblor rocked California, he added, "A lot of people just fail to realize it could happen to them."
Less than 6 percent of homeowners in Napa had the insurance, the authority said.
Aside from the length of time since the last major quake, the cost of coverage is another big reason many people shun insurance.
To be covered for earthquake damage other than fire, homeowners typically need an earthquake policy in addition to their homeowner's insurance, and the average annual cost of earthquake premiums statewide is $798. The cost varies depending on whether the insurance comes with a standard 15 percent deductible or a 10 percent deductible. Either way, the deductible could leave homeowners with a sizable bill even if they are insured.
For example, if a person with a 10 percent deductible has insured their home for $400,000 — excluding the value of their land, which typically isn't affected in a quake — and they suffer $100,000 worth of quake damage, they'd be responsible for $40,000, with their insurance covering the rest. Similarly, that same homeowner with a 15 percent deductible would be responsible for $60,000.
If a person assumes their house might never sustain more than $60,000 in damages, they might figure quake insurance isn't worth the annual premium. But state officials say that could prove a risky gamble, since a home's damage could total well above the deductible, depending on a variety of factors, including the temblor's size, duration, and proximity, as well as the home's age, type of construction, and number of stories.
"If they make a decision to not purchase earthquake insurance, they will be on the hook themselves for what may be their most valuable asset and will be responsible for 100 percent of the cost if a damaging earthquake struck," said the Earthquake Authority's Pomeroy.
Another common reason people avoid getting quake insurance is because they figure federal officials will come to the rescue with financial assistance after a major shaker. But even if the federal government offers help to those affected by the Napa quake, there is no guarantee it will cover everything.
"Federal and state funds alone are unlikely to be enough to get your life back to its pre-disaster condition," warns an Earthquake Authority brochure.
One more factor in the relatively low rate of homeowners who buy earthquake insurance might be confusion, said San Francisco lawyer Robert Berg, who specializes in insurance issues.
"The earthquake policies are complicated," he said. "So people will read them and say, 'I don't know what I'm getting out of this.'"
Even so, the Napa quake — where the damage has been estimated by some experts at $1 billion to $4 billion — could prompt more people to reconsider buying a quake policy.
"Most definitely," said Michael Barry, a spokesman with the Insurance Information Institute, a non-profit industry group. "I'm sure insurance agents in Northern California will be getting a number of calls inquiring about how to go about buying earthquake insurance."
AFP Photo/Josh Edelson
Interested in national news? Sign up for our daily email newsletter!