Veronica Rutledge And America's Gun Cult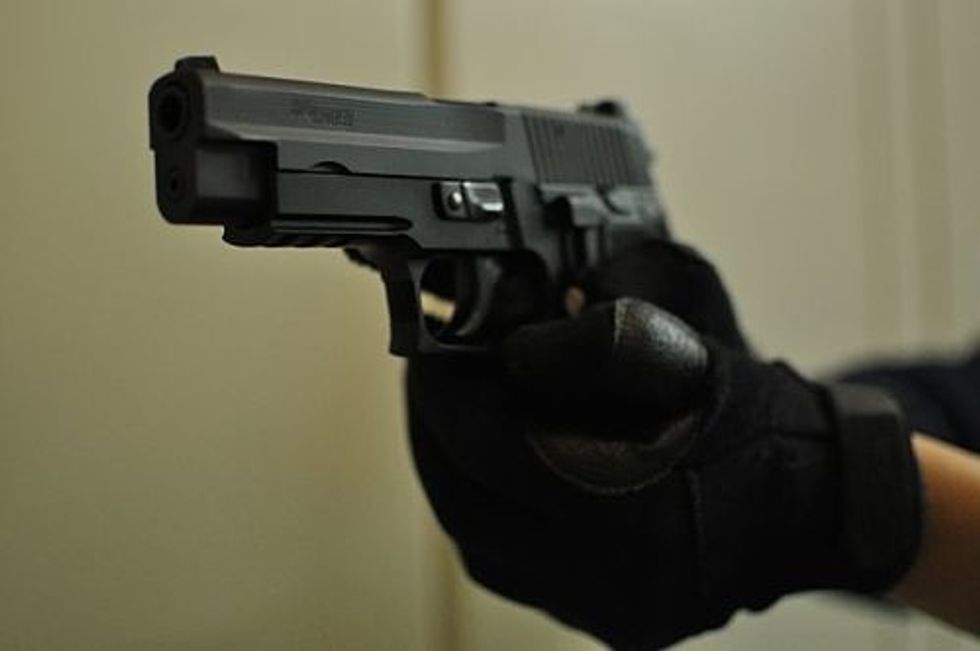 That Idaho mother shot to death by her two-year-old son in a Walmart store? Judging by Veronica Jean Rutledge's biography, you can be just about certain that she'd driven to the store wearing a seatbelt, with her little boy buckled carefully into his car seat.
By all accounts, Rutledge, age 29, was that kind of mother: loving, diligent and careful — an entirely admirable young woman. In the aftermath of the tragedy, photos of her shining face are almost unbearable to contemplate.
A high-school valedictorian, Rutledge graduated from the University of Idaho with a degree in chemistry. She was a promising research scientist at Batelle's Idaho National Laboratory, working on reducing the toxicity of nuclear waste.
It would appear to follow that her child's home environment was carefully childproofed, with household poisons stored safely away and dangerous objects placed out of reach. Rutledge probably would never have dreamed of letting her son play outside unsupervised, nor left him alone in the bathtub.
And yet she carried a loaded semi-automatic handgun in her purse on a post-Christmas shopping trip and left it unattended in a shopping cart, where the child took it out and somehow pulled the trigger.
Rutledge died instantly there in the electronics aisle.
Very likely her son is too young to understand or remember what happened, although it will shadow his life forever.
In the immediate aftermath, Terry Rutledge, Veronica's father-in-law, gave an ill-advised interview to a Washington Post reporter expressing anger that anybody would use the tragedy "as an excuse to grandstand on gun rights," as the article put it.
"They are painting Veronica as irresponsible, and that is not the case," he said. "… I brought my son up around guns, and he has extensive experience shooting it. And Veronica had had handgun classes; they're both licensed to carry, and this wasn't just some purse she had thrown her gun into."
Oh no, it was a designer item produced by an Illinois firm called Gun Tote'n Mamas with a zipped compartment for carrying a concealed handgun — given to her as a Christmas present from her husband.
Nevertheless, Rutledge made an incomprehensible blunder, and it cost her life. The blunder, as I see it, of carrying a loaded handgun — with a chambered round, no less — as a kind of fashion accessory, a totemic item signifying her cultural identity.
Her close friend Sheri Sandow explained that for all her academic accomplishments, Rutledge was "as comfortable at a campground or a gun range as she was in a classroom."
OK, fine… but why Walmart? Not because she was fearful, Sandow explained.
"In Idaho, we don't have to worry about a lot of crime and things like that," she said. "And to see someone with a gun isn't bizarre. [Veronica] wasn't carrying a gun because she felt unsafe. She was carrying a gun because she was raised around guns. This was just a horrible accident."
Indeed, she needn't have felt unsafe. The most recent homicide in Blackfoot, Idaho, where the family lived, was six years ago.
The scientist in Veronica Rutledge, had she allowed herself to think about it rationally, would have understood that the pistol in her purse was far more dangerous to her and her child than any external threat. As an NRA adept and a big fan of the Guns.com website, however, she evidently become so habituated to carrying a gun around that she quite forgot she had it.
By itself, there's nothing inherently objectionable about target shooting, a harmless pastime like bowling or golf. I own a target pistol myself, and take it out sometimes to plink aluminum cans. I also own shotguns, although I no longer hunt.
But when a hobby verges upon obsession, you're talking about cultlike behavior. Spend a few minutes browsing around Guns.com and maybe you'll see what I mean. Current features include Kid Rock's gun collection, and the effects of shooting a giant Gummi Bear with a 12 gauge.
Cool!
In a recent New Yorker article, Adam Gopnik explained the political psychology of guns. The great majority of Americans agree that there should be sensible limitations on the possession and use of tools whose function is killing, "while a small minority feels, with a fanatic passion, that there shouldn't. In a process familiar to any student of society, the majority of people in favor of gun sanity care about a lot of other things, too, and think about them far more often; the gun crazy think about guns all the time, and vote on the issue with fanatic intensity."
Hence handguns as costume jewelry, totems signifying one's membership in the NRA tribe. Terry Rutledge, however, can rest easy. If the 2012 Newtown, CT massacre failed to bring reform, his daughter-in-law's death won't change anything significant.
Except possibly the behavior of anybody tempted to pack heat around little children.
Photo via Wikimedia Commons