Veterans Advocacy Groups Pump Millions Into Midterm Election Campaigns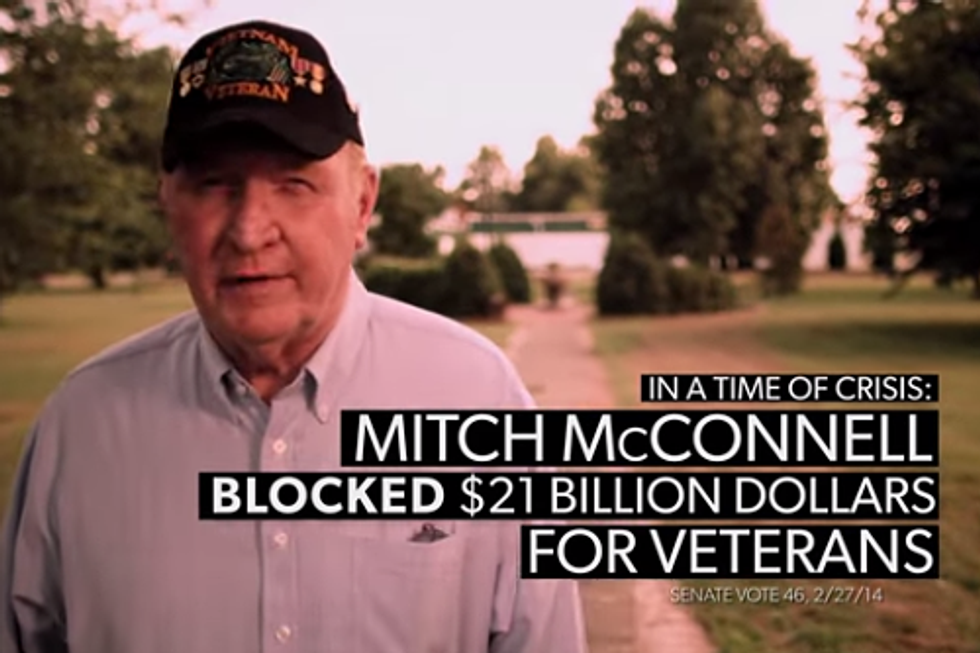 By Eliza Newlin Carney, CQ Roll Call
WASHINGTON — Veterans organizations with overtly partisan messages and agendas have spent millions of dollars promoting candidates in tight Senate races this year, prompting criticism from veterans and established vet groups on both sides of the political divide.
Concerned Veterans for America, a conservative advocacy group with ties to the billionaire industrialists Charles and David Koch, has spent more than $2 million blasting Democratic Senate candidates, Center for Responsive Politics data show, largely for failing to fix problems at the Department of Veterans Affairs. The veterans group has both stoked and capitalized on outrage over the VA scandal involving long waiting times for medical care and the agency's cover-up of those delays.
On the liberal side, VoteVets.org has set out to spend about $7 million to help Democrats in the midterm elections, according to its organizers. The VoteVets political action committee has delivered more than $1 million to candidates both in direct donations and in bundled contributions since its founding in 2006.
The explosion in veteran-focused campaign spending alarms some veterans and longtime veterans organizations. Membership-focused veterans associations, such as the American Legion, have long had special tax protections coupled with strict limits on their political activities. Some vets associated with the "old guard" worry that politics will swallow the best interests of veterans.
"Most mainstream veterans groups are required to be nonpartisan, and it concerns me that we do have groups on both extremes that are very partisan in their approach and very calculating in what they want to accomplish," said Joe Violante, national legislative director of Disabled American Veterans, established in 1920 and congressionally chartered in 1932.
Violante voiced particular concern over attacks by Concerned Veterans for America against the VA. The conservative group has challenged VA funding increases and supports partially privatizing health care for veterans. Such steps could make fewer veterans eligible for more limited services, Violante said.
Concerned Veterans of America is run by and champions veterans, said Dan Caldwell, the group's issues and campaign manager, a veteran himself. The group fills a void in the veterans' community, he said, by advocating VA changes, deficit reduction and national security.
Caldwell acknowledged that the VA scandal "changed the whole dynamic of our organization," but denied that the group's big-money dollar attacks on such Democrats as North Carolina incumbent Sen. Kay Hagan and Rep. Bruce Braley of Iowa are political.
"These ads we consider issue advocacy," Caldwell said. "They are based out of our VA reform efforts. We are not just a fly-by-night 501(c)(4) trying to use the VA scandal as an election-year issue. We have a long history on these issues. We have a real agenda on VA reform."
But Concerned Veterans for America's frequent attacks on the Affordable Care Act align it squarely with other Koch-affiliated groups. Freedom Partners Chamber of Commerce, a trade association at the heart of the Koch donor network, gave $5.2 million to Concerned Veterans for America, 2012 tax records show.
Freedom Partners also purchased extensive airtime in Iowa and North Carolina earlier this summer, according to the Sunlight Foundation — valuable spots that were eventually used by Concerned Veterans for America. Caldwell said his group paid for the spots, and Freedom Partners had canceled its reservations, which freed up ad time.
VoteVets Chairman Jon Soltz rejected any comparison between Concerned Veterans for America and his organization, which claims 450,000 members and was founded in 2006.
"I'm hesitant to say they're anywhere equivalent to what we've built over eight years," Soltz said. But VoteVets.org has also taken heat for its campaign advertising, recently drawing public criticism from a prominent Kentucky veteran over an ad assailing Senate Minority Leader Mitch McConnell (R-KY) for not supporting a bill that would have boosted VA funding by $21 billion. The ad was part of a $600,000 ad campaign against McConnell by VoteVets, which operates both a PAC and a social welfare arm known as VoteVets Action Fund.
McConnell "has been a vocal advocate about the urgent need for reform at the VA and was instrumental in helping ensure Senate passage of the important bipartisan veterans bill that was signed into law last month," Karl Kaelin, vice chairman of a Kentucky committee of the Veterans of Foreign Wars, said in a statement released by the McConnell campaign.
McConnell's camp also dismissed VoteVets as a front "funded by environmental activists." The VoteVets Action Fund has received more than $6 million in grants from a long list of environmental, labor and other progressive groups since 2010, according to the CRP. The group has also made grants to such Democrat-friendly allies as the American Bridge 21st Century Foundation and America Votes, an umbrella group for progressive activists, according to IRS records.
"We're progressive, period," Soltz said. "There are a lot of veterans out there who don't feel veterans organizations represent them."
Veterans' issues have always resonated powerfully with voters, and that is particularly true in this election. The number of veteran-themed ads, by both outside organizations and candidates themselves, hit 34,000 nationwide as of the end of August, according to Kantar Media Ad Intelligence.
"Veterans are great messengers, because they don't look political," Soltz said. "And these are mom-and-apple pie issues: taking care of our veterans."
Screenshot: votevets/YouTube