Veterans Group Pushes For 'Marshall Plan' To Address VA Member Issues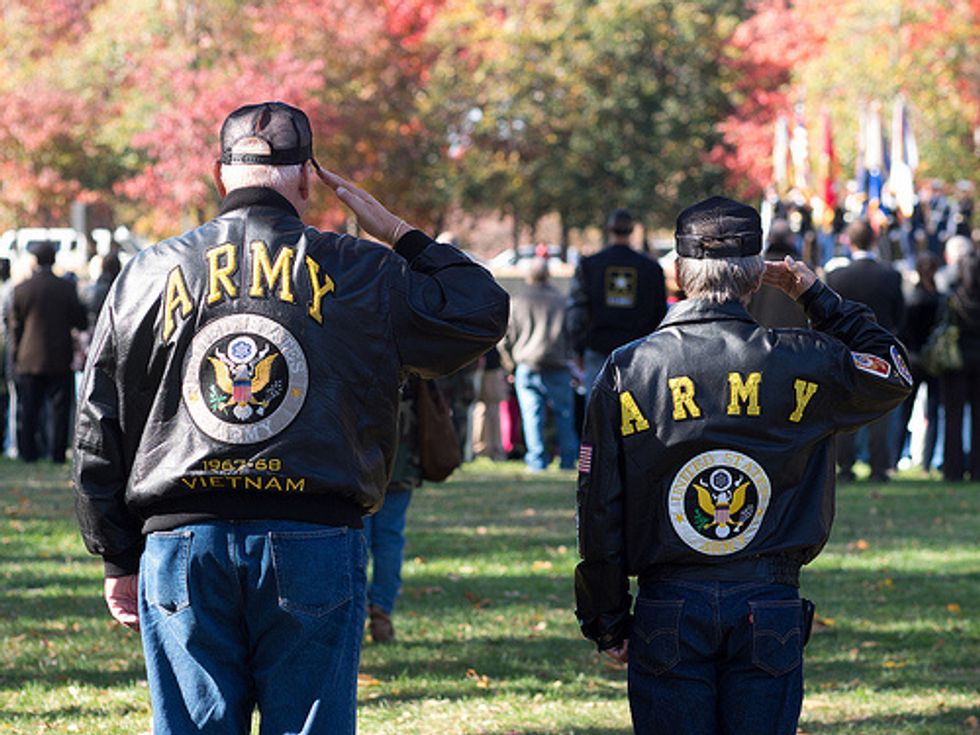 By Richard Simon, Los Angeles Times
WASHINGTON — As the Senate prepares to take up reform legislation growing out of the VA health care scandal, a group representing Iraq and Afghanistan war veterans called Monday for a "Marshall Plan" for veterans and for the president to appoint a post-9/11 veteran or someone who understands the younger generations of veterans as the next secretary of Veterans Affairs.
The 200,000-member Iraq and Afghanistan Veterans of America said a program modeled on the Marshall Plan, which got Europe back on its feet after World War II, would help veterans by involving every resource, including the federal government, the private sector and philanthropy.
The group also called for the Senate to swiftly pass legislation that would expand the VA secretary's authority to fire or demote senior staff for poor performance and for Congress to increase funding for VA health care and approve a bill designed to combat suicides among veterans.
Paul Rieckhoff, the IAVA's chief executive officer, said he hopes Friday's resignation of VA Secretary Eric K. Shinseki doesn't diminish the urgency for Congress and the White House to address problems. The group has urged President Barack Obama to meet with veterans' groups to hear their ideas on how to fix the VA mess.
"This is far from over," Rieckhoff said at a Capitol Hill news conference.
The group's recommendations come as battles shape up in Congress over VA funding and reform. They also come as Sen. Richard Blumenthal (D-CT) on Monday called on Acting VA Secretary Sloan Gibson to release site-specific details of a department audit of 216 VA facilities presented to the White House on Friday.
"The American public, most especially our nation's veterans, deserves and needs to see these site audit reports immediately," Blumenthal, a member of the Senate Veterans' Affairs Committee, wrote Gibson. "They have a right to know where problems have been found, who is responsible, and what will be done to hold them accountable and fix the problems."
The audit found that appointments at more than 60 percent of the divisions had been changed at least once and that 13 percent of the scheduling staffers indicated that they had received instructions to enter a date different from the one requested by the patient. "Information indicates that in some cases, pressures were placed on schedulers to utilize inappropriate practices in order to make waiting times appear more favorable," the audit said.
The Senate Veterans' Affairs Committee on Thursday is due to take up the Restoring Veterans' Trust Act, a measure sponsored by its chairman, Sen. Bernie Sanders (I-VT), that would, among other things, authorize emergency funding for hiring more VA doctors and nurses, provide veterans who can't get timely appointments with VA doctors the option of going to community health centers, military hospitals or private doctors, and expand the VA secretary's authority to fire or demote senior executives for poor performance.
The House last month overwhelmingly approved the VA Management Accountability Act to make it easier for the VA secretary to fire or demote senior employees, but Sanders is preparing his own version of the measure to address concerns by federal employee groups that the House measure could "transform career senior executives at the VA into another layer of political appointees."
Photo: Cosmic Smudge via Flickr