Veterans On The March Once More As D-Day Ceremonies Start
@AFP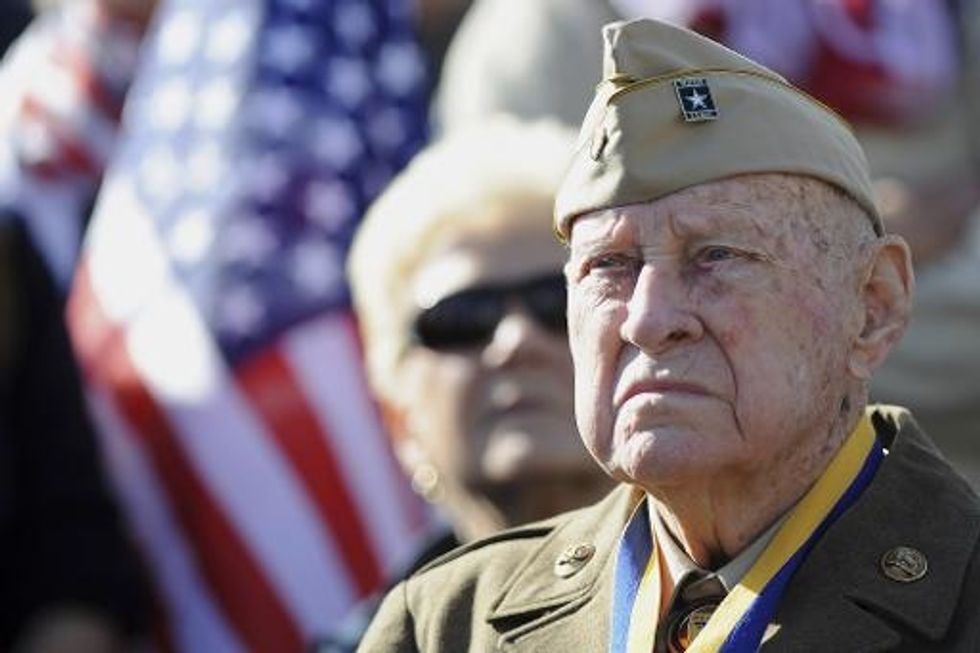 Caen (France) (AFP) – D-Day veterans marched back to Normandy's beaches and villages on Thursday, in an emotional return marking 70 years since the launch of the biggest amphibious invasion in military history.
Royals, top brass and no fewer than 20 world leaders, including U.S. President Barack Obama and Russia's Vladimir Putin, will attend the main D-Day ceremony on Friday, amid ongoing diplomatic wrangling over the Ukraine crisis.
A series of events on the eve of the anniversary honored the bravery and sacrifice of those who risked their lives to liberate Europe from Nazism, most of whom are now in their 90s and are marking the occasion for probably the last time.
One of them, Ernest "Ernie" Stringer, spoke of his terror as he piled out of a low-flying military aircraft in pitch darkness.
"It was dark and the planes were coming in very low. We were out and on the ground very quickly," Stringer, who was only 19 on the day, told AFP.
"I was dead scared. You don't know what's going to happen to you. You are jumping blind. You don't know where the Germans are," he said.
"As it happened we were virtually surrounded but we didn't know that. And they didn't know we were there either!" he added.
He battled his way to Pegasus Bridge, the strategic crossing at Benouville that was secured by British parachutists in the opening stages of D-Day and awaited his comrades who would launch the main assault at dawn.
Many of those who jumped before him were not so lucky. The man ahead of Stringer hit a wall and broke his arm. Several died on impact, not having time to open their chutes as the planes were flying so low.
Stringer later had his knee shredded by machine-gun fire but survived the early skirmishes of a battle that would eventually mark the liberation of France.
More than 156,000 troops waded or parachuted onto French soil on June 6, 1944. Nearly 4,500 would be dead by the end of the day.
Britain's Prince Charles led the tributes to men like Stringer who took part in the first wave, when thousands of Allied troops flew or parachuted in during the early hours of June 6, 1944, catching the German army by surprise.
Wearing a field marshal's uniform, the heir to the British throne chatted at length to veterans, many of whom were confined to wheelchairs, along with his wife Camilla, who was wearing a grey-blue overcoat.

He waved to crowds who applauded as he crossed Pegasus Bridge under a clear blue sky and posed for a group photo with veterans.
Charles and Camilla then hopped into a motor gunboat, one of the lead boats on the approach to Swords Beach on that historic day seven decades ago.
"Did you jump here?" the prince asked paratrooper Raymond Shuck. "And in the right place?" he quipped, in reference to the fact that several parachutists landed in completely the wrong place in the darkness and confusion of the assault.
Charles was later due to oversee a parachute drop involving British, French, U.S. and Canadian forces including Jock Hutton, a Scottish veteran who parachuted onto the same spot in 1944 and planned to make a tandem jump at the age of 89.
In the naval base of Portsmouth, in southern England, the departure point for troops heading to Swords Beach, some 80 veterans watched an amphibious vehicle roar off a landing craft onto a beach.
Queen Elizabeth II's daughter Princess Anne attended a service nearby, writing in the order of service that the soldiers that day "had no idea what they were to face, or what the effect of their efforts would be, but as we now know, D-Day marked the beginning of the end of World War II."
Later on Thursday, a flotilla of ships were due to depart Portsmouth in commemoration of the nearly 7,000 vessels that took part in the invasion.
U.S., French and Dutch soldiers will also take part at an evening ceremony at Utah beach, on the western edge of the invasion site.
Fireworks displays along the coast will light up the sky shortly before midnight, marking the moment of the first bombing raids.
On Friday, Queen Elizabeth and U.S. President Barack Obama are among the world leaders attending the international ceremony of remembrance on the beach at Ouistreham.
Also on hand will be hundreds of medical staff to care for the aged veterans on what is expected to be a sweltering mid-summer Normandy day.
Stringer, who was to attend a lunch with Prince Charles, said he had been several times to Normandy but the circle of D-Day veterans was shrinking fast.
"You keep looking for your friends. Always wondering who's missing, because there's so few left."
Photo: Jean-Sebastien Evrard via AFP