Vice President Joe Biden, In Grieving For Son Beau, Shines As Family Patriarch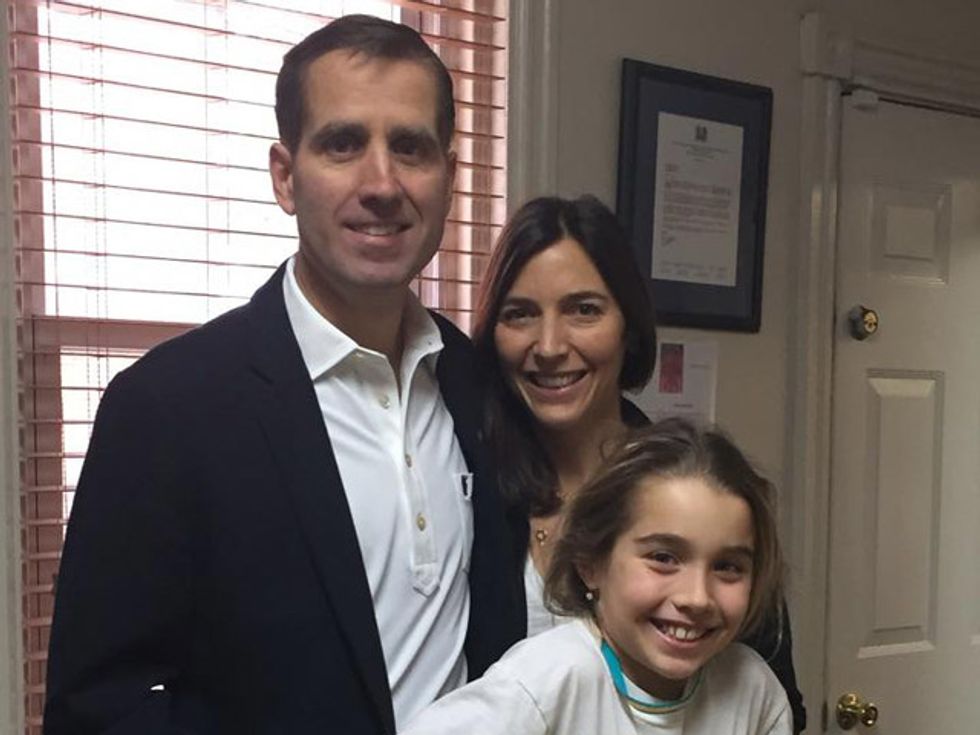 By Michael A. Memoli, Tribune Washington Bureau (TNS)
DOVER, Del. — Vice President Joe Biden stood silently beside his family, huddled in grief as Delaware's elected officials offered words of tribute to the memory of his son Beau, who will be buried Saturday after dying of cancer at the age of 46.
At times, the vice president rested his head in his hand or looked toward the ceiling to compose himself.
After Thursday's service, as hundreds of people familiar and less so filed by to pay their respects, the famously genial politician returned to form, hugging those who offered condolences, remembering faces, at times seeming to be the one consoling those who lined up outside the Delaware Statehouse to pass by the casket.
Over nearly four hours, Biden never took a break. He might have stayed longer but for another commitment: The vice president flew back to Washington with his younger son, Hunter, arriving in time to attend the middle school graduation of Hunter's youngest daughter, Maisy.
Many politicians wrap themselves in the image of a loving family. Few actually live the role to the extent that Biden has done throughout his political career, according to political adversaries as well as allies. For years, he has been the patriarch of a sprawling family, one touched often by tragedy.
On Election Day in 2008, as he flew to Chicago to join then-Sen. Barack Obama to watch the returns, Biden told a reporter that his granddaughter Finnegan, Hunter's middle daughter, had been the person who "pushed the hardest" for him to accept when Obama offered him the No. 2 spot on the Democratic ticket.
Biden recounted the pitch she had made — first that "Obama needs you," but then a more personal one: The vice president's official residence was a mile and a half from her house.
For years, he said, family life had been centered on his home in Wilmington, Del., which was designed to be large enough for the extended family to all stay overnight around birthdays and holidays.
A move to Washington and the vice president's mansion would not disrupt those routines, he said then. "In a sense, it's maybe a little easier if we were to win," he said, without those almost daily Amtrak rides.
It has proved to be so. Biden hosts regular sleepovers for his grandchildren at the residence and attends family sporting events and school programs. When planning foreign trips, he has often arranged to take grandchildren along, making sure they have an itinerary separate from his own so he can pepper them with questions on the way home.
"He would pick up things about the country from their experiences," said Tony Blinken, a longtime Biden foreign policy adviser who now is deputy secretary of state. "It was, in a funny way, multiplying his own presence and ability to absorb things because they would have a different kind of experience and they would relate it to him."
"You would see both the government officials we were visiting, but also the local media and everyone we met comment on it," Blinken said.
On Biden's first trip to China as vice president in 2011, Hunter's oldest daughter, Naomi, joined him for many of the stops.
"It would be more appropriate to say Naomi brought me along with her, since she's a budding Chinese speaker," he said in the trip's keynote speech in Chengdu. "I've been listening to her on the whole trip."
Those trips were a continuation of what Biden had done in the Senate as a member and chairman of the Foreign Relations Committee, when he took his boys with him on separate trips to Europe as teenagers.
Democratic Sen. Thomas R. Carper, a former Delaware congressman and governor, recalled seeing Biden kiss his younger children goodbye many days at the Amtrak station in Wilmington.
"I can't tell you how many times I saw him bringing a granddaughter or grandson with him on the train to Washington to spend a day with them, so they could be with him, give them some special time," he said.
Biden nearly quit the Senate before he joined it. Shortly after his election in 1972, an accident claimed the lives of his wife and infant daughter and seriously injured his two sons. The crisis would forever change the perspective of the ambitious young politician.
Delaware could get a new senator, but his boys couldn't get a new father, he told friends and colleagues as he debated whether he should take the oath of office. Democrats including Sen. Edward M. Kennedy of Massachusetts and Majority Leader Mike Mansfield of Montana convinced him to take office, and he began the daily Amtrak trips between Delaware and Washington that came to shape his political persona.
By the time he was tapped for the vice presidency, his family had expanded — a new wife and daughter, and later a new son-in-law, daughters-in-law and five grandchildren.
"Because I had the incredibly good fortune of an extended family grounded in love and loyalty, imbued with a sense of obligation imparted to each of us, I not only got help, but by focusing on my sons, I found my redemption," Biden recently told Yale students and families in a speech before the university's graduation. "The incredible bond I have with my children is a gift I'm not sure I would have had had I not been through what I went through."
(c)2015 Tribune Co., Distributed by Tribune Content Agency, LLC.
Photo: Beau Biden with wife Hallie and daughter Natalie, Nov. 25, 2014. (Beau Biden via Facebook)