VIDEO: Chief Coal Industry Lobbyist Won't Say If Coal Causes Climate Change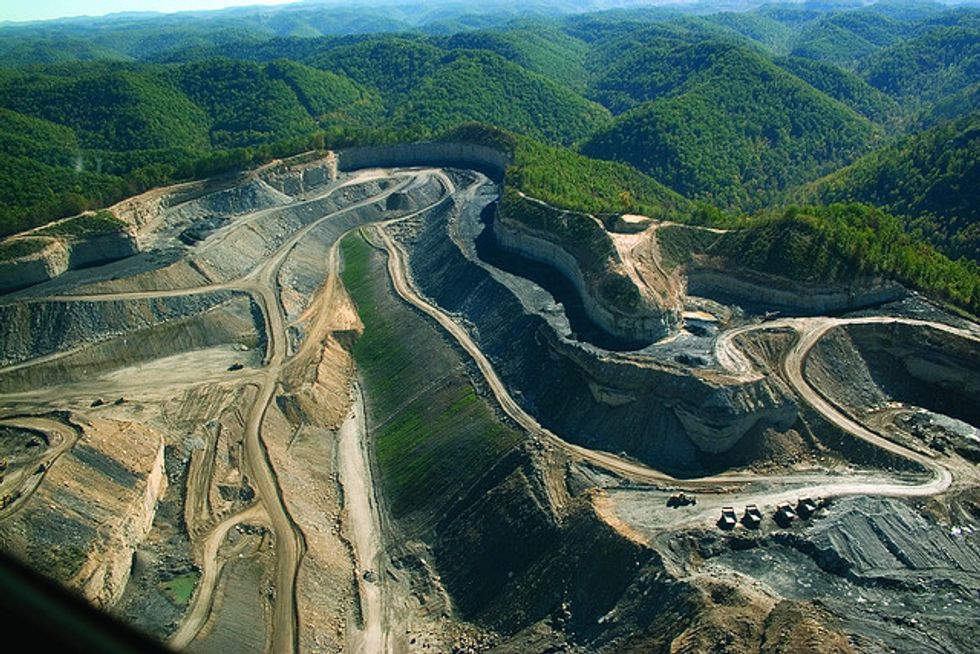 by Lee Fang, Republic Report
Does burning coal, one of the most carbon-intensive fuel sources on the planet, contribute to climate change?
That simple question stumped the industry's most prominent advocate, Robert "Mike" Duncan, at a Colorado mining conference last week. Asked twice by Republic Report, Duncan first said that a "lot of people believe" that coal causes climate change, before replying, "I'm not answering your question."
Duncan, the president and CEO of the American Coalition for Clean Coal Electricity (ACCCE), gave a talk to a room filled with mining industry executives about the dangers of new EPA rules concerning greenhouse emissions. ACCCE, which represents the largest coal companies in the nation, has pushed back against the administration's coal power plant rules. In an interview with E&E TV in January, Duncan said that instead of the EPA rules, his industry could take a gradual approach to reducing emissions with carbon capture sequestration, which he claimed can "make coal even cleaner."
With Duncan's support for carbon sequestration in mind, we asked him about the very pollutant he hopes to prevent. Watch the video below:
Critics argue that carbon sequestration technology — which is designed to store carbon from coal plants underground — is untested and unlikely to ever safely contain carbon pollution in perpetuity. As DeSmogBlog notes, "a 2012 study published in the Proceedings of the National Academy of Science concludes that even a small earthquake event in the US has the potential to release stored carbon back into the atmosphere, making 'large-scale CCS a risky, and likely unsuccessful, strategy for significantly reducing greenhouse gas emissions.'"
In a letter to The New York Times editor last year, Duncan argued that coal regulations would have "no meaningful impact on global climate change" because "closing down our entire coal fleet would reduce global greenhouse gas emissions by just 3 percent." Such a small change, Duncan wrote, would only reduce global average temperatures by about .03 degrees Fahrenheit. Such a statement, one might infer, would suggest that Duncan understands that burning coal contributes to climate change.
ACCCE has been less than upfront about its policy positions in the past. During the 2009 debate over cap-and-trade legislation, a subcontractor to the ACCCE was caught sending fake letters, using the letterhead of a local NAACP chapter and other civil rights groups, to lawmakers. The letters expressed opposition to the legislation. At a hearing concerning the scandal, ACCCE again misled lawmakers, claiming falsely that the group never took a position on Waxman-Markey, the cap-and-trade legislation.
ACCCE represents Alpha Natural Resources, American Electric Power, Arch Coal, BNSF Railway, Consol Energy, CSX, Peabody Energy, Southern Company, and other coal-related corporations.
This article originally appeared on Republic Report.
Photo: Bread for the World via Flickr