Video: Don Jr. Rally For Kentucky Gov. Bevin Draws Tiny Crowd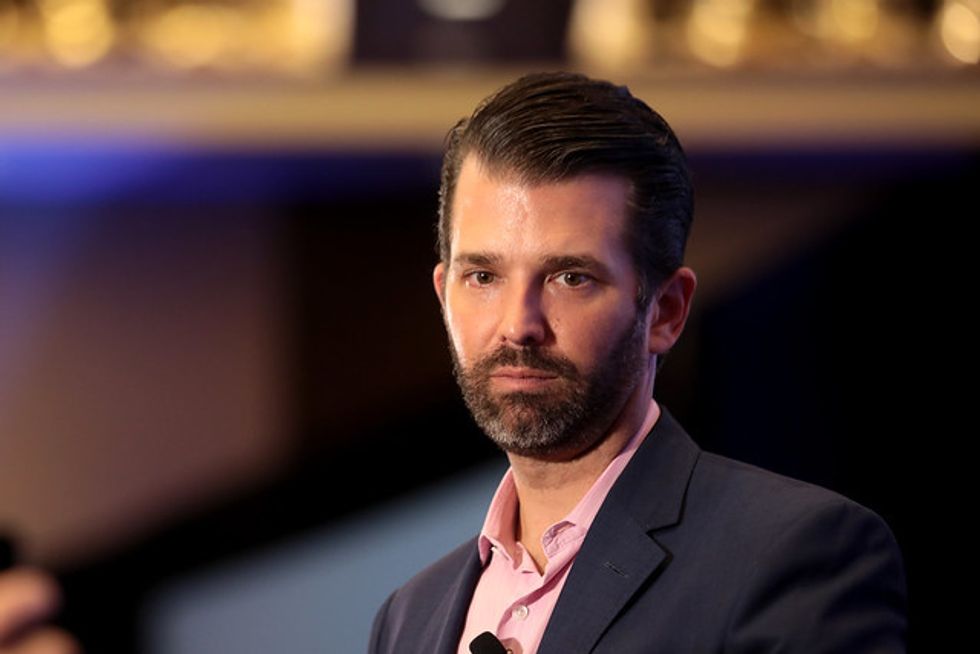 Donald Trump Jr. could not attract much of a crowd in an extremely pro-Trump area of Kentucky to rally for Gov. Matt Bevin on Thursday.
The eldest Trump son promoted the event on Tuesday to his 3.79 million followers with a link touting the event as "an excellent opportunity to show your support" for Bevin.
But the event turned out to be an embarrassing bust.
There were only about 200 people in attendance and the arena has a seating capacity of 7,000.
Videos taken of the venue showed hundreds of empty seats and wide-open spaces on the floor of the arena.
Yikes. This is what the Donald Trump Jr.'s & Crooked @MattBevin's rally in Kentucky looked like today—completely EMPTY!

And Trump won this county by 80% in 2016! #KYGov pic.twitter.com/jdPclqknXu

— American Bridge (@American_Bridge) August 29, 2019
"Organizers have asked the audience to move out of the seats and closer to the stage ahead of Trump Jr/ Gov. Bevin event in Pikeville," noted Kentucky Public Radio reporter Ryland Barton, who was on the scene. "I think it's fair to say this is sparsely attended."
The rally took place in Pike County, which Trump won in 2016 with 80% of the vote.
Speaking at the event, Trump Jr. claimed that he had roots in the rust belt and partly grew up there because he went to boarding school in Pottstown, Pennsylvania. Trump Jr. said that this experience made him better understand working-class issues.
The attendance flop highlights growing concerns about Bevin's chances of reelection this November.
Recent polling has shown him 9 percentage points below his likely Democratic opponent, state Attorney General Andy Beshear. A poll in April showed he was the least popular governor in the country.
Bevin has been under fire for repeated attacks and smears of teachers in his state. He has also been criticized for trying to take health care away from residents, using his gubernatorial role to execute policy similar to what Trump has tried to do in the presidency.
The Trump administration has been pulling out all the stops to help Bevin. Trump Sr. visited him for a rally last Wednesday, and Mike Pence flew to the state three weeks ago to boost Bevin.
But all the help from the White House doesn't seem to be improving Bevin's standing in the state, and Trump Jr.'s disastrous visit shows just how weak his reelection chances might be.
Published with permission of The American Independent.