Video Shows Trump Allies Opened Voting Machines In Georgia County
@next2godwin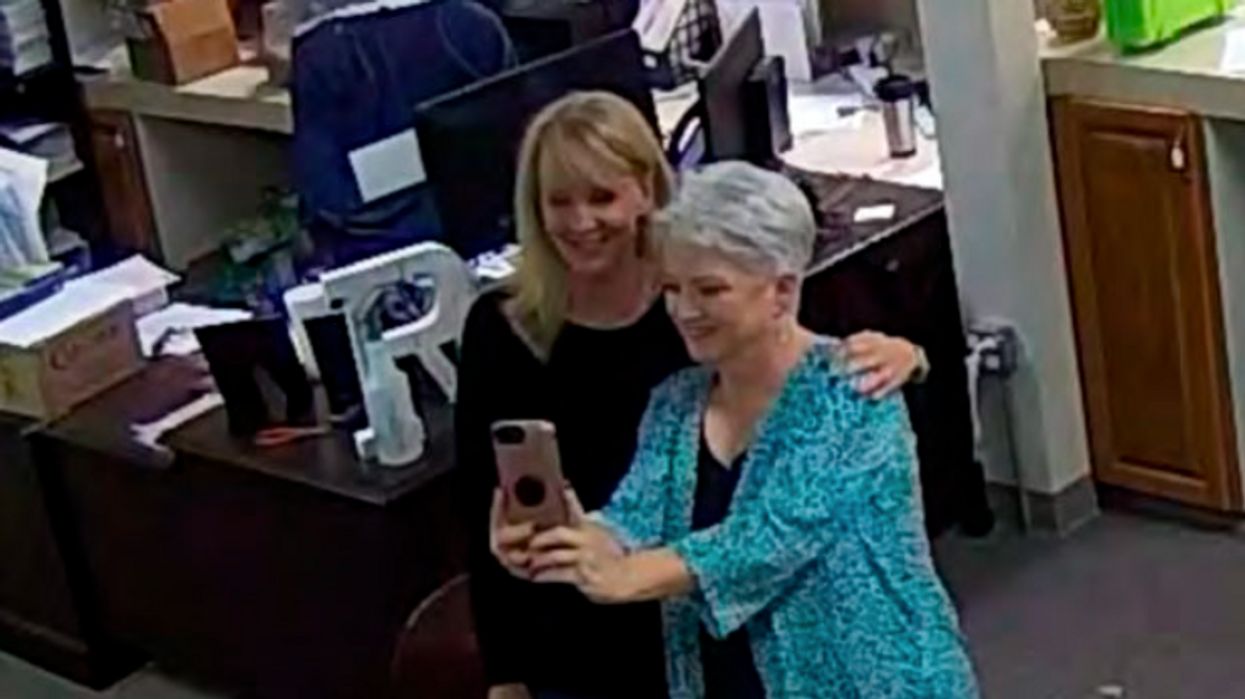 Video screenshot via Coffee County
Newly released surveillance footage shows that forensic experts working at the behest of attorneys tied to Trump spent hours at a rural elections office in Georgia, copying sensitive data from voting equipment, on January 7, 2021, a day after a mob of Trump supporters stormed the U.S. Capitol.
The footage, according to reports from CNN and the Washington Post, undercut the sworn deposition testimony of a Georgia Republican official, Cathay Latham, about her alleged role in the shocking breach of voting equipment in Coffee County two months after the 2020 general election.
In the video, Latham, then-chairperson of the county's Republican party, welcomed a team of computer experts — including members of a data forensics firm, SullivanStrickler — hired by conspiracy-peddling Trump lawyer Sidney Powell upon their arrival, introduced them to local election officials, and spent hours there.
Lathem told the experts what to copy, which, it turned out, was "virtually every component of the voting system," alleged a late Monday filing in response to Latham's attorney's attempt to kill subpoenas for her electronic devices, "including any cellphones, computers and storage devices," according to the Associated Press.
"I didn't go into the office," Latham said, per the transcript of her testimony last month as reported by the Post. She had also claimed to have chatted with a businessman alleged to have accompanied the experts — for "five minutes at most," on a topic she no longer recalled — before leaving with her husband.
However, the video showed Latham greeting the businessman, Scott Hall, after which she led him to a back area to meet with the computer experts and local elections officials. Furthermore, for large portions of the day, Latham was seen in the video moving in and out of the area where the experts were working, which wasn't visible in the surveillance footage.
Hall, an Atlanta–area bail bondsman and Trump supporter, said in a recorded phone conversation that he had "chartered the jet to go down to Coffee County" and that "we scanned every freaking ballot," the New York Times reported Tuesday.
"The same people that went up to Michigan, OK, and did all that forensic stuff on the computers. And they sent their team down to Coffee County, Georgia, and they scanned all the equipment, imaged all the hard drives, and scanned every single ballot," Hall added in the recording.
According to the Post, Latham took a selfie with one of the computer forensics experts before her departure.
"The video reveals that Cathy Latham had a more significant role with the SullivanStrickler team's work in Coffee County than she claimed," said David Cross, an attorney for election integrity groups suing Georgia over the security vulnerabilities in its voting systems. "We can see her escort the team into the office that morning, for example."
The plaintiffs in the suit assailed "the persistent refusal of Latham and her counsel to be straight with this court about the facts" when "she literally directed them on what to collect in the office."
Latham was one of 16 fake electors in Georgia who signed a certificate falsely proclaiming former President Trump the electoral victor in a state he lost to then-Democratic presidential candidate Joe Biden, for which she is being investigated.
"She's an important connection to the effort to create a slate of Georgia electors who would have wrongly voted for Trump for the 2020 election, which now looks to be the subject of a grand jury investigation in Fulton County," Cross added.
Latham's attorneys, Robert D. Cheeley and Holly A. Pierson, responding to questions from the Post, defended their client's deposition testimony, saying, "Failing to accurately remember the details of events from almost two years ago is not lying."
In court, Latham's attorneys called the breach "less of a criminal undertaking and more of a permissible exercise of the County Elections Board's authority."
"The parties involved plainly believed that they had the authority to authorize it and the authority to do it, and that belief seems to be at least reasonable and likely accurate, which negates any possible criminal intent," Latham's attorneys wrote.
The voting equipment breach is under investigation by the secretary of state's office and the Georgia Bureau of Investigation, according to Mike Hassinger, a spokesperson for Brad Raffensperger, Georgia's secretary of state.
"If it's determined that people have committed a crime, they're going to be prosecuted to the fullest extent of the law," Hassinger said.
In a statement Tuesday morning, SullivanStrickler said it received a subpoena from a Fulton county special grand jury aiding district attorney Fani T. Willis' investigation into possible election interference by Trump and his allies in Georgia.
"We can confirm that SullivanStrickler is not a target of the Fulton County special grand jury's investigation," the statement said. "Our firm and our employees are only witnesses in this matter. We will continue to fully cooperate with law enforcement."