Videos Of Police Shootings Don't Always Tell The Full Story, Experts Warn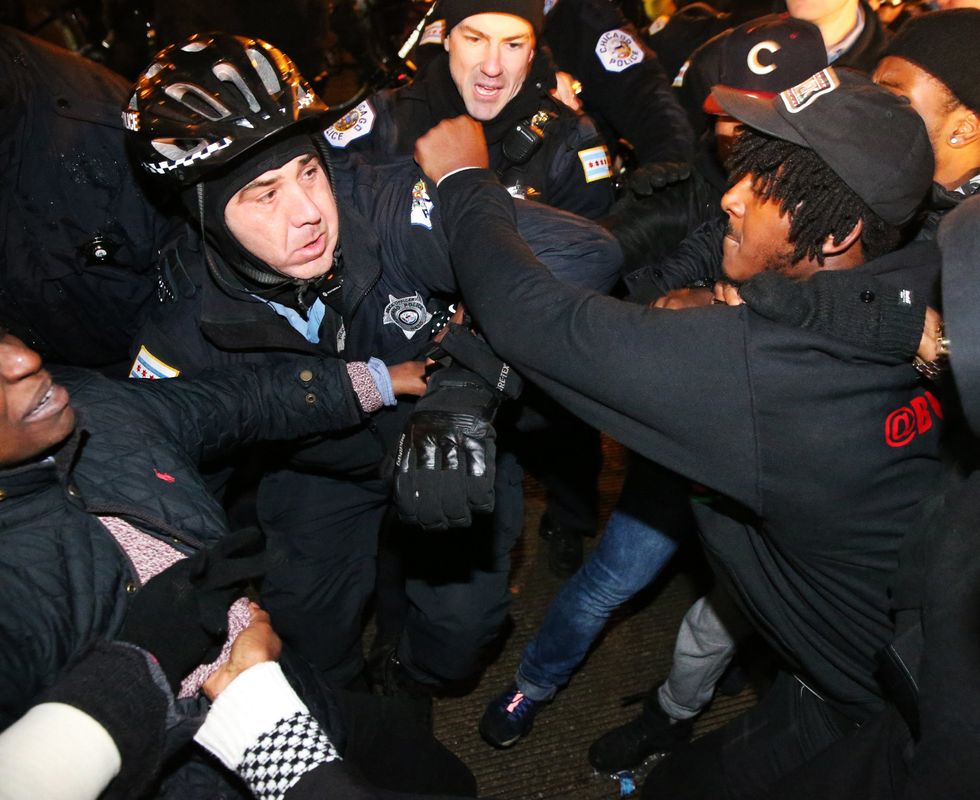 By James Queally and Richard Winton, Los Angeles Times (TNS)
LOS ANGELES — The video, shot from the dashboard camera of a police cruiser, shows a black teenager walking down the middle of a Southwest Chicago street. Two police officers approach the 17-year-old from his left, guns drawn.
The teen stumbles and falls as he is hit by gunfire. But, Cook County prosecutors say, Chicago Police Officer Jason Van Dyke continues shooting even after Laquan McDonald has crumpled to the asphalt.
Van Dyke fired 16 shots in total, investigators said. McDonald died a short time later.
The recording — a key piece of evidence released Tuesday as a first-degree murder charge was filed against Van Dyke — is the latest in a catalog of videos that has put police use-of-force under intense scrutiny across the U.S. In the past 18 months, surveillance feeds and cellphone recordings have led to protests and criminal charges after officers used force against civilians in New York City, Los Angeles, Cleveland and South Carolina, among other places. Many of the protests have focused on the role of race in police use of force, particularly against black men.
The videos are often visceral in nature, showing what many activists consider to be clear-cut misuse of force by police officers. Cook County State's Attorney Anita Alvarez said she "moved up" her decision to charge Van Dyke after a judge ruled last week that the video should be released to the public.
But, even as demonstrators took to Chicago's streets Tuesday night to protest the shooting of McDonald by a white police officer, law enforcement experts around the nation warned that recordings like the one that captured the teen's death can paint an incomplete picture.
"Knowing what happens on video after it happens is totally different than knowing what the cop was thinking and what he will say he was thinking," said Eugene O'Donnell, a professor at the John Jay College of Criminal Justice and a former assistant district attorney in New York City. "The video obviously could be damning in terms of a criminal case, but the ultimate question is, is there malice towards the kid? Is it totally unwarranted under any view of the evidence? The video does not speak for itself."
Recordings of clashes between police and civilians have been especially resonant in Los Angeles in recent months, where video filmed by a bystander of several officers opening fire on a homeless man on skid row earlier this year generated national outrage.
Deciding whether to make official recordings public has also proved a thorny issue for city leaders.
The spread of similar videos has sparked large-scale protests in some cities. In Chicago, Mayor Rahm Emanuel's administration tried to keep the recording of McDonald's death from becoming public. In Los Angeles, the Los Angeles Police Department generally does not publicly release recordings from cameras mounted in its patrol cars or on officers' uniforms.
Van Dyke was one of several officers responding to reports that McDonald had been spotted breaking into vehicles and stealing radios on Oct. 20, 2014, according to details of the case released in court Tuesday. The first officers at the scene reported that the teenager was armed with a knife and walking away from the area. Cook County prosecutors said, at one point, McDonald waved the knife as he walked past a squad car.
The teenager did not speak to any of the officers or respond to commands to drop the knife. An autopsy showed McDonald had PCP in his system.
Van Dyke was about 10 feet away from McDonald when he started firing and continued shooting for 13 seconds while the teen lay on the ground, prosecutors said. Van Dyke's partner told investigators he had to stop the officer from reloading.
Law enforcement experts who reviewed the recording said that, on first glance, the shooting seemed excessive. Ed Obayashi, an Inyo County Sheriff's deputy who also works as an attorney on use-of-force cases, said the fact that Van Dyke's partner did not fire his weapon could prove critical at trial.
"The testimony of that officer is going to be very, very compelling about why he did not perceive a deadly threat," Obayashi said.
Other experts who reviewed the video could not understand how Van Dyke could perceive the teenager as a threat.
"I don't see a justification for deadly force. He is walking away from the officer," said Geoff Alpert, a criminologist at the University of South Carolina and an expert on police force.
Sid Heal, a former Los Angeles County Sheriff's commander and force expert, questioned Van Dyke's decision to fire and the prosecutor's move to charge him with murder.
"It's going to be tough to make a case that he arrived at a scene and decided in only 30 seconds to premeditatedly kill the suspect," Heal said. "If the defense can make any valid case for self-defense, manslaughter seems more appropriate."
The video highlights the way surveillance footage can influence prosecutors. Earlier this year, a cellphone recording showed North Charleston, S.C., police Officer Michael Thomas Slager firing several shots into the back of an unarmed black man, 50-year-old Walter Scott, who was running away from the officer.
Murder charges were filed against Slager on April 7, less than an hour after the city's mayor and police chief received the video, officials said at that time.
While recordings of deadly clashes between police and civilians have gained increased media attention in recent years, the videos are not always enough to gain criminal convictions.
Former San Bernardino County Sheriff's Deputy Ivory John Webb Jr. became the target of national outrage in 2006 after a video showed him towering over an off-duty Air Force police officer and shooting him several times. Despite indications that the man he shot appeared to be surrendering, Webb was acquitted of attempted voluntary manslaughter at trial.
A recording of a New York City police officer placing Eric Garner in an apparent chokehold during a fatal 2014 clash also sparked nationwide protests, but a grand jury declined to indict the officer on a manslaughter charge.
The law gives police officers wide latitude in using force when they believe that their lives — or the lives of others — are in danger.
O'Donnell said prosecutors will have to prove that Van Dyke did not believe McDonald posed an immediate threat to his life when he opened fire.
"Why would he choose to just coldblooded kill someone? Why would he do that?" O'Donnell asked. "You're going to have to answer that question."
___
(Chicago Tribune staff writers Jason Meisner, Jeremy Gordner and Steve Schmadeke contributed to this report.)
Photo: Protestors engage with Chicago Police after the release of the 2014 video of Laquan McDonald being shot by Chicago Police officer Jason Van Dyke, near Michigan Avenue on Tuesday, Nov. 24 2015, in Chicago. (Nuccio DiNuzzo/Chicago Tribune/TNS)