Virginia, A Ray Of Light On A Rainy Day
@JamieStiehm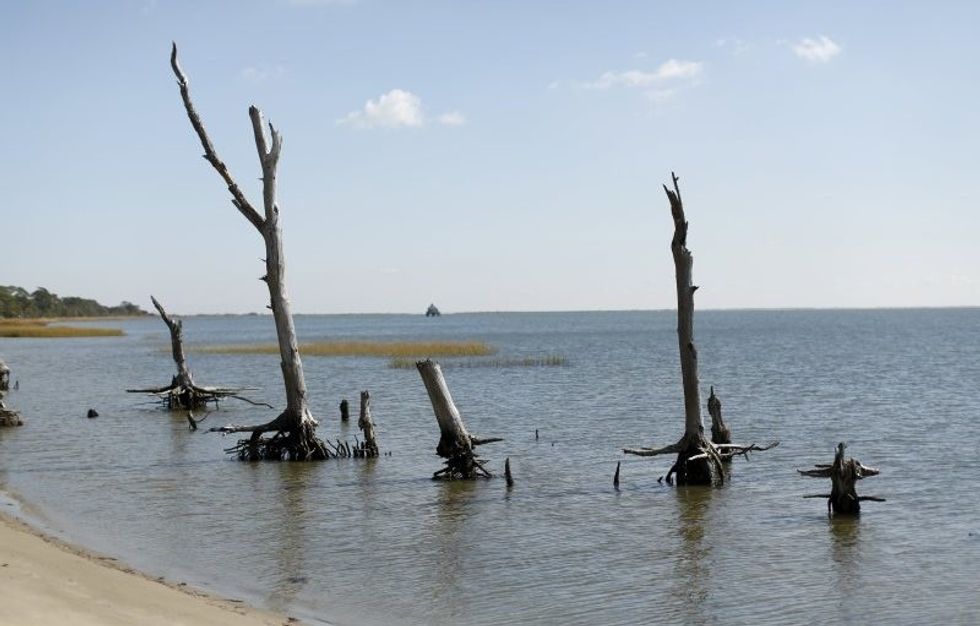 Reprinted with permission from Creators.
Washington — Cold, dark and autumnal at five o'clock — and that's not just the weather. It was a year ago to the day that Hillary Clinton lost her historic bid to become president, though she won the people's vote decisively.
Forgive my blue gloom. Clinton was for all seasons — first lady, senator, secretary of state. She deserved better: a fair chance, not to be run down in the mud of her opponent's misogyny.
Her defeat was a defeat for every woman and girl who avidly supported her. My sister and her girl campaigned door to door in Las Vegas. This is what the election told us: Put your dreams on hold. History's going backward.
The man who won the Electoral College, President Donald Trump, now has record low approval ratings. His associates are under investigation for campaign contacts with the Russians to sway a close race. It still seems surreal, that Facebook let itself be played in a massive Russian meddling conspiracy, even getting paid in rubles. Vladimir Putin, the Russian president and a former KGB spymaster, harbored a vendetta against Clinton since her diplomatic days. In a way, he won the election.
Trump has governed against the great American middle, from the hard right. Politics was the art of compromise, once upon a time. It's sad to see the White House press corps scrambling after his Archie Bunkeresque tweets. The snide White House spokeswoman, Sarah Huckabee Sanders, dredges up President Nixon's press secretary, Ron Ziegler. It's that bad.
But wait, there's a ray of light inside the Capitol Dome. The two Virginia senators walked in the press gallery for a "pen and pad" session. The election of a folksy Army doctor as the new Democratic governor was a real rebuke to Trump in a battleground state.
Democratic Senators Tim Kaine and Mark Warner looked giddy with relief. Their man, Dr. Ralph Northam, was a low-key candidate running against a Republican lobbyist, Ed Gillepsie, who employed Trump tactics, such as defending Confederate statues after the deadly race riot in Charlottesville.
"I was worried about the rain," Warner cheerfully admitted, "and the traffic."
The rural vs. urban divide is cleft in "Old Virginny" vs. new Northern Virginia, a thriving urbane mosaic of well-educated white-collar workers.
"When a Democrat wins by 9 points in Virginia," Kaine enthused, "that's a landslide." He was on the ticket "with Hillary" Clinton. They carried Virginia — but not by much.
But the doctor said it best in his Eastern Shore drawl.
"Virginia has told us to end the divisiveness, that we will not condone hatred and bigotry," Northam said. "It's going to take a doctor to heal our differences. And I'm here to tell you, the doctor is in!"
In a strong signal to other Democrats, Northam's liberal primary opponent, Tom Perriello, campaigned with vigor for the man who defeated him.
Virginia led the nation in a victorious night for Democrats, including first-time city and state officeholders. Abrasive Chris Christie, Republican governor of New Jersey, will be succeeded by a Democrat. With a 14 percent approval rating, he won't be missed.
The 2016 election also tested outgoing President Barack Obama's chops as his party leader. Trump began his outsider's crusade for office by challenging Obama's legitimacy as a citizen. Obama never confronted him.
Strangely, Obama also failed to tell the American people about ongoing Russian interference till late in the game — for he thought Clinton was going to win the election and didn't want to rock the boat, so he said. We the people should have been told, regardless of his political read.
Obama's a solo artist, but not a team player for the party. He did not even energize his base to come out for Clinton. Of course, she chased the little red-haired girl for Democrats, the unattainable red state of Ohio, instead of spending time in places like Green Bay, Wisconsin. Trump said one true thing about the election: Democrats should have won it.
Rubbing it in, this week was the 25th anniversary of President Bill Clinton's win in 1992. Better days beckoned.
The cold, dark autumn night fell fast.
To find out more about Jamie Stiehm and read features by other Creators writers and cartoonists, visit the Creators webpage atwww.creators.com.