Virginia Republican Promises To 'Shoot Down' Gun Safety Advocates
@jeisrael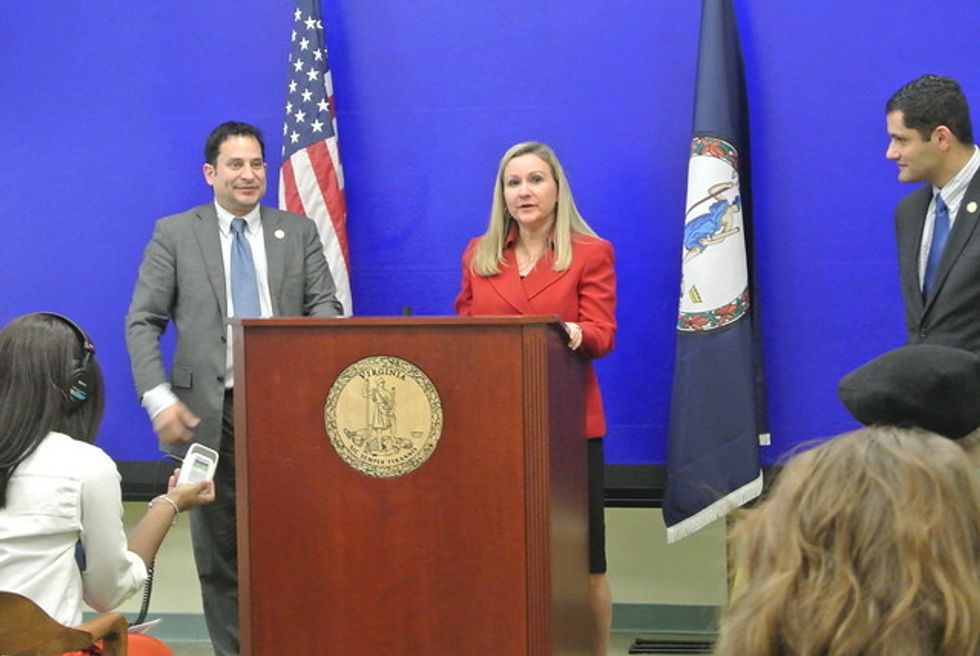 Days ago, Republican Virginia state Sen. Amanda Chase made headlines for begging the National Rifle Association to send her cash for her 2019 reelection campaign. Now she is actually threatening to shoot people who disagree with her pro-gun views.
In a Facebook ad, Chase urges supporters to sign her "petition" to protect their guns. "I'm not afraid to shoot down gun groups," her caption explains.
This appears to be a direct threat to the lives of gun violence prevention advocates from someone who regularly walks around wearing a pistol — even when on the state Senate floor. Thanks to her colleagues in the GOP majority in the legislature, the Commonwealth of Virginia does not have a red flag law to temporarily disarm people who are deemed a serious danger to themselves or others.
Heads up gun groups. Amanda Chase is not afraid to shoot you down. 📸: Traci Franssen pic.twitter.com/wYOvTrmJWp

— Brandon Jarvis (@Jaaavis) September 20, 2019
Amanda Pohl, Chase's Democratic challenger in this November's election, responded to the threat on Friday with a Facebook post of her own.
"This kind of rhetoric and threats towards those you disagree with from my opponent is disturbing," Pohl wrote. "I'm ready to listen to everyone in our community and work for real solutions to the challenges we face."
This is not the first time Chase has demonstrated questionable behavior. Earlier this year, she berated a law enforcement officer for not allowing her to illegally park in a reserved spot, accused the capitol police of being "Democrat operatives," and reportedly mocked the clerk of the Senate (who has a reserved spot) as "Miss Piggy."
Chase, a fervent opponent of the Equal Rights Amendment, has previously called her revolver her "little Equal Rights Amendment, because it is empowering to women."
Published with permission of The American Independent.