Virginia's Gubernatorial Race Is Getting Even More Negative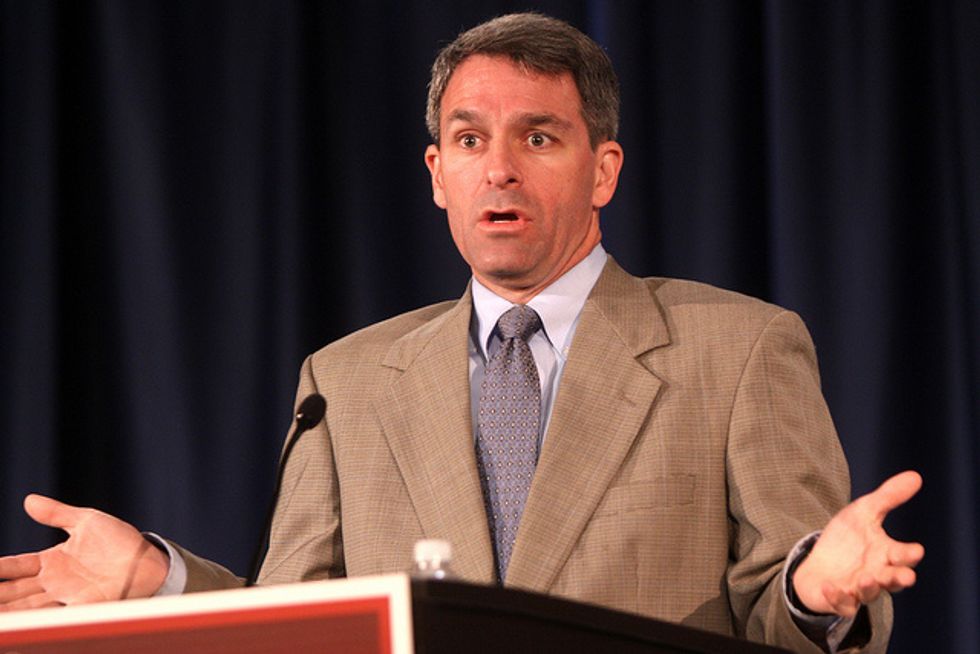 Virginia's gubernatorial race, between Republican state attorney general Ken Cuccinelli and former Democratic National Committee chairman Terry McAuliffe, is getting dirtier and dirtier as Election Day draws nearer.
In recent months, the two candidates have proved there are no boundaries when it comes to publicly shaming one another.
In the past weeks, Cuccinelli has used McAuliffe's former position as a chairman of troubled GreenTech Automotive to slam his opponent as the "bad-for-business candidate." Following a Washington Post editorial that declared, "Virginians are right to press [McAuliffe] for answers" about his role in the dealings that have resulted in two separate federal probes of the company, McAuliffe wrote in an op-ed of his own, attempting to set the record straight.
McAuliffe wrote: "I've not been contacted in any way by those conducting the investigation and have no knowledge of it beyond what has been reported. …The investigation appears to be looking at a document…something I was not responsible for as a chairman."
That explanation has, unsurprisingly, not impressed Cuccinelli. His campaign immediately responded to McAuliffe's op-ed with  this statement: "Today, Terry McAuliffe failed to put forward a serious or honest explanation concerning the multiple investigations of [sic] which GreenTech Automotive is entangled."
The statement added: "Terry McAuliffe has one of two choices: he can claim to be completely incompetent or a total fraud."
As the Cuccinelli campaign seekes to exploit the controversy surrounding GreenTech, McAuliffe's is targeting Cuccinelli with ethics attacks of his own. The Democrat has repeatedly gone after Cuccinelli over $18,000 in gifts that he received and accepted from Star Scientific, the firm at the center of Republican governor Bob McDonnell's legal woes. On Monday, McAuliffe released a new ad attacking Cuccinelli's ties to the firm:
Governor McDonnell's recent return of the gifts he received and accepted from Star Scientific – valued at over $145,000 — was expected to set precedent for Cuccinelli's decision. But, Cuccinelli has refused to follow the governor's example, giving McAuliffe more ammunition against him.
Cuccinelli initially refused to even report all the gifts he received from Star Scientific's CEO Jonnie Williams, but eventually did. The list of gifts includes an expensive dinner, private flights, and vacation lodgings.
A new billboard in Richmond, Virginia, with pictures of a turkey, airplane, and island, demands that Cuccinelli "give back the gifts."
For his part, Cuccinelli points out that Richmond Commonwealth's Attorney Michael Herring has cleared him of any wrongdoing. He issued the following statement on McAuliffe: "It's the height of hypocrisy for the man who rented the Lincoln Bedroom and Air Force One, used his political connections to make millions while others lost their jobs, and whose company is now under two federal investigations to even breathe the word 'ethics.'"
The statement added: "Terry McAuliffe's attacks are beyond absurd."
Ironically, Cuccinelli has urged McDonnell to call a special session on ethics. McDonnell has refused to do so, saying he will propose his own ethics reform in January — the same month he leaves office. Cuccinelli has said that he believes a special session is the only way to begin earning back voters' "trust."
McAuliffe spokesman Josh Schwerin countered, "It takes significant disrespect of voters' intelligence for Ken Cuccinelli to pretend to support laws that would prevent him from taking the gifts he refuses to return." He also reminded Virginians that the Republican candidate refused to support McAuliffe's proposal for a $100 ban on gifts and the establishment of an independent ethics commission.
The most recent survey conducted by Public Policy Polling (PPP) in July showed McAuliffe leading Cuccinelli 41-to-37.
Photo:Gage Skidmore via Twitter