Volatile, Unpredictable, Rare Storm Killed Two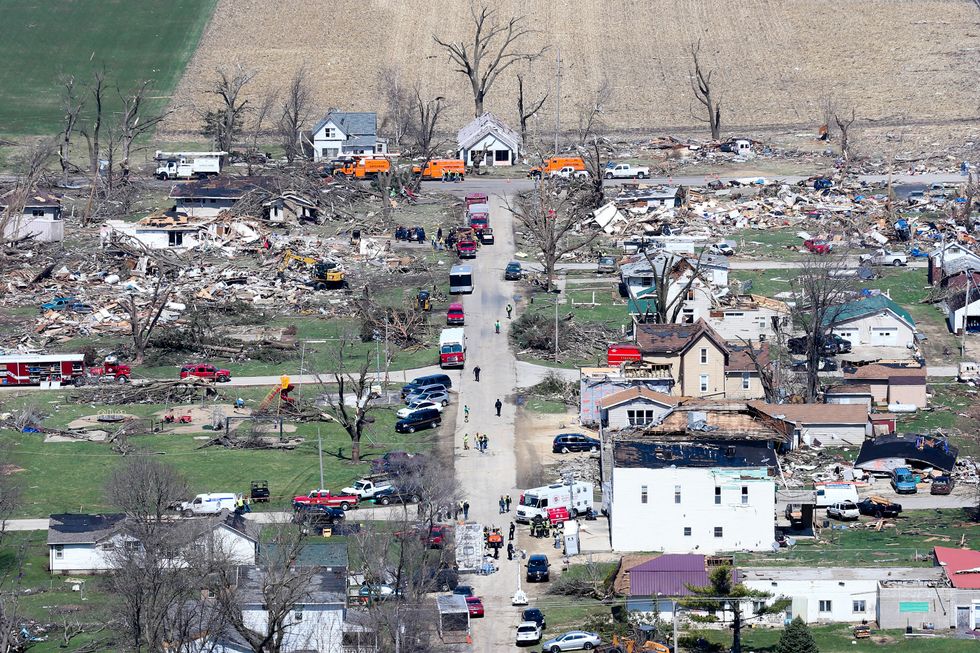 By Steve Lord, Janelle Walker, and Matthew Walberg, Chicago Tribune (TNS)
CHICAGO — The day after tornadoes scoured parts of seven counties in north central Illinois, killing two women in a small town that was destroyed, National Weather Service meteorologists sought to explain exactly what happened.
What they found underscored the frightening volatility and unpredictability of such violent storms.
The most powerful tornado that swept through the area Thursday night packed winds of 180 to 200 mph, weather service meteorologists Mike Bardou and Gino Izzi said at a briefing Friday afternoon in Rochelle, Ill. The tornado measured a half-mile wide and traveled 15 to 20 miles on the ground, which Izzi said was "very unusual."
Such a tornado can be expected to occur only every six years in Illinois, the meteorologists said. But the EF4 tornado — one notch below the most severe classification under the Enhanced Fujita scale — that struck around dusk Thursday was of the same severity as the one that devastated the central Illinois community of Washington on Nov. 17, 2013.
The weather service will continue to analyze computer data from radar and conduct aerial surveys of the storm's path to glean more details about what happened.
For now, Bardou and Izzi said, radar readings and reliable accounts from storm chasers indicate the initial tornado, which developed about 90 miles west of Chicago, west of the town of Ashton, spun into a pair of twisters after the storm ripped through Rochelle and nearly wiped out the small community of Fairdale.
The more powerful twister moved northeast into Boone and McHenry counties. Different meteorological conditions developed that apparently created a funnel cloud, which bounced along the ground in Boone County, Bardou said.
The smaller, "satellite" tornado traveled on a parallel path farther northwest, starting near Rockford in Winnebago County and streaking through northwest Boone and McHenry Counties, the weather service said.
The most severe damage was in tiny Fairdale, where two neighbors, Geraldine Schultz, 67, and Jacklyn K. Klosa, 69, were killed. Virtually every structure in the DeKalb County town of about 150 people was damaged substantially. Many were completely destroyed.
An estimated 49 structures were damaged in the Rochelle area, nearly 20 of which were destroyed, the Illinois State Police reported. A total of 11 people suffered injuries serious enough to be taken to area hospitals, the agency said.
While it didn't appear there were more victims, searchers continued to work Friday night with cadaver dogs because not all residents had been accounted for, the state police said.
"Numerous vehicles" were blown off Interstates 39 and 88, the state police said.
One of the buildings destroyed by the storm was Grubsteakers restaurant, on the outskirts of Rochelle at the intersection of Illinois Routes 251 and 64.
Tod Carlock had stopped in the restaurant's parking lot about 5 p.m. Thursday to get a tire changed on his semitractor after a blowout on I-39.
Two hours later, he was one of a dozen people trapped in the restaurant's basement, where they had taken shelter from the storm.
"I had the fear — it was way too close," Carlock said of the tornado. "So I backed up the truck up 50 or 60 yards and ran inside as fast as I could." The restaurant owner led Carlock and others through the restaurant and back outside to the cellar doors.
"Not more than he shut the doors and it hit," Carlock said.
They could hear the tornado hit the building above them. "We could hear it being torn apart." It lasted only a few moments, he said. "Here and gone."
They waited a few more minutes for the storm to completely pass before some of those in the cellar tried to open the doors. They could see light outside, but the debris was blocking their way.
Someone called 911, and the dispatcher told them to wait, that help was on the way.
Nearly two hours later, they were rescued, Carlock said. Those with cellphones used the flashlight apps for light, he added.
Help in a different form came to Fairdale from Washington, the Peoria suburb that experienced similar devastation less than two years ago. In the weeks and months after the Washington tornado, which killed one resident and destroyed nearly 750 homes, people from all over the country donated to the town's recovery.
Washington resident Jewel Ward wanted to pass it on.
Ward, who grew up near Fairdale and sought refuge there for a few days after the Washington twister, started an online fundraiser Thursday night to help Fairdale residents. Her goal with the Fairdale Tornado Relief fund on youcaring.com was $5,000. By 7:15 p.m Friday, the fund totaled more than $6,000.
"All of us remember what it was like in those first days of recovery," Ward wrote on the fund site, "and how important it is to get needed funds to those in need quickly."
Ward said she is working with the Kirkland Lions Club, near Fairdale, to receive and distribute funds to "those in need due to tornado related costs," she wrote.
While Ward's effort was garnering contributions, Gov. Bruce Rauner visited the tornado-ravaged region, declaring DeKalb and Ogle counties state disaster areas. Illinois Sen. Mark Kirk also toured the area.
"Our hearts and thoughts go out to those impacted by yesterday's storms," Rauner said at the Flagg Center Community Church of God in Flagg, another small town about 265 miles south of Fairdale. "The state will do everything it can to help these families and communities recover and heal, while providing response resources."
(Matthew Walberg is a Tribune reporter, Steve Lord is a reporter with the Aurora Beacon-News, Janelle Walker is a freelance reporter)
(Tribune reporters Juan Perez Jr., Genevieve Bookwalter, Gregory Pratt, Quinn Ford, Peter Nickeas and Tony Briscoe contributed, as did Erika Wurst of the Aurora Beacon-News and freelancer Quan Truong)
(c)2015 Chicago Tribune, Distributed by Tribune Content Agency, LLC
Photo: Homes in the town of Fairdale, Ill. are severely damaged Friday, April 10, 2015 after a tornado ripped through north central Illinois the previous night. (Armando L. Sanchez/Chicago Tribune/TNS)