Volunteers Join Search Of Mudslide Site For Signs Of Life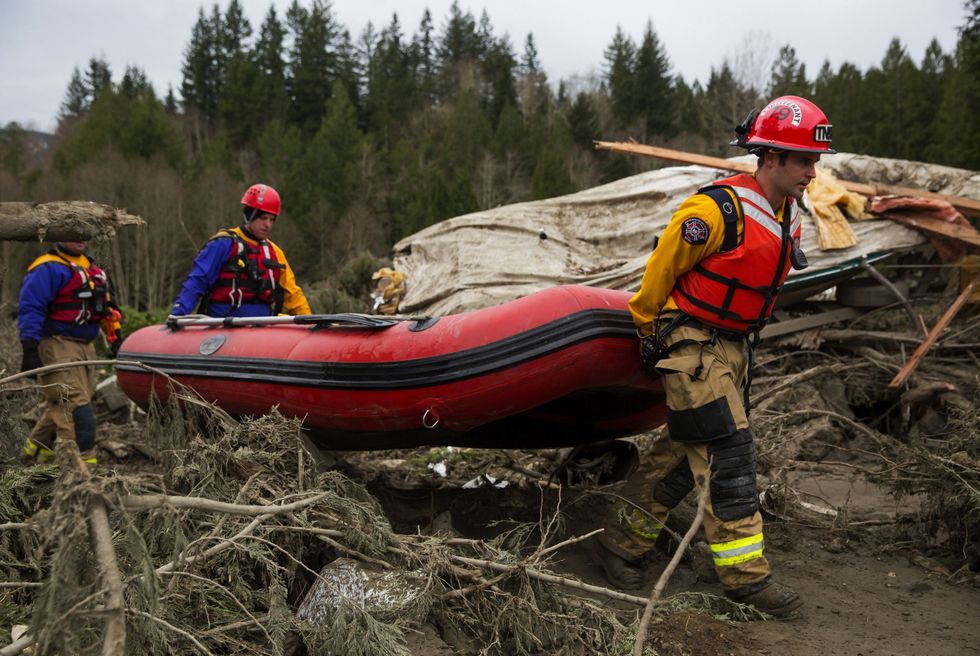 By Alexa Vaughn, The Seattle Times
DARRINGTON, Washington — They returned to the site of the mudslide Tuesday in search of surviving friends and family — or, at the very least, closure.
They found neither.
Among them were Forrest Thompson, 18, and several friends who were almost arrested Sunday for mounting their own unauthorized rescue operation against law enforcement's orders. For the would-be rescuers, it was worth the risk for the chance to scour for any sign of life in what is rapidly becoming a death zone.
Tuesday morning, under new standing orders for those desperate to find loved ones, volunteers like Thompson and his group were allowed to search the site, accompanied by firefighters.
Members of Darrington Fire District 24 took 25 of more than 100 people who volunteered to help search Tuesday morning to the site, dividing them into five groups, each supervised by a firefighter. Other volunteers were standing by in case they were needed later, but Darrington Mayor Dan Rankin said the city would not be taking any more volunteers.
Thompson and dozens of other Darrington residents had been returning to the site since Saturday's mudslide despite the orders of law enforcement. Thompson said he'd been frustrated that local fire and police officials barred so many from helping with the search, but appreciated the search-and-rescue compromise he took advantage of Tuesday.
"Right off the bat they should have had every one of the loggers here in there," said Thompson, who works with logging companies in town. "Climbing across logs and mud all day is what I do for a living."
Fire and police officials had earlier barred untrained volunteers, fearing they would need to be rescued themselves while traversing through the ankle-grabbing mud and broken remnants of homes and barns.
But State Patrol spokesman Bob Calkins acknowledged Tuesday that many Darrington residents were well-equipped to aid in the effort because of their work in the local logging industry.
Several volunteers used their dump trucks, tractors, trailers and other equipment to get through wreckage, Calkins said.
"Might be a different story if they were all fishermen and just had fishing poles," Calkins said. "Frankly, their expertise is highly valued. The community of Darrington is very well-suited to respond to something like this."

For his part, Thompson said that since Saturday, on unauthorized forays, he's marked several dead bodies and dug out at least one that authorities later extracted from the scene. He and his friends have recovered family photo albums, jewelry and other sentimental possessions from the debris.
He's gone through a crushed house owned by the parents of a friend, a Darrington High School class president who graduated with him last year. Thompson, just like almost everyone else in Darrington, knows somebody who is missing in the mud.
On Monday, Thompson's team rescued a dog with broken legs, found pinned under a tree. The dog is now in a veterinary hospital in Sedro-Woolley.
"There are little air pockets everywhere," Thompson said. "If a dog can still be alive, so can a person."
When no survivors were found by late Tuesday afternoon, reporters asked Calkins of the State Patrol whether crews had officially transitioned their mission from rescue to recovery mode. He said they hadn't.
"That's a tough leap for this community to make," he said.
But it's one that cousins Eric and Nolan Meece, both 19, had to make Tuesday while out in the middle of the debris. A member of their search party, a son, found the body of his father, whom they'd been looking for since Saturday.
Eric Meece said confirming the death and helping recover the body didn't help bring the group any closure.
"No, not anywhere close," Eric Meece said. "We're far away from that."
Marcus Yam/Seattle Times/MCT