Is Vote Suppression Bannon's Latest Media Ploy?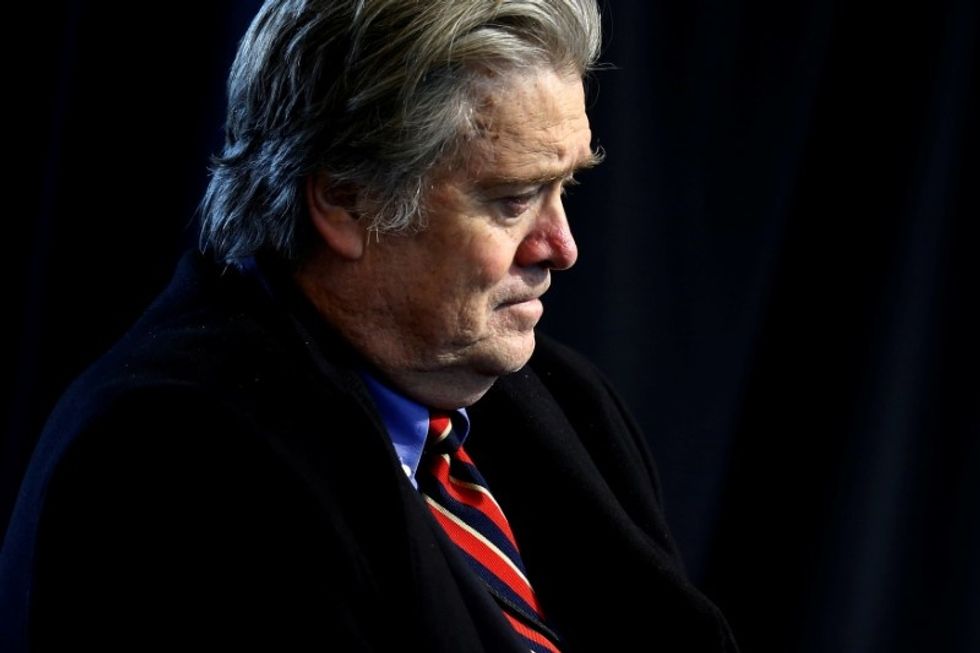 Reprinted with permission from AlterNet.
Why did Kansas Secretary of State Kris Kobach, the national voice of the Republican's toxic effort to hijack elections by rigging the voting process, spread out a pathetic and immediately debunked big lie about thousands of illegal voters in New Hampshire last November—an allegation that was debunked last winter by none other than Donald Trump's first campaign manager Corey Lewandoski?
Kobach's tirade was swiftly slapped down. The headline from the Brennan Center for Justice at New York University School of Law's blog delivered the gist: "Kobach Discovers College Students Live in College Towns." The Washington Post's David Weigel tweeted, "In one hour, I found four legit NH voters whom Kobach accused of being fraudulent." Going deeper, Philip Bump, his Post colleague, said Kobach was unfit to co-chair Trump's presidential commission on election integrity and every media outlet knows by now he is a serial liar on this topic.
"What I'm saying is that the arguments Kobach presents about fraud in New Hampshire—and I recognize the significance of what I'm about to write—should have been too far afield even for Breitbart," wrote Bump.
That's the clue. Kobach's screed was published on Breitbart News on September 7, the same day the New York Times put online its Friday above-the-fold front-page blockbuster, "To Sway Vote, Russia Used Army of Fake Americans: Flooding Twitter and Facebook, Imposters Helped Fuel Anger in Polarized U.S." by Scott Shane.
Steve Bannon, President Trump's former campaign CEO and ex-White House strategist, is back at the helm of Breitbart, where he pledged "anyone who stands in our way, we will go to war with." It may be a coincidence that Kobach's piece arrived on the same day as Shane's expose. But it also may be Bannon's propagandistic hand diverting press attention with Kobach's click-bait garbage from deepening disclosures on Russian meddling that helped Trump.
The Times report described "a cyberarmy of counterfeit Facebook and Twitter accounts, a legion of Russian-controlled impostors whose operations are still being unraveled" that was behind 2016's barrage of anti-Hillary Clinton content posted last year. When Bannon became Trump's campaign CEO, he didn't just bring a savvy understanding of online media along with white nationalist values; he brought the cutting-edge online analytics developed by hedge fund billionaire Robert Mercer. His tools targeted voters in key states in similar ways to what the Times expose describes as Russian meddling.
Bannon is possibly using a willing Kobach to deflect attention and change the topic in a media environment that's always looking for easy controversies. Russian meddling, the hijacking of Facebook and Twitter accounts to create and enlarge hyper-partisan echo chambers, and similarities between how the Trump campaign and Russian agents operated, are complex stories to report, and as Shane notes, are "still being unraveled."
Having Kobach change the subject from Russina meddling to illegal electioneering by 5,000-plus people who he falsely accuses of illegally voting in New Hampshire is not merely recycling voter fraud clichés that would appeal to Trump's base (accusing their critics of cheating) and inflame moderates and the left (by besmirching legal voters). It's a deft tactic in the pro-Trump propaganda war that Bannon promised. It has been working—as Kobach was quickly beaten up in the press by reporters on the election beat and by tweeting election experts (which Kobach predicted would happen in his piece).
Kobach may be all too willing to play the role of a martyr for the Republicans writ large or for a president who could always appoint him to a federal post if he loses an upcoming race for Kansas governor. He has a penchant for using sloppy analysis to jump to conclusions that anyone who is not a loyal Republican, such as the New Hampshire college students, must be an illegal voter.
But Bannon is likely playing a deeper and smarter game as more pro-Trump Russian meddling is traced.
As CBS-TV's Charlie Rose said of Bannon to preview this weekend's interview on 60 Minutes, "He was an eyewitness to a lot of stuff."
Indeed, Bannon doesn't just have strong opinions and likes to talk; he relishes hardball. As Rose told CBS This Morning, Bannon expects unswerving loyalty to Trump from his team.
After some bragging by Bannon, Rose replied, "you took names?"
"You know, I'm Irish," Bannon replied. "I've got my black book and I got em."
Kobach's piece could be narrowly read as more evidence that he and the GOP are willing to use sloppy accusatory tactics to disenfranchise Democratic voters. But it also could be seen as evidence of the lengths Bannon will go to divert attention from an evidence trail tying Russian meddling to Trump's election.