VoteVets Chair Jon Soltz: Critics Demanding Shinseki Resignation Are 'Hypocrites'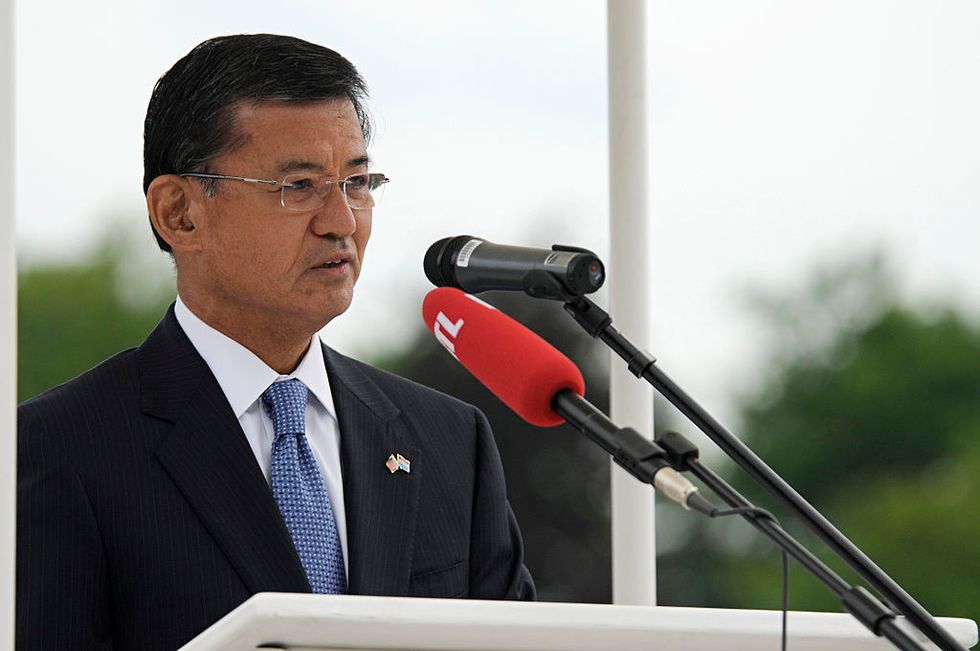 Jon Soltz is a co-founder and chairman of VoteVets, a political advocacy group with over 200,000 supporters that is the largest progressive organization of veterans in the United States – and has produced some of the most effective advertising in the last several election cycles. Soltz became a commissioned U.S. Army officer in 1999 after graduating from the University of Pittsburgh with a graduate degree in international affairs. For four years after graduation he was stationed in Germany, and was deployed as a tank platoon leader in Kosovo from June to December 2000. In the spring of 2003, Soltz deployed to Iraq, where he served as a captain commanding logistics convoys for the First Armored Division. He took a leave from Vote Vets in 2011 for another tour in Iraq, where he was among the last American soldiers to leave that country. He was recently promoted from major to lieutenant colonel. For a special Memorial Day interview, Joe Conason spoke with him about the troubles in the Veterans Administration and America's commitment to those who serve.
Joe Conason: How bad are the problems at the VA?
Jon Soltz: The problems at the VA have always been there. At times they've been worse than others. I think part of the reason we're seeing the backlog right now is that President Obama has opened up the claims process [in the VA health care system] to a lot of people. So he made it easier for a lot of people to make claims. Under previous administrations, you used to have to fight to make a claim if you were a Vietnam veteran affected by Agent Orange, or a Gulf War veteran with Gulf War syndrome. When you have a lot of veterans coming into the system and making claims, and you [already] had a million veterans who were uninsured looking to the VA to get health insurance now, I think there's a lot of reasons for the backlog. The question is, did anybody die of it? And we don't know yet – we have to wait and see how the investigation unfolds.
Conason: Have you known Iraq and Afghanistan vets who ended up on long waiting lists for VA care?
Soltz: Most of the people on the waiting lists are what we call secondary claims. They're already in the system for care. What they're waiting on is a disability claim. They may already be 50 percent for PTSD or 30 percent for a broken arm. They're in the system and they can get their care. What they're waiting on is an additional disability rating to get them more care. So most of the people who are on the waiting lists aren't necessarily not being seen – they're just waiting to see whether they will get more disability money from the government. I don't know anybody personally who was on a wait list and not getting care.
Conason: Do you believe that General Eric Shinseki, the VA Secretary, should resign — as some veterans groups have demanded?
Soltz: The only veterans organization making that demand is the American Legion. Nobody else has, other than the American Legion. I find that hypocritical because they supported a bill that was in the Senate – the $21 billion veterans package sponsored by Senator Bernie Sanders (I-VT) – and it was stopped by [Senate Minority Leader] Mitch McConnell (R-KY), yet they haven't called for Mitch McConnell to resign. So there's obviously a lot of partisan politics here. The issue with General Shinseki is [that] he was right about the Iraq War. It's sort of unconscionable to fire somebody who is now trying to clean up the mess that was left by a prior administration: All of these new Iraq and Afghanistan veterans were not created by Barack Obama and his administration. When you look at the claims on the system and the role that has been played by Iraq and Afghanistan veterans, I think it's rather ironic that they're calling for the head of General Shinseki, who has been a reformer at the VA, and has opened up the claims process to so many more veterans – I find that completely hypocritical.
Conason: What should the president and Congress do now to ensure that veterans are getting adequate health care?

Soltz: I think progressives need to look at the veterans health care system and say: "If we're going to have public health care, it has to be the best health care system in the world." If not, when it gets attacked, it's bad for Medicare, it's bad for Medicaid, it's bad for all these other [public] systems. So the president has to look at the VA and say, "Is this the best medical care in the world? Is it underfunded? If not, what would it take to make this the shining light of health care in America? Because that's what our veterans deserve….I think what you'll see with General Shinseki is that he was holding people to a certain standard, to reduce the backlog — and there's an argument that certain people cooked the books. If that happened, those people should be held accountable.…There's a lot of people who want to shortchange the VA so they can prove that public health care doesn't work and force these veterans to go to private insurers. For a lot of hardline conservatives, that's the real agenda here.
Conason: What is the most important accomplishment of the Obama administration for veterans?
Soltz: That they've actually allowed people to make claims! That's the point. There might be a backlog, but that's because they've allowed people to make claims. How many veterans are now service-connected disabled because they've had the ability to make claims? That's what's created part of this backlog. A Vietnam veteran who has Type II diabetes or cancer [because of] exposure to Agent Orange now gets benefits because of this. A Gulf War Syndrome veteran who was exposed to all kinds of chemicals in burning oil fields now gets benefits because of this. They've made it easier to get a PTSD diagnosis. There's all these benefits — opening up the system is a huge success.
Conason: What are your priorities in this congressional session and the midterm election?
Soltz:  Obviously getting veterans into office remains a big priority for us. John Walsh (D-MT) is in the Senate — the first time for an Iraq veteran who has served. Trying to get that $21 billion [VA and veterans assistance] package through the Senate would be the big goal between now and November, and we have to hold people accountable. The Senate is important: Number one is knocking out Mitch McConnell. As long as Mitch McConnell is going to prevent the passage of a comprehensive bill that is supported by 33 veterans' organizations, I think he's target number one. It starts with him. And then there's a lot of battleground Senate races that are really important. A Republican-controlled Senate at this point means that veterans don't get that [Sanders] bill. And there are interesting opportunities for veterans to run and win in districts where they could serve for a long time. In Arizona 7, there's Ruben Gallegos; in California 33 Ted Lieu. Getting advocates in there and holding politicians accountable who have been blocking meaningful legislation are the two largest priorities for November.
Photo via Wikimedia Commons