Voters Said No To 'Politics Of Pitchforks'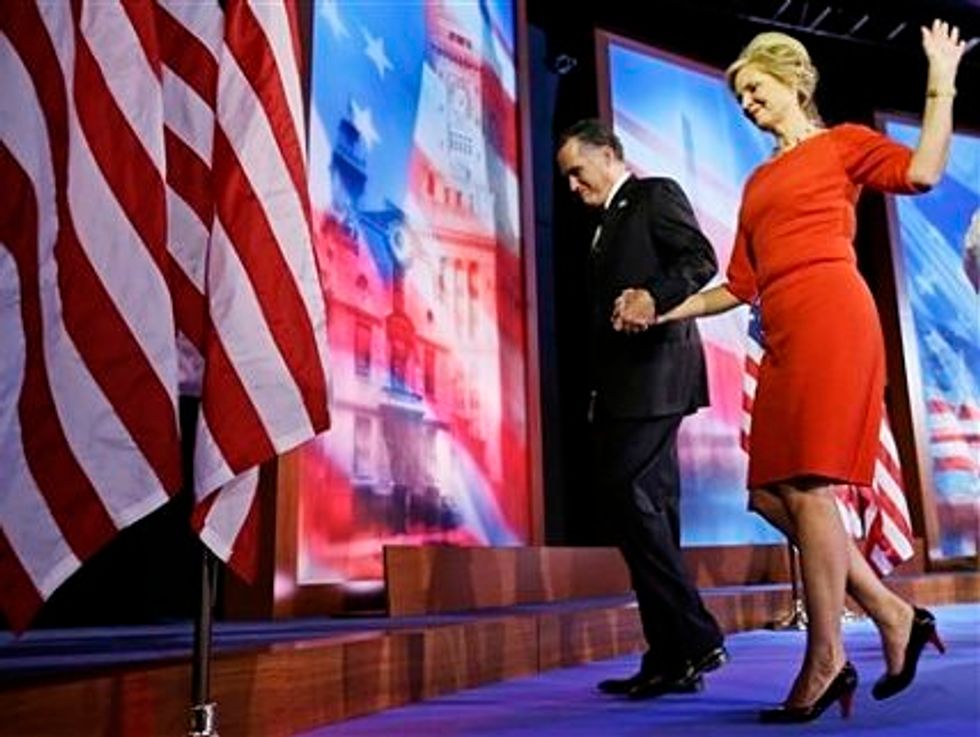 Thank goodness that's over.
The presidential campaign of 2012 did not in fact last long enough to be measured in geologic time, but poll-scarred and ad-weary voters can, perhaps, be forgiven for feeling as if it did.
Barack Obama and his supporters will, understandably, be jubilant that his lease on that Pennsylvania Avenue mansion has been extended for four more years. But Tuesday night's vote is also noteworthy for a reason only tangentially related to the fortunes of the incumbent president. One can argue — or maybe the better word is "hope" — that voters did more than re-elect Obama on Tuesday night. They also repudiated the scorched-earth extremism and acute cognitive dissonance that have come to characterize the Republican Party in recent years.
Rush Limbaugh recently said something interesting (will wonders never cease?) on his radio show. As reported by Politico, he told listeners, "There's not a whole lot of love for conservatives in the Republican Party. Except now, where the party will take anything they can get to win." As he sees it, the GOP prefers to woo independents to prove "that they win without the base of the party. Now, the Democrats are not embarrassed of their base. The Republicans, in large part, are."
The GOP is embarrassed by its base? One is by no means sanguine that this is true, but one can't help but hope, fervently, that it is. It would be a welcome sign that Republicans are not, in fact, committed to a policy of electoral suicide and a future of ballot box irrelevance.
It is hard not to believe they are, given the way the party has stubbornly relied on an ever-narrowing slice of the American demographic for victory. They have either lost, or are at significant disadvantage with, a wide array of Americans: blacks, women, gays, Muslims, Hispanics and more. The people whose votes the party commands tend to be older, white, evangelical, and male. And as that cohort of the electorate fades in prominence, the danger is that it will take the GOP with it.
And yet, rather than seeking to expand its outreach and broaden its appeal, the party has inexplicably chosen to double down on its shrinking base. Worse, it has chosen to appeal to that base with a platform of fearmongering, xenophobia, demagoguery and inchoate anger so extreme as to make Ronald Reagan seem almost a hippie by comparison.
It has embraced the politics of pitchforks and bomb-throwing wherein candidates must compete with one another to see who can say the most bizarre and outrageous thing — and where moderation is a sin against orthodoxy.
It should have told us something when the previously moderate Mitt Romney pronounced himself "severely conservative" on the way to winning the GOP primary. One does not use that word to modify things one approves or is comfortable with. When have you ever heard someone describe themselves as "severely happy" or "severely content"?
His use of that word strongly suggests Romney's discomfort with the pose he was required to take, and the fact that he was required to take it. Now as Romney fades into the rearview mirror, one can only hope his party takes the right lesson from this defeat, that it transforms itself into a party with some appeal to the rest of us as opposed to one that demonizes the rest of us to appeal to a very few.
Tuesday night, the nation did not just choose a president. It chose a future. And "severe" conservatism does not seem to be a part of it.
(Leonard Pitts is a columnist for the Miami Herald, 1 Herald Plaza, Miami, Fla., 33132. Readers may contact him via email at lpitts@miamiherald.com.)
(c) 2012 The Miami Herald Distributed by Tribune Media Services, Inc.
Photo credit: AP/Charles Dharapak