Voting Rights For Felons On The Table In Kentucky, Other States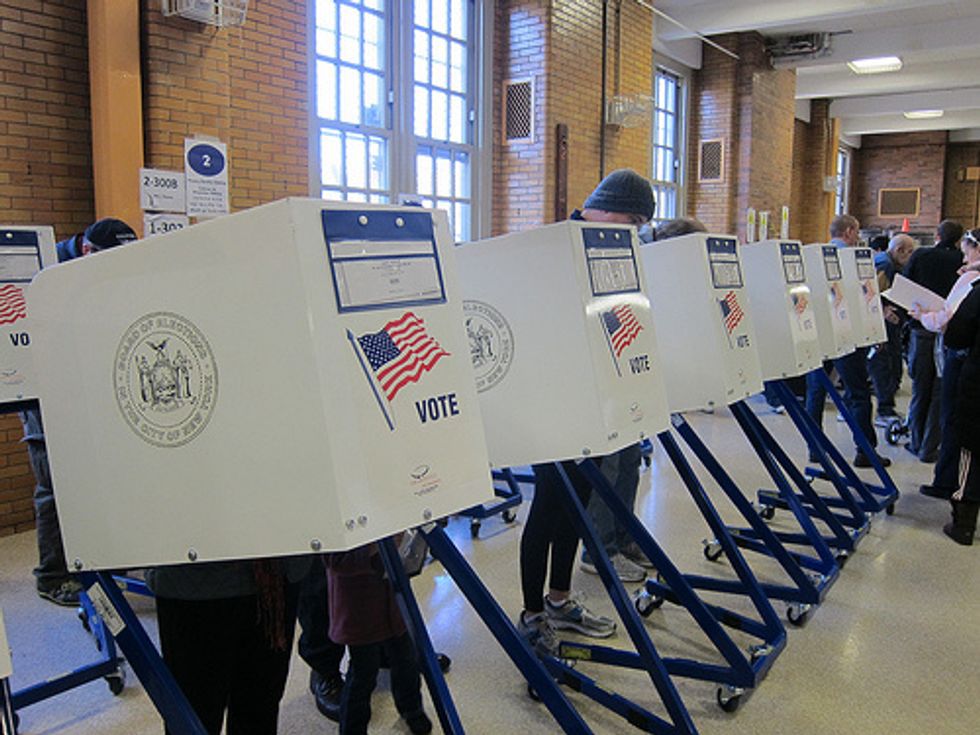 By Jake Grovum, Stateline.org
Kentucky could be heading for a historic change this year as it moves closer to abolishing its law banning felons from voting, thanks to a bipartisan effort in the state Capitol and a big assist from Republican U.S. Senator Rand Paul.
The state has long had among the most restrictive felon voting rules, thus disenfranchising a high percentage of its voting-age population. Black residents have been disproportionately affected — more than one in five of voting age cannot cast a ballot.
A long-running push by voting rights advocates to end these restrictions got a boost from Paul, who last week pushed a compromise in testimony before state lawmakers. Republicans in the legislature, who control the Senate, for the first time agreed to ease the ban.
"It has the best chance it's ever had," said Senate majority floor leader Damon Thayer.
Even as advocates for expanded voting rights anticipate a victory in Kentucky, they have a long road ahead in the many other states that continue to bar felons from casting ballots, disenfranchising millions. The years of effort and the convergence of political forces that could lead Kentucky to change its law show how difficult the challenges can be.
This year, a handful of states are considering proposals to facilitate voting for felons, according to Wendy Underhill at the National Conference of State Legislatures, continuing a trend that began in the 1990s. That's when states started to rethink disenfranchisement laws, spurring fierce debates about elections, criminal justice and racial politics.
Nearly two dozen states have since eased their laws; Delaware was the latest last year. The state removed a five-year waiting period after release before felons could vote and allowed most to regain their voting rights once their sentences are complete. Besides Kentucky, the issue has also gained particular attention this year in Florida and Iowa.
The debate is far from settled. Some states have even tightened laws, including South Dakota, which revoked in 2012 voting rights from felons on probation who were previously allowed to cast ballots.
"The practice of disenfranchising felons goes back thousands of years," said Roger Clegg, president and general counsel of the Center for Equal Opportunity, a conservative think tank. "When you think about it, we don't let everybody vote. We have certain minimum, objective standards of responsibility and commitment to our laws. Somebody who's committed a serious crime against his fellow citizen can't be presumed to be able to set those laws."
In a high-profile speech recently, U.S. Attorney General Eric Holder called for changes to voting laws banning felons from voting, singling out Kentucky and other states where supporters acknowledge they have an uphill climb.
"This has much more momentum than we've had before in that state," said Marc Mauer, executive director of the Sentencing Project, a group that wants to reform felon disenfranchisement laws. "But these things take several years to germinate. We don't expect to see dramatic numbers of states (considering changes) just because Eric Holder made a speech."
Almost every state places some limits on voting by felons. All but two — Maine and Vermont — bar prisoners from casting ballots; 13 and Washington, D.C. prevent felons from voting only while imprisoned; and 25 states let felons vote once they have served their sentences, plus probation or parole sentences. Nebraska has a two-year waiting period.
The remaining 10 states — Alabama, Arizona, Florida, Iowa, Kentucky, Mississippi, Nevada, Tennessee, Virginia and Wyoming — have much stricter laws that can bar felons from ever voting again. Most allow the governor to restore voting rights, but that power is used in varying degrees across states and administrations.
As a result, significant numbers of voters in some states have been left off voting rolls long after release from prison, including disproportionately high numbers of potential black voters, who are disproportionately represented among the prison population.
A report from the Sentencing Project found that in the 2010 elections 5.85 million Americans were disenfranchised nationwide because of felony convictions, including one out of every 13 voting-age African Americans. More than 7 percent of the entire voting-age population was disenfranchised in six of the states with the harshest policies.
Kentucky is among the worst: 7.35 percent of its voting-age population was barred from casting a ballot in 2010 because of felony convictions, including 22 percent of its black voting-age population, according to the report. This was second only to Florida, where nearly 11 percent of the voting-age population was disenfranchised, including 23 percent of blacks.
Kentucky's felon voting ban has deep roots in the state's constitution, requiring a popular vote, on top of legislative approval, to alter it. The state's politics — split party control in the legislature and Democratic Gov. Steve Beshear — have also been a hurdle.
But last month, a bill that would automatically restore rights for some felons sailed through the Democratic-controlled House, 82-12. The Beshear administration, which on its own has streamlined the restoration process and granted 8,000 felons their right to vote since taking office in 2007, has backed it as well.
Its warm reception in the GOP Senate raised hopes. As the Republican majority leader Thayer said, Paul's proposal to add to the legislation a five-year waiting period provided a breakthrough.
In his testimony, Paul said, "One mistake in life shouldn't permanently block a citizen's access to the ballot box. The right to vote is among the most important rights we have. It is something for which people in other countries have lost their lives."
Thayer said proponents on the issue have made a good case for redemption and paying a debt to society. "I could care less about what Attorney General Holder says about any issue," Thayer said. "He's had no effect on this matter in Kentucky, or with me personally. But Sen. Paul, on the other hand, has changed the terms of debate."
Still, it remains to be seen how House Democrats and the governor will respond to the five-year waiting period amendment. The bill gained approval in the Republican-controlled Senate Wednesday afternoon 34-4, and changes must be reconciled with the House.
If lawmakers succeed in reaching a compromise, it will be on the ballot this fall.
While Kentucky may offer hope for supporters of felon voting rights, other states with the most restrictive laws, including Arizona, Florida, Virginia and Iowa, have shown little interest in altering their policies.
"We're really a long way from where we should be," Arizona Democratic Rep. Martin Quezada said, adding that his bills to ease felon voting have had trouble even getting a hearing in the GOP-controlled legislature. "There just doesn't seem to be a willingness to go this route."
Virginia shows the issue can even divide parties. Former Republican Gov. Bob McDonnell supported easing his state's felon voting rules, and his administration restored rights to more than 6,800 felons under his office's authority.
But proposed changes to state law that would outlast his administration went nowhere, despite Republican control. The trend has carried over into this year, said Democratic Del. Alfonso Lopez, who's running for Congress this fall and has seen his bills to ease felon voting rights stymied in the House of Delegates. A proposal has surfaced this year to cut the funds for the governor's office to carry out clemency and voter restoration, Lopez said.
The issue has also often been swayed by whoever is in the governor's mansion. In Iowa, for example, former Democratic Gov. Tom Vilsack issued an executive order in 2005 granting voting rights to all felons once they completed their sentences. In 2011, Republican Gov. Terry Branstad rescinded the order, re-installing the state's policy of making felons who have served their sentences apply to have their rights restored.
Democrats there have proposed changing the law, citing a cumbersome application process and uncertainty of the dueling executive orders. But Republicans, who control the House, oppose that, as does the Branstad administration.
Florida's felon voting law could factor into its governor's race this year.
Former Gov. Charlie Crist, at the time a Republican, streamlined enfranchisement for felons while in office, allowing some lesser offenders to regain their rights without a lengthy hearing or investigation. But his successor Gov. Rick Scott, also a Republican, reversed course, going back to a policy that allowed convicts to apply to a clemency board for their rights to be restored after at least a five-year waiting period, longer for some crimes. Crist, now a Democrat, will run against Scott in the fall.
"For those who are truly remorseful for how they have wrecked families and want to earn back their right to vote," said Frank Collins, the governor's communications director, "Florida's Constitution also provides a process to have their rights restored."
In Alabama, Republican Gov. Robert Bentley backed a move to ease these laws after Attorney General Holder's speech last week. Whether that will gain traction with other Republicans, though, is unclear. Attorney General Luther Strange, also a Republican, has said only that his office is studying the issue.
Photo: Joe Shlabotnik via Flickr