Walker Enters Republican Race, Needs To Show Appeal Beyond Iowa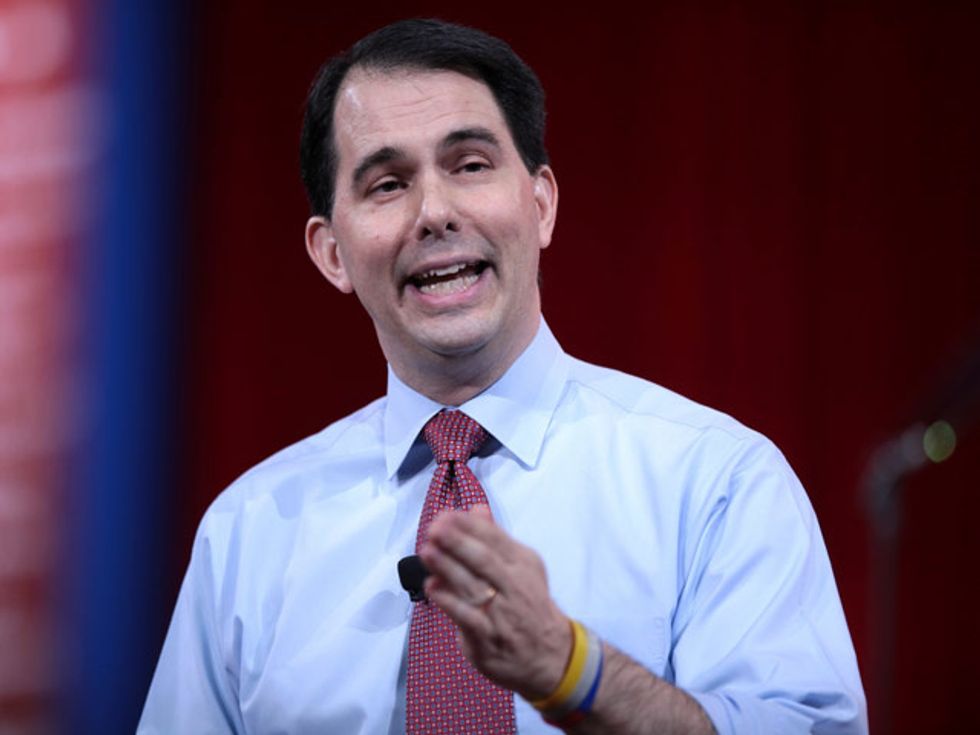 MILWAUKEE (Reuters) – Scott Walker jumped into the race for the 2016 Republican presidential nomination on Monday, needing to prove he has learned from early missteps and can appeal to voters beyond the conservatives who dominate the first nominating contest in Iowa.
The Wisconsin governor, the 15th Republican to announce a presidential candidacy, has a resume that appeals to conservatives and has placed him among the top contenders for his party's nomination in poll after poll.
Walker's advisers say he will portray himself as a "fighter who can win" at a campaign launch at 6:15 p.m. EDT in Waukesha, just outside of Milwaukee.
In a video announcing his candidacy early on Monday, Walker gave a glimpse of that theme.
"We fought and won. In the Republican field, there are some who are good fighters, but they haven't won those battles. And there are others who've won elections, but haven't consistently taken on the big fights. We showed you can do both," he said.
"Now, I am running for president to fight and win for the American people."
The 47-year-old Republican has won three statewide elections in four years, including his defeat of a 2012 recall effort over his challenge to the collective bargaining process for most public unions in Wisconsin. He won his first gubernatorial election in 2010 and was re-elected last November.
Walker has cultivated an image as a fresh-faced alternative to Jeb Bush, the former Florida governor who leads many polls of Republican voters.
"I think people like Scott Walker's strong record of leadership, what he's done in Wisconsin," said Jonathan Burkan, a Walker fundraiser who is a financial services executive in New York. "They want a fresh face with executive experience. That's why he has such a huge following."
Still, his inexperience in international affairs has shown through on occasion. Walker said his battle with labor unions had prepared him to take on militant groups like Islamic State, a comment that spurred criticism. While on a trip to London, he dodged a question about whether he believes in the theory of evolution.
David Yepsen, director of the Paul Simon Public Policy Institute at Southern Illinois University, said Walker will need to prove he has learned more about foreign policy and national security, which many Republicans see as critical issues in the 2016 election.
"He will have to answer questions about Iran and nuclear weapons and Afghanistan and the size of the (U.S.) military and all those things," Yepsen said.
In recent months, Walker has shifted to the right in a way that will give rise to attacks from his rivals about his authenticity.
He no longer supports a legal pathway to citizenship for illegal immigrants. And he backed a bill banning abortions after 20 weeks of pregnancy, after saying during his re-election campaign last year that a decision whether to have an abortion should be between a woman and her doctor.
Those positions may help him solidify his support among Republicans in Iowa ahead of a Feb. 1 nominating contest in the state, which traditionally holds the first major electoral event in the race for the White House.
Walker will get a chance to see whether his strategy is translating into support in other early voting states during an initial week of campaigning that will include stops in Nevada, South Carolina, New Hampshire and Iowa.
"He's on his way to being president of Iowa. The issue is, can he carry that forward," Republican strategist Scott Reed said.
(Reporting by Steve Holland; Editing by Paul Simao and Bernadette Baum)
Photo: Governor Scott Walker of Wisconsin speaking at the 2015 Conservative Political Action Conference (CPAC) in National Harbor, Maryland. (Gage Skidmore via Flickr)