Walker Visits South Carolina, Addresses Firing Of Campaign Aide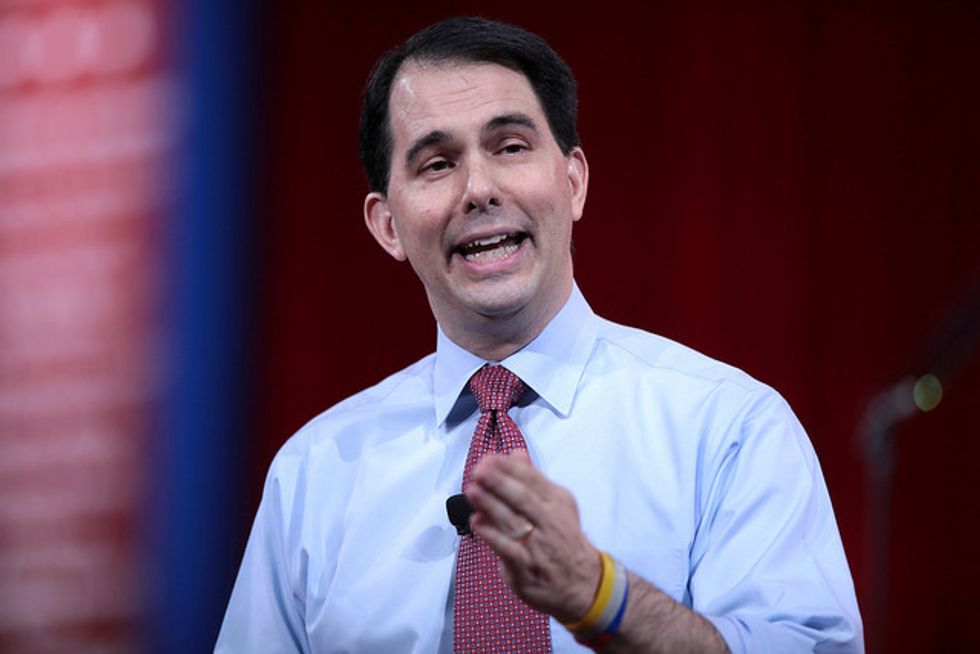 By Patrick Marley, Milwaukee Journal Sentinel (TNS)
GREENVILLE, S.C. — Governor Scott Walker brought his Wisconsin story to South Carolina Thursday, telling voters how he overcame protests and a recall effort, and suggesting the departure of a campaign aide this week was rooted in the need to respect voters.
In a speech to about 200 people at the TD Convention Center in Greenville, Walker indirectly addressed the departure of social media aide Liz Mair after news spread about tweets she posted before she was hired that disparaged Iowa and its caucuses, the first in the nation.
"One of my clear rules is, if you're going to be on our team, whether on the paid staff or a volunteer, what I always say is you need to respect the voters," he said. "Because really if you think about campaigns, it's not about the candidate or the staff. It's about the voter. It's about how to help people's lives be better.
"One of the things I've stressed … in the last few days as I've looked at the possibility of running is you have my firm commitment that I'm going to focus on making sure that the people on my team, should we go forward, are people who respect voters."
Mair stepped down Tuesday just hours after her hiring had been announced — and shortly after the head of the Iowa Republican Party said Walker should fire her.
The incident was a distraction for the Republican governor as he made his first foray into South Carolina since he began seriously considering a run for the presidency. The state holds the third nominating contest in the country, after Iowa and New Hampshire — two other states Walker has recently visited.
How Walker fares is considered especially critical because the Republican Party is so strong in the South, and most of the likely candidates for the nomination come from Southern states. The votes of the religious and the deeply conservative hold great sway here. The son of a Baptist preacher who has built his reputation as someone who has stood up for conservative causes in a purple state, Walker hopes to appeal to those sets of overlapping voters.
In speeches Thursday in Greenville and Columbia, Walker spoke of his efforts to curtail collective bargaining for public workers and the response those efforts elicited. Walker in 2012 became the first governor in the country's history to survive a recall effort.
"Throughout all of that, instead of intimidating us, what it reminded me was that I was elected for a purpose," Walker said to a crowd of about 150 in a Marriott meeting room in Columbia.
"It was worth it because if I had just run for the title or position, a hundred thousand protesters might have scared me off. But because I was running for (sons) Matt and for Alex and for all the other sons and daughters like them, or all the other grandsons and granddaughters like them, I knew I could not back down. I knew it was worth it for them."
In both speeches, Walker ran through what has developed into his standard stump speech and cataloged his achievements — lower taxes, a concealed weapons law, cuts to funding for Planned Parenthood — and said he saw a need to revive America.
"In America you can be and do anything you want," he said in Columbia. "The opportunity is equal for all, but the outcome is still up to each and every one of us."
As he has in other recent speeches, he stressed the need for an aggressive stance in the Middle East and signaled the possibility of needing to send troops there.
"In America, we need a commander in chief who understands that it's not a matter of if but when, and I'm going to take — and we need a leader who will take — the fight to them and not wait until it comes to us on American soil, to do whatever it takes to protect your children and your grandchildren from another attack on American soil," he said in Greenville.
He also revived a story he's told for years in Wisconsin about raking leaves in his front yard with a friend of his son's when someone pulled up in front of his house and raised a middle finger. Walker said he reacted calmly and minutes later, another car pulled up and gave him a thumbs up.
"It was a great reminder that if you do good, good will come back to you," he told the crowd.
He told the group he got support from people in all 50 states during his recall campaign, saying he received contributions from nearly 300,000 donors.
"Only Mitt Romney has more donors on the Republican side," he said.
Between the fundraisers for the South Carolina Republican Party that Walker hosted, he met with GOP South Carolina Governor Nikki Haley and other lawmakers, and stopped by a Harley-Davidson dealership to buy T-shirts. On Friday, he will host events for the party in Rock Hill and Charleston, and one for the National Rifle Association in Charleston.
Thursday's crowds received Walker warmly.
"He wouldn't be afraid to step on toes, especially with unions," said Marty Jewell of Prosperity, S.C.
Jewell contributed to Walker's cause during his recall race.
"I thought he was doing a great job and when they started to persecute him, I knew he was doing a good job," he said.
Walker has been positioning himself as someone who can appeal to his party's conservative and moderate wings. He pointed to his success in Wisconsin, where he has won election three times in four years even though the state — as he noted in both speeches — hasn't voted for a Republican for president since 1984.
Photo: Governor Scott Walker of Wisconsin speaking at the 2015 Conservative Political Action Conference (CPAC) in National Harbor, Maryland. (Gage Skidmore/Flickr)