Walker's Comments On His Foreign Policy Credentials Draw Democratic Criticism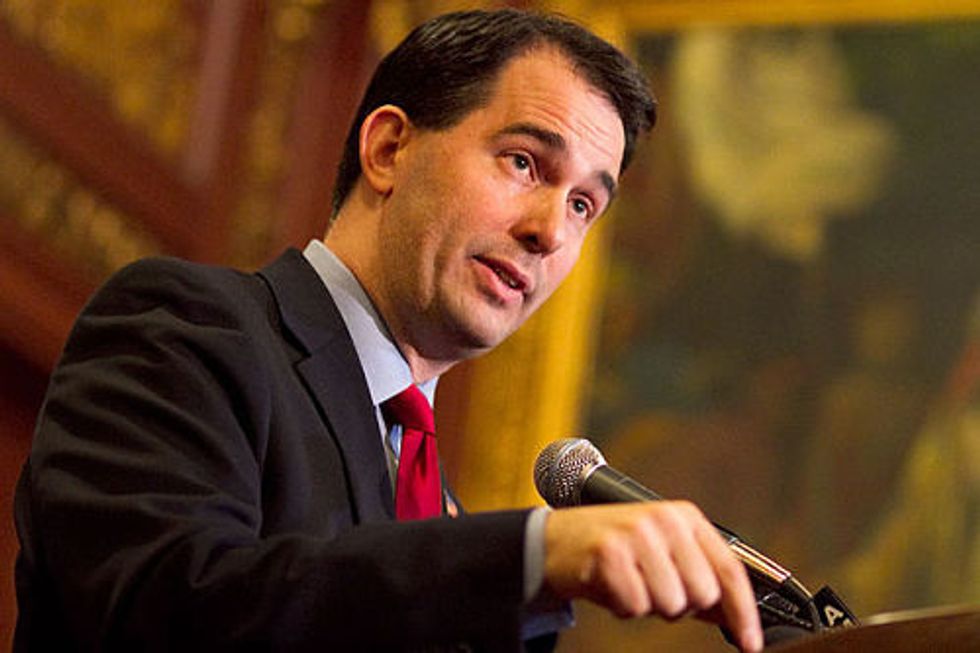 By Craig Gilbert, Milwaukee Journal Sentinel (TNS)
NATIONAL HARBOR, Md. — An animated Scott Walker told a huge gathering of conservative activists here that his battle with protesters in Wisconsin shows he has the mettle to take on ISIS as commander-in-chief.
"I want a commander-in-chief who will do everything in their power to ensure that the threats from radical Islamic terrorists do not wash up on American soil," said Walker.
"We need a leader with that kind of confidence. If I can take on 100,000 protesters, I can do the same across the world," said Walker, who drew repeated cheers from the audience at the Conservative Political Action Conference, an annual gathering that draws thousands.
With foreign policy an obvious hole on his political resume, Walker has argued that his record as governor gives him credibility as a potential international leader. However, his comments about taking on protesters — made in a question-and-answer session after his 13-minute speech — drew a quick rejoinder from the Democratic National Committee.
"If Scott Walker thinks that it's appropriate to compare working people speaking up for their rights to brutal terrorists, then he is even less qualified to be president than I thought. Maybe he should go back to punting," said DNC communications director Mo Elleitheev.
Questioned later, Walker said he was not drawing a parallel between the 2011 protests and terrorism, just using the episode to illustrate his handling of a difficult situation. Walker spokeswoman Kirsten Kukowski issued a statement saying the governor "was in no way comparing any American citizen to ISIS. What the governor was saying was when faced with adversity he chooses strength and leadership."
Earlier, Walker told the crowd that the secret to winning at the ballot box is fighting until victory is achieved, not compromising.
"You know how we did it?" Walker said of his political and policy victories in Wisconsin, a state that has been voting Democratic for president since the 1980s. "We did it without compromising. … Independents want the same thing as the base. They don't want someone who's going to fight for the sake of fighting. They want someone who is going to fight and win every single day for the hard-working taxpayers."
Walker joined numerous other GOP hopefuls at the event, which is a traditional magnet for Republican politicians with national ambitions.
His appearance was easily one of the most anticipated here.
The Wisconsin governor arrived looking more and more like a top contender, even a front-runner to some, propelled by a wave of media attention, positive feedback from GOP insiders, activists and voters, and a steady rise in state and national polls.
Standing on the stage with his sleeves turned up, Walker reeled off a conservative checklist of accomplishments that resonated with the crowd, from curbing public employee unions to tax cuts to anti-abortion legislation to voter ID to concealed carry.
He even touted the imminent passage of right-to-work legislation in Wisconsin — an interesting twist considering the governor repeatedly called the issue a distraction and said he didn't want to see it advance in the Legislature.
The Wisconsin Senate passed the bill Wednesday. The legislation goes to the state Assembly next week.
Walker reprised many lines and themes from recent campaign speeches, referring to Washington as "68 square miles surrounded by reality," and touting his battles with Democrats and labor.
At one point, Walker talked over a heckler to more cheers from the audience, joking that "apparently the protesters come from Wisconsin as well."
The governor has been a lightning rod for attention in recent weeks, most recently when The Washington Post asked him if he thought President Barack Obama was a Christian and the governor replied that he didn't know. In an opinion piece op-ed in USA Today on Thursday, Walker called out the media for pushing him to comment on Obama's patriotism and faith, vowing to "refuse to take the media's bait."
"I will always choose to focus on what matters to the American people, not what matters to the media," he wrote.
The flap may have served to help him with the party's conservative base, as much as anything else.
Walker enjoys a double-digit lead in Iowa in a survey by Quinnipiac released this week. "Wisconsin Governor Scott Walker is taking the Republican political world by storm," said Peter Brown of the Quinnipiac University Poll.
And while these early polls can change dramatically in the months leading up to the first nominating contests, the underlying trends and patterns are hugely encouraging to the Wisconsin governor.
In survey after survey, he gets positive ratings from a majority of Republicans polled, and negative ratings from a relative few. In survey after survey, he polls best among the conservative voters that form the GOP base and are highly active in the nominating process, including tea party supporters and evangelical Christians. He fares worse with moderate Republicans but even among them, his overall numbers are positive.
Some in the crowd chanted, "Run, Scott, run" toward the end of his appearance.
"I've been running three times in the last four years so I'm getting pretty used to it," Walker said.
Photo: Megan McCormick via Wikimedia Commons