Walking Might Just Be The Ideal Exercise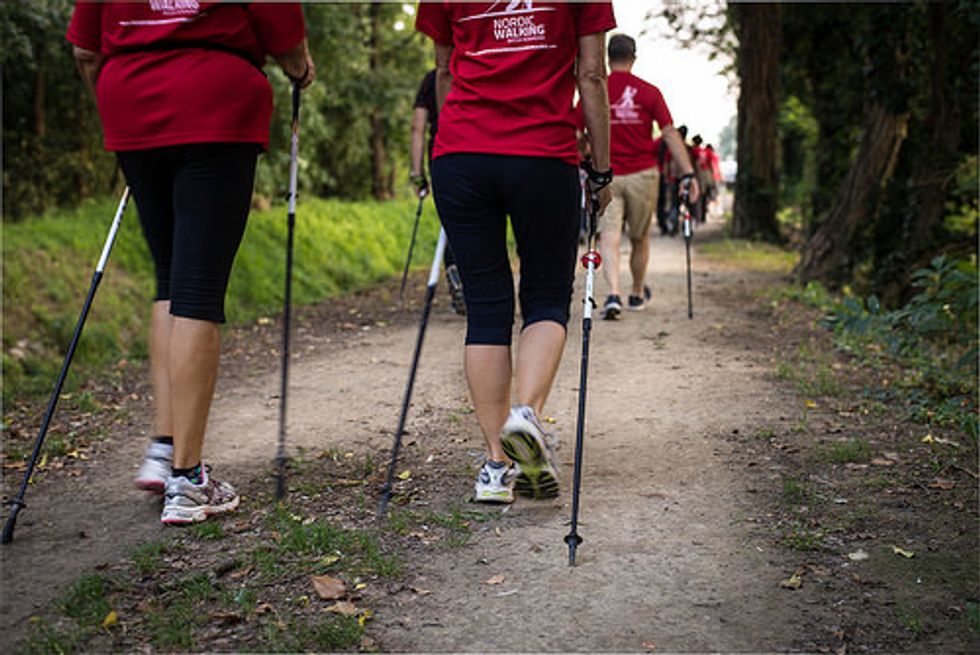 By Craig Hill, The News Tribune (Tacoma, Wash.) (TNS)
Answers to important questions nobody has asked me yet:
What's the best exercise for getting in shape and avoiding injury?
When I posed this question to Florida spinal surgeon Alfred Bonati, he issued a warning before he answered.
"You're going to laugh," he said.
He recommends briskly walking about five miles per day while doing curls with light weights. In fact, he said, walking is usually the only exercise he recommends.
And, yes, I did laugh. But only because, for some reason, the first thing that popped into my head was Seahawks running back Marshawn Lynch in a track suit speed walking past my house while doing curls with three-pound weights.
But if you've ever dealt with nagging back and joint pain, maybe it's not so funny.
"The people who do excessive or forceful exercise, like football players, I've found they look OK early in life, but in their 40s and 50s they have lots of problems," Bonati said.
Bonati said walking with light weights is an ideal way to "maintain muscle and protect the joints."
"From what I've seen, that's perfect," Bonati said.
So what if you want to do something more challenging?
"You need to prepare your body," Bonati said.
Start and progress slowly and avoid the temptation to exercise excessively.
"It's like school," Bonati said. "You don't go for three days and then graduate. First you do this and then this, and it takes time to graduate.
"If you are too eager you can get hurt. And people who get hurt usually quit."
Bonati said don't expect to roll into a gym and find a perfect exercise class, either. The classes may, indeed, be very good, but the exercise program that is perfect for everybody does not exist.
"You have to use common sense," Bonati said.
He said you are the only one that will ever be the foremost expert on how you should exercise. Take the time to learn what works for your body and what doesn't.
Maybe it's intense CrossFit sessions or an impact-free endurance sport like swimming or cycling.
Or maybe its five-mile walks while doing arm curls.
___
A dancer, a rookie and a regular walk into a barre, who gets the better workout?
When former professional dancer Lianne Gamble opened Barre253 in Tacoma, Wash., a year ago, she promised a workout program that would improve strength, flexibility and help people look and feel better.
A year later, the South Sound's first barre studio is hopping. With more than 300 members (mostly women) the studio has grown steadily, adding classes. It hasn't hurt that barre workout programs have grown in popularity at the same time, with classes popping up at other locations around the South Sound.
Barre is the French word for bar, and the exercises in barre workouts are done using the handrails (the barre) ballet dancers use to warm up. The workouts and atmosphere are geared toward women, but open to all.
___
How'd that Seahawks game day workout go?
Well, in the interest of full disclosure, I should confess that I didn't try the Seahawks workout designed by South Sound trainer Jesse Ewell.
I'd asked the owner of Innovative Fitness in Fircrest and Gig Harbor to design a workout that could be done during the Seahawks NFC championship game against Green Bay.
But once the game started I was too antsy to give it a try. I did, however, strap on an activity tracker in an attempt to monitor just how much I paced during the game.
The device said I paced 3.3 miles during regulation and ran another .3 mile when the party turned into a flag-waving run around the block with my son and his friend.
I did hear from several readers who did the workout.
"We weren't very busy in the first three quarters, but did get in our 100 steps during most of the commercial breaks. There are a lot of commercial breaks," said Julie Shanafelt of Olympia. She said her party started with only four people exercising but finished with everybody participating. "The end of the fourth quarter was a whirlwind."
She said the exercises meant they ate fewer snacks.
"We will definitely incorporate exercise into the Super Bowl game," Shanafelt said.
Photo: Giorgio Minguzzi via Flickr