Warren Buffett — 'Under Audit, Too'– Challenges Trump To Release His Taxes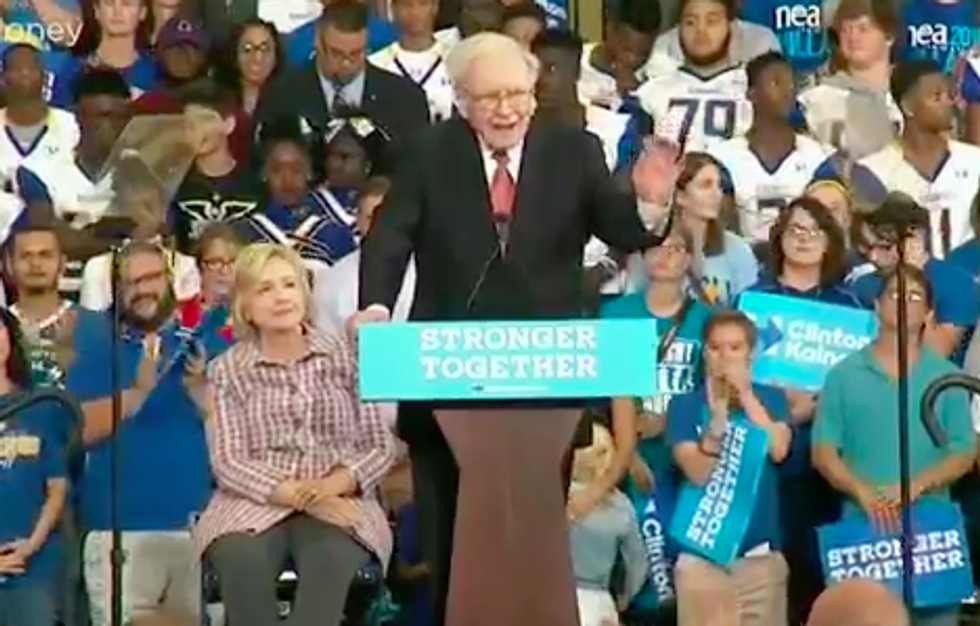 Billionaire investor Warren Buffett on Monday campaigned with Hillary Clinton in his hometown of Omaha, Nebraska. Buffett gave a powerful rebuttal of Trump's success as a businessman, and challenged him to release his taxes.
The Republican candidate has used his experience as a successful business man as evidence that he has what it takes to run the most powerful country on earth, but Warren, the fourth richest man in the world, isn't buying it.
Trump has refused to release his tax returns, using the excuse that he's being audited, and decades-long tradition by presidential candidates.
"I'm under audit, too, and I would be delighted to meet him anyplace, anytime, before the election," Warren told the audience.
"I'll bring my tax return, he can bring his tax return … and let people ask us questions about the items that are on there," he continued, before arguing that Trump must be "afraid" of what voters would see in his taxes.
Buffett pledged to work towards the highest voter turnout ever in Omaha's congressional district, and even promised to personally take at least 10 people to vote who would have had difficulty getting to the polls. He said he would do "whatever it takes," even "selfies."
Photo and Video: CNNMoney