Warren To Trump: 'I Will Oppose You, Every Step Of The Way'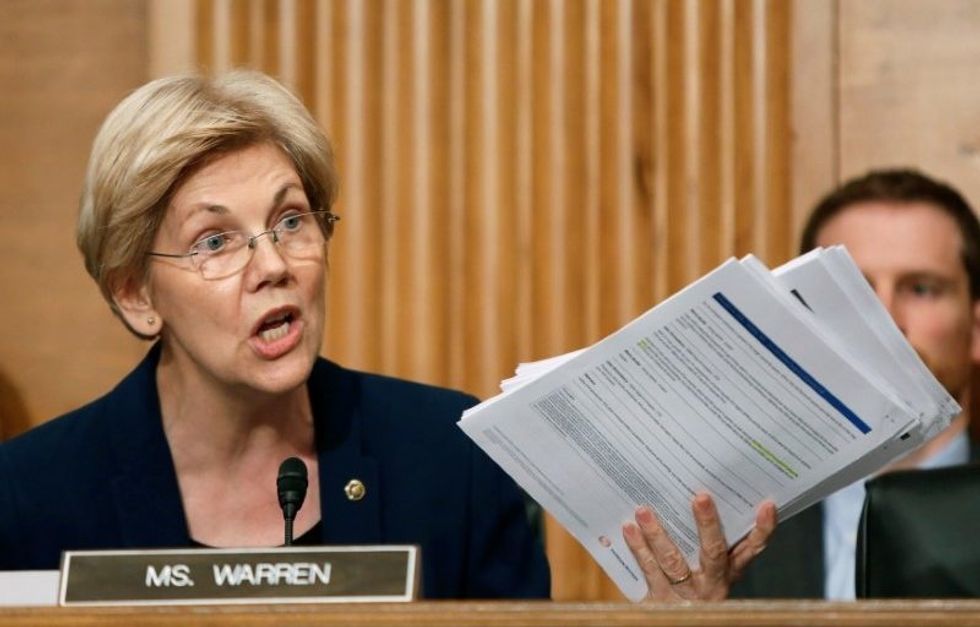 Reprinted with permission from AlterNet. 
Exactly as anyone who was paying attention could've predicted, Donald Trump ran on a campaign of promises he never had any intention of achieving. Despite an oath to "drain the swamp" and fight corruption, with the announcement of each cabinet member, it's become just slightly more obvious than it was during the election that all that catchy campaign talk was just empty sloganeering.
Noting he has "stacked his transition team with Wall Street elites, insiders and lobbyists," Sen. Elizabeth Warren took to Facebook to make an observation: "Trump's campaign was a giant con." In response, the senator has penned an open letter to Trump calling him on his broken promises.
Warren writes:
Within days of your election, you have elevated a slew of Wall Street bankers, industry insiders, and special interest lobbyists to your transition team. Even more are rumored to be named as potential cabinet members. Based on public reports, your transition team and your potential cabinet include over twenty Wall Street elites, industry insiders, and lobbyists making decisions that could have huge implications for their clients or employers. They include, among many others, a former Goldman Sachs executive who is rumored to be a Treasury Secretary pick; a paid consultant for Verizon who is making key decisions on your administration's Federal Communication Commission; a "top lobbyist" whose firm lobbied on behalf of issues related to the Trans-Pacific Partnership who is shaping your Labor Department; and a climate-change denying, oil industry-paid think tank fellow who is leading your environmental team's transition.
Earlier this week, in a television interview, you were asked about the large number of lobbyists and insiders on your transition team. You responded that "everybody's a lobbyist" in Washington D.C. I can assure you that this is not the case. Many Americans — inside and outside Washington D.C. — have the expertise to serve the American public without being bought and paid for by special interests. Claiming otherwise does not absolve you of your responsibility to stick to your promise to "clean up the system.
It is no secret that we fundamentally disagree on a number of issues of critical importance to the future of this nation — issues that I will never stop fighting for and will never compromise on. But members of my party – just like members of yours — are fed up: seventy-two percent of voters – both Democrats and Republicans – believe that "the American economy is rigged to the advantage of the rich and the powerful." Americans are angry about a federal government that works for the rich and powerful and that leaves everyone else in the dirt. As I said last week, when your goal is to increase the economic security of middle class families, then count me in — I will put aside our differences and I will work with you to accomplish that goal.
The early reports of who is on your transition team indicate that, despite your campaign promises, you are looking to industry insiders, lobbyists and other special interests to shape Washington D.C. under your administration. If you truly want to make Washington, D.C. work for the American people, you have the opportunity — indeed, you have the responsibility — to remove the lobbyists and financial bigwigs from your transition team and reinstate a group of advisors who will fight for the interests of all Americans.
You made numerous promises to the American people in your election campaign, none bigger than the promise to "drain the swamp" of Washington D.C. special interests rigged against the middle class. The decisions you make with your transition team will shape the next four years of this nation. They will also reflect the strength of your character and your ability to truly lead — not just follow the marching orders of the special interests and Wall Street bankers you purportedly oppose.
Warren—after suggesting Trump purge his team of "lobbyists and special interest insiders"—closed with a promise of her own:
Let me be clear. Should you refuse, I will oppose you, every step of the way, for the next four years. I will champion the millions of Americans you will fail to protect.  I will track your every move, and I will remind Americans, every day, of the actions you take that fail them. And I will not be the only one watching.  The millions of Americans who voted for you — and the millions who didn't — will all be watching you.
You can read Warren's letter in its entirety here.
Kali Holloway is a senior writer and the associate editor of media and culture at AlterNet.
IMAGE: U.S. Senator Elizabeth Warren (D-MA) shows company documents to Wells Fargo CEO John Stumpf during his testimony before a Senate Banking Committee hearing on the firm's sales practices on Capitol Hill in Washington, U.S., September 20, 2016. REUTERS/Gary Cameron