Warren's American Constitution Society Speech Previews Democrat Attacks on Trump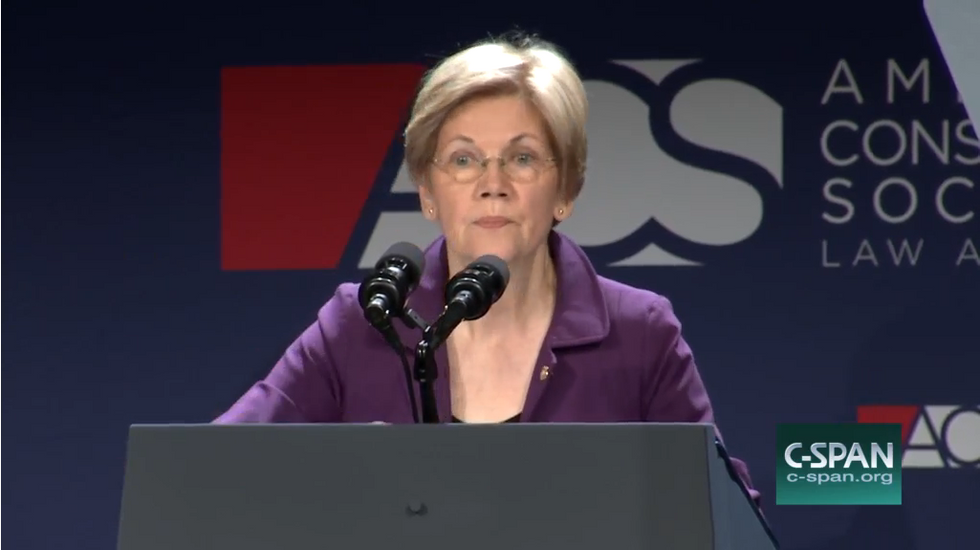 Massachusetts Senator Elizabeth Warren delivered an incisive 30-minute speech excoriating both Donald Trump and Senate Republicans on their approach to judicial issues.
Alternately sobering and critical, Warren grilled them on their stalling of Obama's judicial nominees — from those at the district level to Judge Merrick Garland — as well as their comments on the Trump University lawsuit and the federal judge presiding over it.
Trump said that judge, Gonzalo Curiel, was unfit to preside over the Trump University case due to his Mexican heritage.
Warren, who has been widely named as a potential running-mate for Hillary Clinton, previewed the type of Democratic attack on Trump and the GOP that is likely to fill the airwaves as the media turns toward the general election race.
The American Constitution Society, a progressive legal association focusing on law and policy, hosts an annual convention to highlight key judicial issues and advance discourse.
Apart from Warren, other speakers at this year's American Constitution Society National Convention include Vice President Joe Biden, White House Counsel Neil Eggleston, and Senator Amy Klobuchar, another name reported as a possible Clinton VP pick.
Here are ten of Warren's best moments:
On the Republican campaign to stall Obama's judicial nominations:
"What we've seen over the past three years — accelerating over the past three months, and even the past three weeks — is alarming. Powerful interests are now launching a full-scale assault on the integrity of the federal judiciary and its judges."
On the state of the Supreme Court with only eight sitting justices:
"Judicial emergencies multiply. Cases pile up. Courts are starved for help. And now the Supreme Court of the United States sits paralyzed, unable to deal with its most challenging cases. All because extremist Republicans who reject the legitimacy of President Obama are determined to make certain our courts advance only the agenda of the wealthy and the powerful."
On Republicans' preference for judges with experience in corporate defense law:
"Senate Republicans and their big business allies don't like nominees whose resumes reflect insufficient devotion to the interests of the rich and powerful — so they smear them."
On the lack of professional diversity in courts:
"This approach is corrosive to the legal profession. It is corrosive to our courts. It is corrosive to the rule of law. It is the responsibility of every lawyer — no matter who their clients are — to stand up and fight back."
On Merrick Garland:
"Judge Garland is not a politician. He is a judge with an unimpeachable record of putting the law first. And for that sin, he faces a nonstop, national campaign of slime. He faces historic disrespect from the Republicans who control the Senate. It is despicable. It must end."
On the Trump University class action lawsuits:
"…in America, we have the rule of law — and that means that no matter how rich you are, no matter how loud you are, no matter how famous you are, if you break the law, you can be held accountable. Even when your name is Donald Trump."
On Trump's criticism of Curiel as a biased judge:
"Understand what this is. Trump is criticizing Judge Curiel for following the law, instead of bending it to suit the financial interests of one wealthy and oh-so-fragile defendant."
On Curiel's judicial record fighting drug trafficking in Southern California:
"Judge Curiel is one of countless American patriots who has spent decades quietly serving his country, sometimes at great risk to his own life. Donald Trump is a loud, nasty, thin-skinned fraud who has never risked anything for anyone and serves nobody but himself."
On the Republican judicial agenda:
"Donald Trump chose racism as his weapon, but his aim is exactly the same as the rest of the Republicans. Pound the courts into submission to the rich and powerful."
On what must happen next:
"All that is required for the rule of law and our independent judiciary to collapse is for good people to stand by, and do nothing. Now is not the time to stand by. Now is the time to stand up.Now is the time to say no. No, not here, not in these United States of America."
Watch the full speech for yourself below:
Photo and video via YouTube