Washington Gunman 'Hunted' His Victims: FBI
@AFP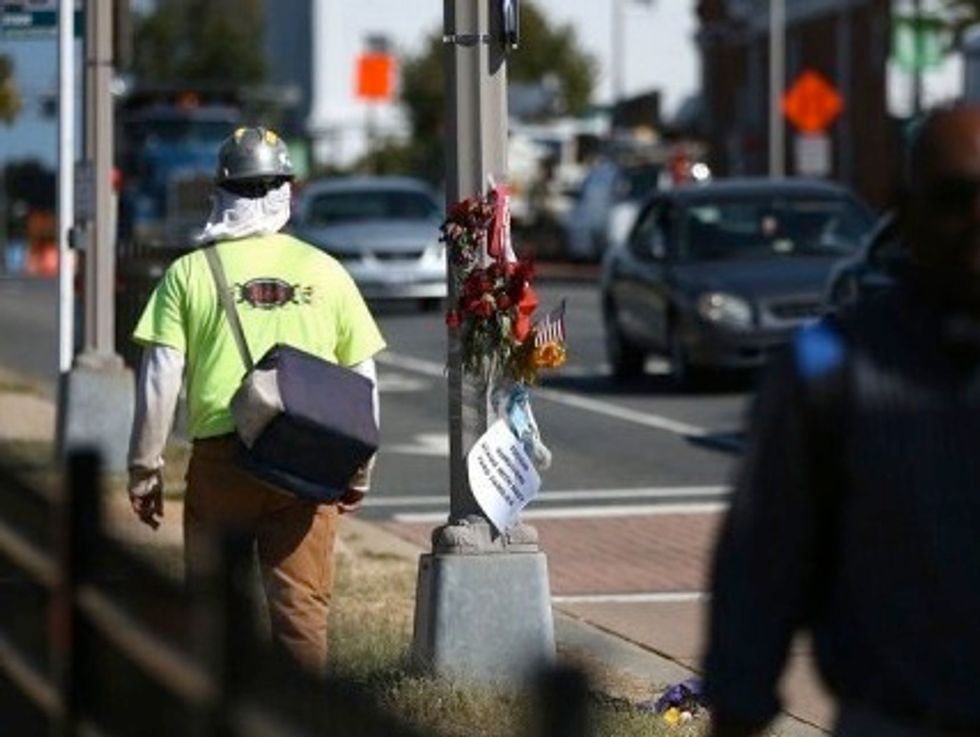 WASHINGTON (AFP) – The gunman who slaughtered 12 people at the Washington Navy Yard stalked his victims as if he was "hunting" them, officials said Thursday as they painted a chilling portrait of how the carnage unfolded.
FBI Director James Comey told reporters that former Navy sailor Aaron Alexis had roamed the offices and corridors of the Navy Yard's 197 building, blasting victims at random with a sawed-off shotgun before being shot dead.
Alexis, 34, was killed in a gun battle with police after being cornered following Monday's bloody spree.
Comey's account of the rampage came after analysis of security camera footage taken inside the 197 building, providing the most detailed chronology so far of the massacre.
The FBI chief said that after driving into the naval installation in the heart of the US capital early Monday, Alexis had headed into building 197 and gone into a fourth floor restroom, carrying a bag.
He came out of the the restroom moments later holding a sawed-off Remington 870 shotgun and began blazing away at anyone who crossed his path, Comey said.
"He emerged from the bathroom a few minutes after 8:00 am with the shotgun and almost immediately started to shoot folks on the fourth floor in a way with no discernible pattern," Comey told reporters.
"It appears to me that he was wandering the hall like hunting people to shoot."
After shooting people on the fourth and third floors of the building, Alexis went down to the ground floor, shot dead a security guard and seized the man's weapon — a semi-automatic Beretta pistol.
He then returned to the third and fourth floors and continued shooting from the shotgun until he was out of ammunition.
Alexis then began shooting with the slain security guard's gun.
"That continued until the first responders arrived and then our team arrived and cornered him and sustained exchanged fire with him and he was downed and obviously killed at the scene," Comey said.
It was difficult to say how long Alexis had been pinned down by police, but the attack lasted roughly 30 minutes, he said.
Comey said Alexis appeared to be selecting his victims at random.
"From the video… he appears to be moving without particular direction or purpose, his movements don't appear, at least to me, as if he was looking for a particular person or a particular group," the FBI chief said.
"When you look at the folks who were shot and the folks who are alive, they're all people from different backgrounds, from all over the building."
He said workers in the building were desperately trying to take cover and "were moving everywhere to find safety."
Comey confirmed Alexis acted alone and said initial suspicions that there were other shooters resulted from a chaotic atmosphere.
"Early on, there was some confusion because a lot of good people ran towards the sounds of gunfire with a lot of weapons," he said.
The FBI did not offer a precise count on the number of shots fired by the gunman and did not say whether Alexis was killed by one or more police officers, or from which law enforcement agency.
There were bigger questions about the gunman's past that remained unanswered as well, and US officials acknowledged Wednesday that they missed "red flags" about the deeply troubled Alexis that may have averted the rampage.
Alexis had a security clearance that granted him access to the Navy Yard despite a record of misconduct in the Navy and run-ins with the law, including two shooting incidents and a Rhode Island police report showing he suffered from severe delusions.
Comey said Alexis was "a person who had mental health problems and we're trying to better understand that," suggesting authorities had still not arrived at a motive for the attack.
FBI investigators were working to better understand "the shooter's life and motivations," he said.
The bureau's behavioral experts will study the case to look for potential warning signs, and ask whether those could be of "use to prevent tragedies like that."
Photo Credit: AFP/Mark Wilson