Washington Promises To Fix VA But Overhaul Won't Be Easy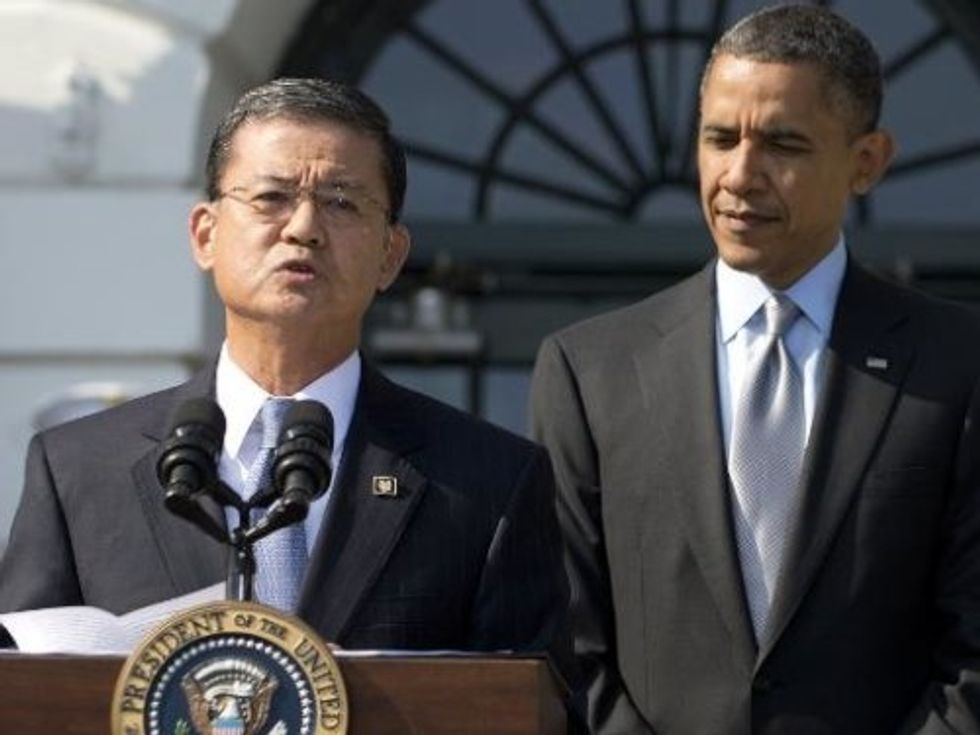 By Lindsay Wise, McClatchy Washington Bureau
WASHINGTON — Eric Shinseki has been pushed out as the secretary of veterans affairs. The president vows changes. The Senate is moving with uncharacteristic speed toward a bipartisan response.
But fixing the sprawling agency with an entrenched bureaucracy won't be easy.
It has a management culture marred by cronyism, intimidation and poor oversight from the Department of Veterans Affairs central office. It has a performance-based bonus system that rewards those who falsify records to meet unrealistic quotas. And it simultaneously penalizes supervisors who don't push their employees to "cook the books."
"If you weren't going to crack people's heads, if you didn't put people's feet to the fire, they didn't want you around," said Charleston Ausby, a Marine Corps veteran from Sugar Land, Texas, who worked as a VA service representative from 2002 to 2012.
Ausby said he and his co-workers routinely came under pressure to reduce the VA's record disability-claims backlog by misfiling or mislabeling old claims that had been pending for years to make them appear in the computer system as though they were new claims.
Like "cooking the books" at VA hospitals to conceal delays in medical care, the practice of manipulating claims data made it seem as though veterans weren't waiting as long for decisions on their benefits as they really were, Ausby said.
Most underlings are too demoralized to complain or don't know how to do so without risking retribution, he said.
Falsifying data isn't a new phenomenon at VA, said Gerald Manar, who worked as an adjudication manager at the VA for 30 years before becoming the national veterans service deputy director for Veterans of Foreign Wars.
VA managers are reluctant to ask for more money and the staff they need to meet quotas because they don't think their requests will go over well with higher-ups in Washington or politicians in Congress, Manar said.
"The attitude among managers is, 'Why even bother asking, because we're not going to get it,'" Manar said. "When you have that kind of culture, you feel so beaten down, so restricted, so disheartened by what's happened before that you don't even ask for what you need."
Some VA employees resort to hiding the problem. As a result, politicians, the public and officials at the VA central office don't get an accurate picture of what's wrong from people in the field.
"In a bureaucracy when people are given orders to do things that can't possibly be done, they become cynical," said Ronald Abrams, a former VA official who is the joint executive director of the National Veterans Legal Services Program.
"For example, years and years ago I read that the post office made a rule that all mail coming in on Monday had to get out on Monday, otherwise people would lose their jobs…so in Pennsylvania employees rented a trailer and simply threw the letters into a trailer," Abrams said.
"When the VA said, 'OK we have to get all these appointments scheduled within 14 days,' the cynical employees said, 'We can't possibly do that.'"
A new test is whether the massive agency needs to grow even more to accommodate a booming veterans population or whether it's an outmoded model that should be re-imagined to simplify veterans' benefits applications and give them more access to private care.
A compromise bill crafted by Senators John McCain (R-AZ) and Bernard Sanders, a Vermont independent, aims to strike a balance between expansion and privatization.
It would allow veterans who live far from VA facilities or can't get timely VA appointments to seek care from any doctor in the Medicare program, at federally qualified health centers, facilities funded by the Department of Defense or Indian health centers.
The bill would authorize the VA to lease 26 new health facilities and would allot $500 million in unobligated VA funds to hire more doctors and nurses.
Another provision in the bill would allow the VA secretary to demote or fire senior agency officials based on their performance. Unlike a similar bill that passed last month in the House of Representatives, this version doesn't remove the right of poor-performing officials to appeal their terminations, but it expedites the process from 120 days to just three weeks, and withholds their pay until the appeal is resolved.
Among other legislative fixes offered by members of Congress in recent weeks are measures that would freeze bonuses to senior VA employees until changes are implemented, require the VA to identify officials accused of misconduct by name and publicly release Office of the Medical Inspector reports of investigations into wrongdoing at VA facilities.
Past efforts to overhaul the VA have met with a mixed record of success.
In the 1920s, for example, the government adopted strict civil service rules after the first director of the Veterans' Bureau was caught selling surplus hospital supplies for personal profit.
The rules ended up stifling innovation and made it hard to recruit good doctors, said Colin Moore, an assistant professor of political science at the University of Hawaii who is working on a book about the history of the VA.
The consequences hit after World War II, when a series of articles exposed the abuse and neglect of returning veterans.
The VA responded to the crisis by establishing partnerships with medical schools that dramatically improved the quality of care for veterans.
But the downside of focusing VA resources on acute in-patient care in urban areas near medical schools became apparent after Vietnam, when returning veterans had trouble accessing local primary care. It wasn't until Congress passed the 1996 Veterans Health Care Eligibility Reform Act that the VA became an integrated health system and expanded into hundreds of outpatient clinics in rural areas and across the South and Southwest.
The VA now has 152 hospitals and 800 clinics serving more than 6 million veterans across the country.
"It's tragic for the veterans, but this pattern of scandals and reform is just more or less the entire history of the organization," Moore said.
AFP Photo/Saul Loeb