Washington State's Old Pot Laws Go Up In Smoke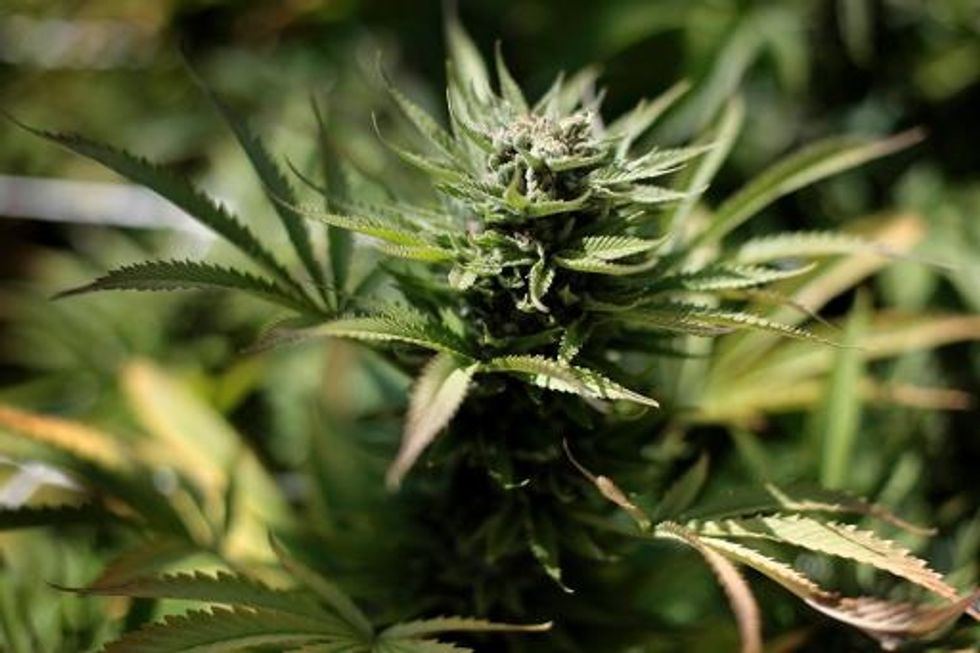 By Maria L. La Ganga, Los Angeles Times
SEATTLE — The first customer to buy legal pot — for partying, not medicinal reasons — here in Washington's biggest city was a retired 65-year-old woman who overnighted on a sidewalk to ensure her place in hemp history. Deborah Greene accidentally bought twice as much as she'd planned to Tuesday.
Cannabis City's second customer was the ACLU attorney who drafted the initiative legalizing weed in Washington state. Alison Holcomb bought two two-gram bags of O.G.'s Pearl, a strain with a particularly high level of THC, after declaring that Washington was "moving marijuana out of the shadows."
The third customer was the interesting one. Before he opened his wallet at Seattle's pioneering pot purveyor, City Attorney Pete Holmes said he was "buying the marijuana to use it. Let's just leave it at that."
And after his historic transaction had ended? Holmes decried the "failed war on drugs." By selling marijuana in the open, he said, "we're going to shift this to a legal, regulated and completely daylight system."
"This is how we're going to get away from criminal elements that have profited," the blue-suited lawyer promised as he watched the festivities inside the steamy little store in Seattle's industrial SoDo neighborhood. "This is how we'll have better ways for controlling youth access. This is how … the message about the cultural shift, about responsible use by adults, is going to get across."
Washington and Colorado voted in November 2012 to legalize marijuana for adults 21 and older and to create state-licensed systems for growing, selling and taxing it. Colorado simply broadened its medical marijuana system — at least for starters — and began sales Jan. 1.
But Washington's Initiative 502 created a marijuana economy from scratch, along with a system to regulate it. More than 300 official stores and hundreds of licensed growers and producers are expected statewide when the system is fully operational.
Legal retail sales arrived this week with a whimper, not a bang. Only 25 stores had been licensed by Monday, and only about 30 percent of the expected pot plants had been approved for cultivation. About half a dozen retailers opened their doors Tuesday, with hundreds of people lining up outside — not the thousands who had been expected. Still, the fear of shortages loomed.
"It's important that we recognize we are in short supply," Holmes told a thicket of reporters who oozed onto busy 4th Avenue South while documenting the moment. In Seattle, "we've got only one store, and there's going to be other bumps in the road as we veer away from the failed war on drugs toward a regulated system."
James Lathrop had planned to open Cannabis City at "high noon." But you know what they say about plans. At 11:40 a.m., he and Holcomb jumped the gun, grabbing a pair of outsized red scissors and snipping the police tape that festooned the store's low-key entrance.
"I declare this war over," he said, grinning. "It's time to free the weed."
Free the weed, not free weed.
A computer glitch kept the cash registers silent until well after the promised 12 p.m. start, however.
Greene, Lathrop's first customer, did not seem to mind. She had planned to purchase two bags, one for consumption and one for posterity. But she walked out with four, about $160 poorer. For a woman who says she smokes "about a bowl a month," her new supply will last a very long time, she said.
"I'm really excited, relieved and happy," Greene said, her face flushed from the mid-80s heat. What she liked best about legalization, she said, were "the choices. It's the quality. It's like a candy store, like chocolates. You can never get enough."
Although Lathrop didn't kick off legal sales in Seattle until afternoon, stores in farther-flung parts of the state started selling at 8 a.m., the first moment they possibly could.
Cale Holdsworth got the coveted first spot in line at Top Shelf Cannabis in Bellingham by arriving about 4 a.m. Holdsworth, 29, manages the parts department at an RV dealership and was on vacation Tuesday, visiting relatives in the last city before the Canadian border.
He arrived early because he wanted to show his support for legalized marijuana. Back home in Abilene, Kan., he said, he consumes the illegal kind on a regular basis.
"I feel it's something people should have the choice to do or not do on their own," Holdsworth said, adding that marijuana use is "a very serious topic." "One obviously has to look at one's finances. It costs money. And we don't need people driving when high."
Holdsworth didn't have to worry much about the money part. As one of Top Shelf's first 50 customers, he got the door-buster price of $10 a gram plus tax and walked out with 2 grams in neat, child-proof packaging.
"This is a great moment," he said before heading back to his relatives' house to puff. "I'm thrilled to be part of this."
AFP Photo/Desiree Martin