WATCH: Cuccinelli Calls On Christie To 'Step Aside'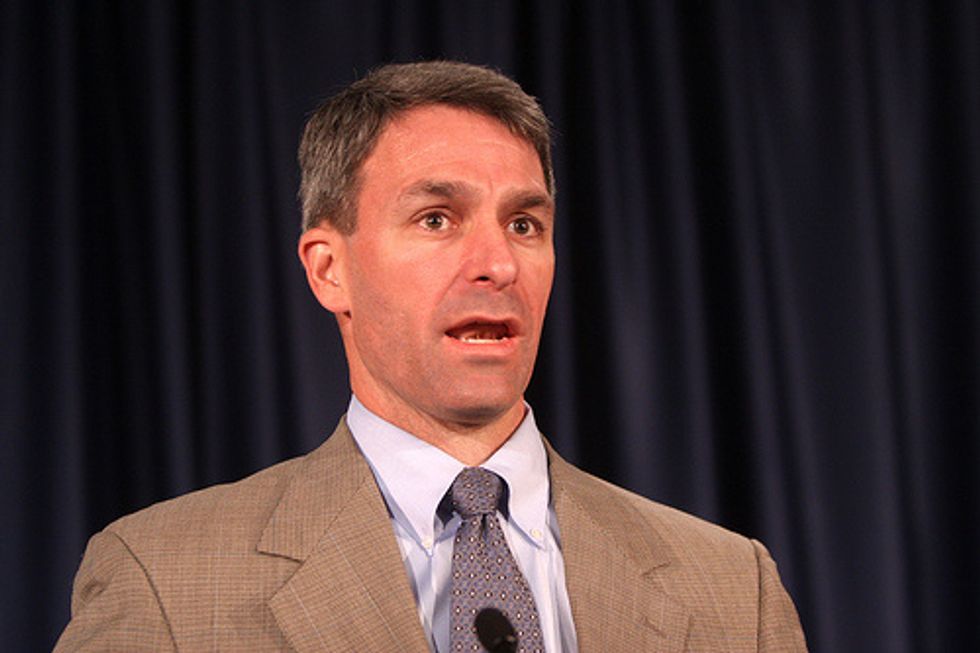 Former Virginia attorney general and failed gubernatorial candidate Ken Cuccinelli called on New Jersey governor Chris Christie to step down as chairman of the Republican Governors Association on Tuesday, joining a growing list of Republicans to kick the embattled governor while he's down.
Cuccinelli went after Christie during a Tuesday appearance on CNN's Crossfire:
"I think just from the perspective of setting aside this as an issue in other races, it makes sense for him to step aside" as RGA chairman, Cuccinelli said. "He does not serve the goals of that organization by staying as chairman."
"And that doesn't mean that any of the charges, political or otherwise, are substantive or not," he added. "It doesn't matter. Perception is reality."
Cuccinelli is the highest-profile Republican to call on Christie to leave the powerful RGA chairmanship, through which he is responsible for helping Republican gubernatorial candidates get elected, and managing the organization's over-$100 million budget. Several previous RGA chairs, such as Mitt Romney and Rick Perry, have used the position as a springboard to national campaigns (former Virginia governor Bob McDonnell was expected to do the same, until a corruption scandal — which also hung over Cuccinelli's gubernatorial campaign —  tanked his political career).
There may be some sour grapes motivating Cuccinelli's comments. In the wake of Cuccinelli's surprisingly narrow loss to Democrat Terry McAuliffe, some on the right blamed Christie, who reportedly refused to campaign with Cuccinelli in the campaign's closing days.
Additionally, unnamed advisors to Cuccinelli griped that the RGA — then chaired by Lousiana governor Bobby Jindal — did not spend enough to support the Virginia Republican, and misused what money it did commit to helping him win. Specifically, they were upset that the RGA continued allocating money to Christie, even though his re-election was virtually guaranteed.
"They just took their money and spent it in New Jersey, where we took a 17-point win to a 20-point win," one of those advisors told the right-wing Daily Caller one day after the election. "I don't know what their strategic thinking is. It just doesn't make sense to me."
Mike DuHaime, a senior advisor to Governor Christie, pushed back against Cuccinelli's call for his boss to step down from the RGA, in comments to The Associated Press on Tuesday evening. He termed Cuccinelli's comments "disappointing, given the RGA was by far the largest single donor to his losing campaign, giving more than $8 million — a significant portion of which was raised by Gov. Christie."
Given what we've learned about what Christie's team is willing to do to politicians whom they deem disloyal, perhaps Cuccinelli should watch his back as he ponders his own political future.
Photo: Gage Skidmore via Flickr