WATCH: Democratic SuperPAC Unloads On GOP House Candidate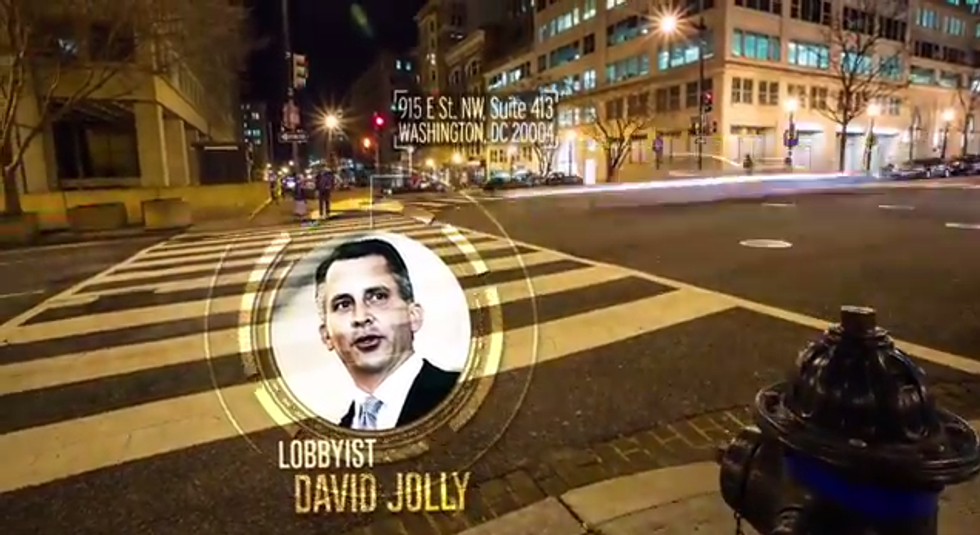 House Majority PAC, a SuperPAC dedicated to electing Democrats to the House of Representatives, released a new ad on Tuesday ripping Republican congressional candidate David Jolly.
The ad, titled "Privatized," slams Jolly for his work as a lobbyist before he decided to join the race to replace his former boss, the late Rep. Bill Young (R-FL), in Florida's 13th congressional district.
"This is David Jolly's lobbying office in Washington, D.C.," the ad's narrator says over a shot of the Three Bridges Advisors office, where Jolly began working in 2011. "It's where David Jolly lobbied for a special interest that wanted to privatize Social Security."
"Now David Jolly wants this to be his office… and still says privatization should be on the table," the narrator continues over a shot of the Capitol building. "Don't let David Jolly get any closer to jeopardizing Social Security."
Jolly's lobbying has become a major point of debate in the special election to fill Young's seat. Specifically, Democrats have focused on his work representing Free Enterprise Nation, a conservative group which advocates for benefit-cutting changes to Social Security and public employee pensions, among other issues. Democratic nominee Alex Sink, a former chief financial officer of Florida, has repeatedly attacked Jolly's career choice (although she has pointedly declined to address her own campaign's ties to lobbyists).
The attack ad will run as part of a two-week, $650,000 television campaign in the 13th district. It launches as vote-by-mail voters are receiving their ballots, which the Pinellas County Supervisor of Elections sent out on February 7. The special election will be held on March 11.
The race is widely considered to be a toss-up. There has been scant public polling of the race, but a recent survey from the Jolly campaign found him up by 5 percent, while a DCCC poll found Sink up by 4 percent. Due to Florida-13's reputation as a bellwether district (President Obama won it with just 50.1 percent of the vote in 2012), many pundits believe that the upcoming special election will provide a preview of 2014 midterm elections across the country.