WATCH: Elizabeth Warren Introduces Bill To Expose 'Sweetheart Deals' For Corporations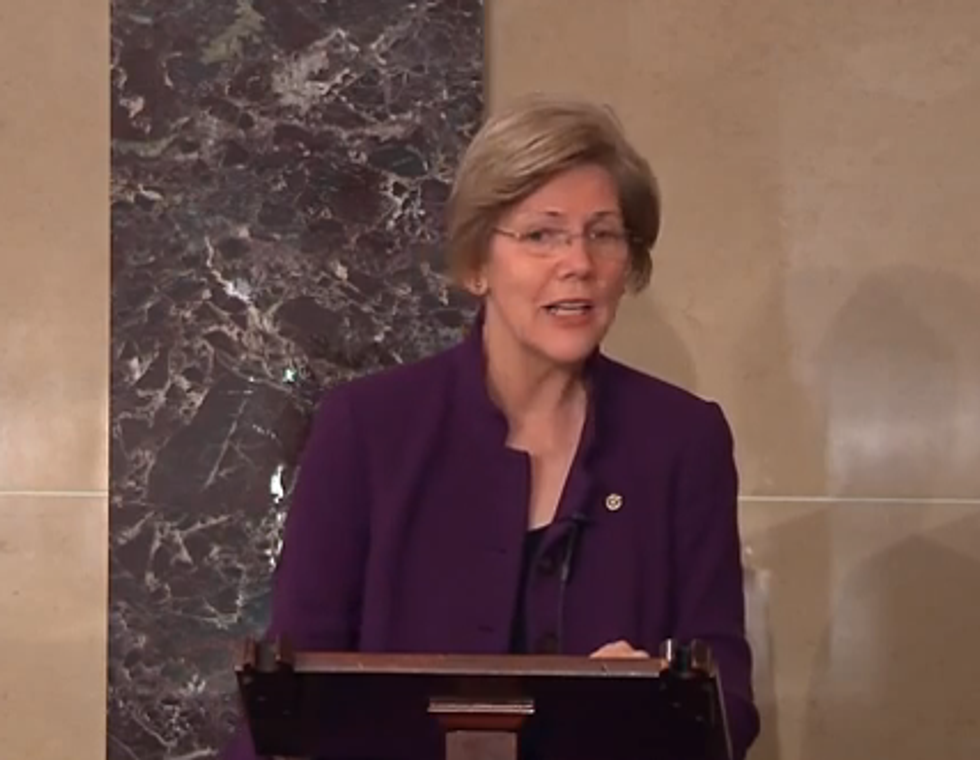 Senator Elizabeth Warren (D-MA) rose to the floor of the Senate on Thursday morning to introduce the Truth in Settlements Act, which is co-sponsored by Senator Tom Coburn (R-OK).
"Several years ago the government announced a $385 million settlement with Fresenius Medical Care for allegedly defrauding Medicare and other health programs for years," Warren said. "When the agreement was originally announced, the Justice Department touted the sticker price as the agency's largest civil recovery to date in a health care fraud case. But the DOJ didn't say a word about the tax treatment. The agency's failure to even consider that issue was a very costly mistake. By the time the company finished claiming all its tax deductions from the settlement, it ended up paying $100 million less than originally advertised. In other words, the taxpayers picked up more than a quarter of the tab."
The senator also compared a settlement last year between Wells Fargo and the Federal Housing Finance agency for $335 million in fraudulent sales to Fannie Mae and Freddie Mac, which was about 6 percent of what JPMorgan paid to the same agency for a similar claim.
What was the difference in the two settlements?
"Well, we'll never know because the JPMorgan settlement is public. But the much smaller Wells Fargo settlement is confidential."
The bill implements several requirements on settlements made in disputes that are not being litigated, including a requirement that the government offer a rationale whenever an agreement is kept confidential.