WATCH: Georgia GOP Primary Gets Ugly In Home Stretch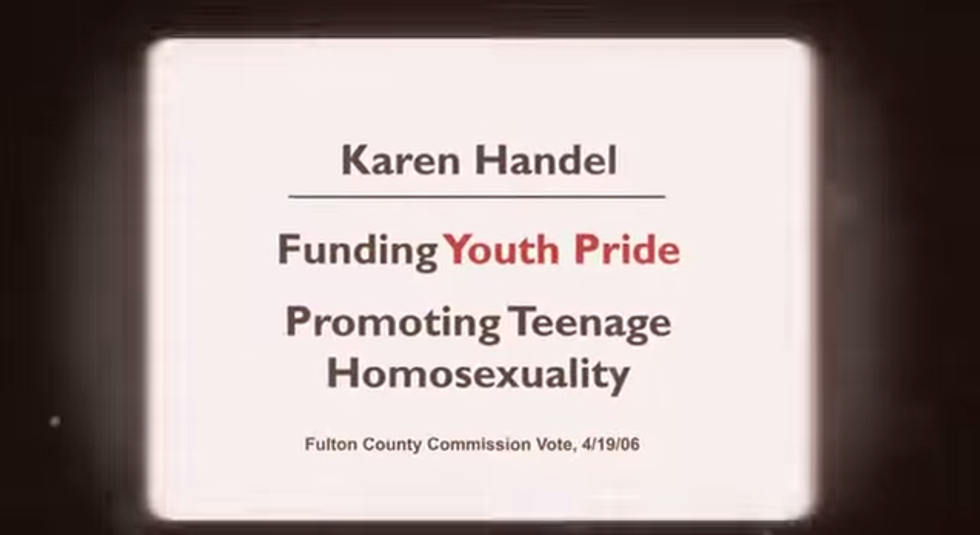 The Republican primary for U.S. Senate in Georgia is coming down to the wire — and it's getting ugly as voters prepare to cast their ballots on Tuesday.
The contentious primary, which has largely played out as a mad dash to the right, has featured five viable candidates: U.S. Representatives Paul Broun, Phil Gingrey, and Jack Kingston, former Georgia secretary of state Karen Handel, and former Dollar General and Reebok CEO David Perdue. Polls suggest that Perdue, Handel, and Kingston have separated from the pack over the past two months. Perdue will almost certainly claim one spot in the July 22 runoff that will take place in the likely scenario that no candidate wins over 50 percent on Tuesday; Handel and Kingston are neck-and-neck for the second spot.
Republicans should be relieved that Broun and Gingrey have faded in the polls; each of the Tea Party-backed congressmen holds positions far right of the mainstream (even in Georgia), and both have a history of committing the types of gaffes that could prove devastating in the general election.
Still, the longshot candidates aren't going down without a fight. In the final week, Gingrey's campaign has been running a nasty attack ad ripping Kingston for "surrendering to Obamacare," Perdue for "championing Common Core with Obama," and Handel for "promoting teenage homosexuality" through her vote to fund an LGBT youth center during her time on the Fulton County Commission.
The contenders aren't pulling their punches, either. Handel has been on the attack, knocking Kingston as a corrupted D.C. insider ("Unlike Jack Kingston, I am not a sitting congressman who can hold lavish fundraisers with Washington lobbyists to the tune of millions raised," she said in a recent fundraising email), and criticizing Perdue for suggesting that new revenue is needed to cut the budget deficit.
"Exactly who is this guy?" Handel rhetorically mused. "He's not a conservative and I question whether he's even a Republican."
Meanwhile, Perdue and Kingston are engaged in a back-and-forth war over which candidate acts more like a baby.
It's as weird as it sounds:
Whichever candidate eventually claims the Republican nomination will face a difficult general election matchup against Democrat Michelle Nunn. Polls suggest that Nunn is virtually tied with each of the top Republicans, and if the Republican primary does drag on until July, Nunn will be able to stay above the fray — and save her sizable campaign war chest for later in the race.
Screenshot: YouTube
Want more analysis of the 2014 midterms? Sign up for our daily email newsletter!