WATCH: Grimes Highlights Voting Rights In First Ad Of Kentucky Senate Race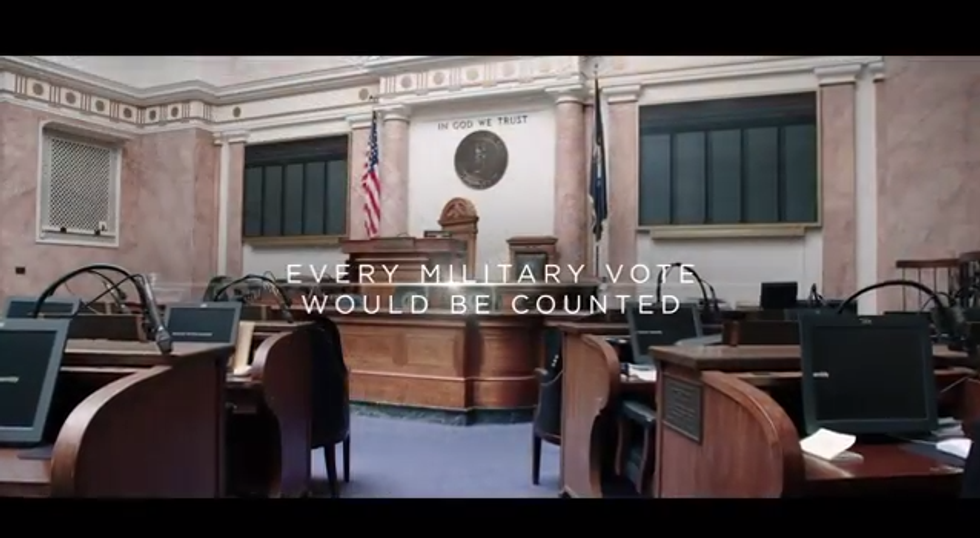 Kentucky Secretary of State Alison Lundergan Grimes, the Democratic challenger to Senate Minority Leader Mitch McConnell (R-KY), released her first statewide television ad of the 2014 campaign on Thursday.
The ad, titled "Lost in Battle," highlights Grimes' efforts to ensure that military personnel serving overseas have access to the ballot.
"Change can still happen here," the ad's narrator, military mother Lyne Dickey says over a shot of the Kentucky state capitol. "After she met with our military in the Middle East, Alison Lundergan Grimes came home and brought Democrats and Republicans together to pass a law ensuring every military vote would be counted."
"I almost lost my son in Iraq. But what upset him most was his ballot being lost in battle," Dickey continues. "Because of Alison, that will never happen again. Washington should work this way."
The law in question is the Military Heroes Voting Initiative, which allows soldiers serving overseas to receive their ballots via email, before returning them to Kentucky through the regular mail system. Grimes, who championed the plan as secretary of state, is one of several Democrats using voting rights as a key issue in the midterm campaigns.
The ad's focus on Grimes' bipartisan work in Kentucky is clearly intended to draw a contrast with McConnell, whom the Democrat's campaign has attacked as a "guardian of gridlock" in the Senate.
"The campaign is honored to highlight Alison's accomplishment on this issue that is very close to her heart: helping our men and women in uniform," Grimes senior advisor Jonathan Hurst said in a statement. "With Washington paralyzed by partisan gridock, Alison will be an independent, common-sense problem solver who fights for Kentucky values in the U.S. Senate."
According to Grimes' campaign, the ad is backed by a six-figure buy. It will be the secretary of state's first statewide ad; by contrast, McConnell's campaign has been on air for months with a series of positive ads intended to improve his lagging approval ratings, and beat back a primary challenge from Louisville businessman Matt Bevin.
McConnell is on pace to easily defeat Bevin in the May 20 primary, but his aggressive campaigning has not helped him build a lead against Grimes. Although the minority leader has outspent Grimes by a more than 4-1 margin, polls of the race have barely moved in a year, and the candidates remain in a virtual tie.
Screenshot: YouTube
Want more analysis of the 2014 midterms? Sign up for our daily email newsletter!