WATCH: Lhota Hits De Blasio With Over-The-Top Ad In New York City Mayoral Race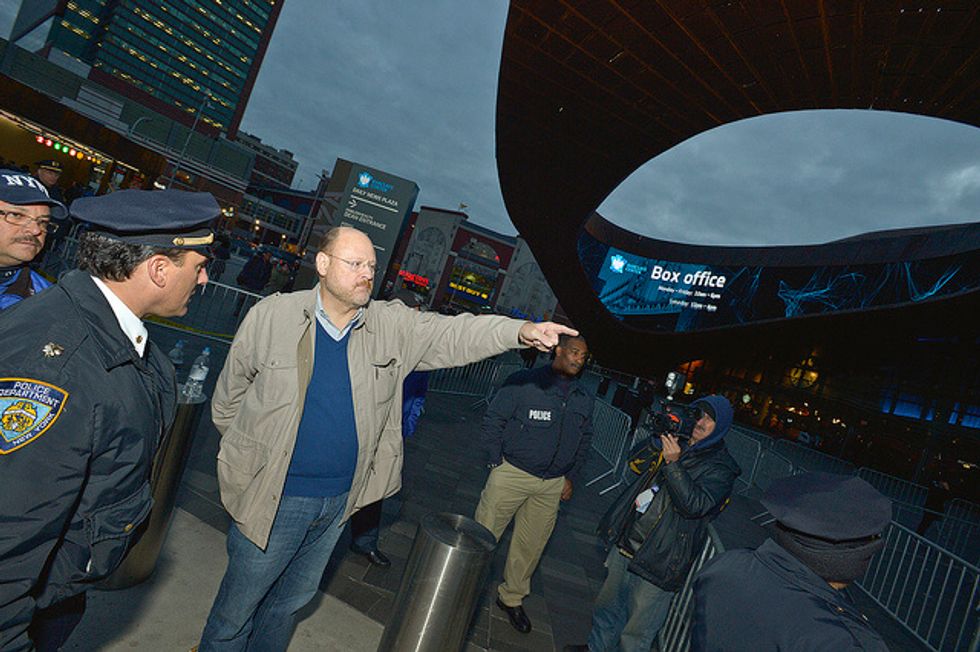 Still trailing Democratic candidate Bill de Blasio in the New York City mayoral race, Republican Joseph Lhota is growing desperate — and his latest ad proves it.
The ad, titled "Can't Go Back," was released on Wednesday and depicts a regressing city to come under de Blasio. It strives to paint the current public advocate as a mayor unable and even unwilling to reduce crime in New York City, stating "Bill de Blasio voted to take over 5,000 cops off the street" in its first few seconds.
The ad then warns of de Blasio's "recklessly dangerous agenda on crime," referencing the candidate's response to a recent violent biker gang attack that occurred in the city. Following the incident, de Blasio suggested that police "visit motorcycle clubs and talk to bikers," as a "proactive approach" to "fight gangs." Lhota's ad, however, portrays de Blasio as easy on the bikers, and on crime.
The ad then takes a dramatic turn to several black-and-white photos showing poverty, rioting, crime, and a rather creepy-looking elderly woman standing on an old, graffiti-covered train. The message: Bill de Blasio will "take New York backwards."
The over-the-top ad reflects Lhota's frustration. Polls show that he is expected to lose November's election in the deeply Democratic city, where most voters have a negative opinion of the GOP.
The night before the ad was released, Lhota struggled to gain any traction in a debate with de Blasio. The Democrat dominated the hour-long debate, using the time to link his "mainstream Republican" challenger to the national Republican Party, which has seen its image suffer nationwide following the effort to defund Obamacare and force a government shutdown.
In his closing remarks, the overwhelmingly favored de Blasio included a jab at Lhota, saying: "We don't need Republican, trickle-down economics or Tea Party extremism."
Those comments forced a visibly upset Lhota to demand that his opponent not "lump me in with people I am in constant disagreement with," or, as he put it, "national Republicans."
Lhota, desperate to distance himself from his tarnished party, then stated: "It's unbecoming."
Unfortunately for Lhota, the greatest obstacle he faces is carrying the burden of the R next to his name in a city both weary and wary of Republicans.
Photo:MTAPhotos via Flickr