WATCH: Liberal Billionaire Launches Ad Campaign Slamming Iowa's Ernst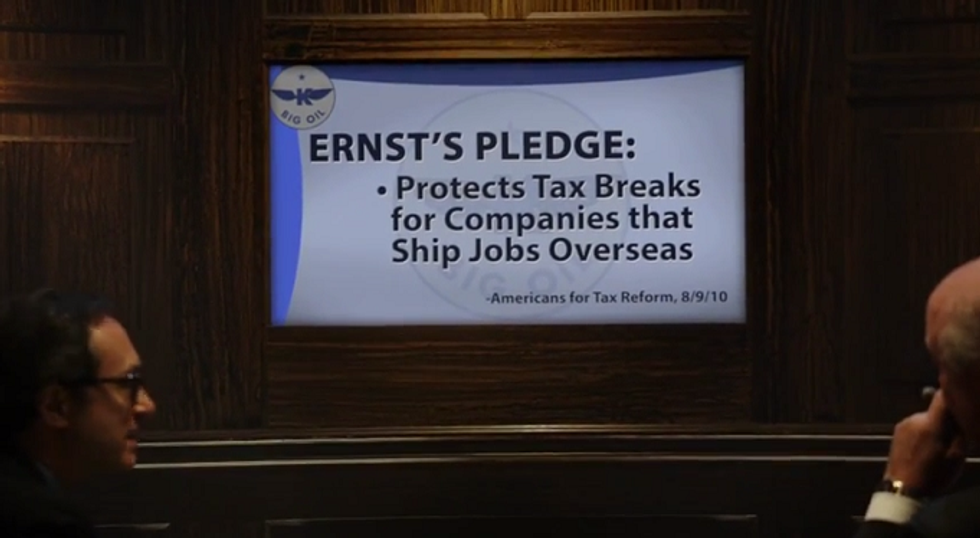 Liberal billionaire Tom Steyer's SuperPAC, NextGen Climate, released the first in what is expected to be an avalanche of midterm election ads on Wednesday, targeting Iowa Republican Senate candidate Joni Ernst.
Surprisingly, the ad does not mention Ernst's outspoken denial of basic climate science. Instead, it depicts two comically evil businessmen gloating that Ernst has sold out, and uses her decision to sign Grover Norquist's Taxpayer Protection Pledge to accuse her of protecting tax breaks for companies that outsource jobs overseas.
The ad is reportedly the first in a $2.6 million campaign that will air across Iowa over the next five weeks.
NextGen Climate has pledged to spend at least $100 million — including $50 million from Steyer's personal fortune — opposing 2014 candidates who refuse to accept the science of climate change. In addition to Ernst, other targets include Governors Tom Corbett (R-PA), Paul LePage (R-ME), and Rick Scott (R-FL), and Senate candidates Scott Brown (R-NH), Rep. Cory Gardner (R-CO), and Terri Lynn Land (R-MI).
If the attacks against Ernst make even a marginal difference, it could be critically important in Iowa's razor-thin Senate race. Ernst currently leads the Democratic nominee, Rep. Bruce Braley, by less than 1 percent in The Huffington Post'spoll average.
Screenshot: NextGen Climate/YouTube
Want more political news and analysis? Sign up for our daily email newsletter!