WATCH: Obama Calls For Nuclear Reduction In Berlin Speech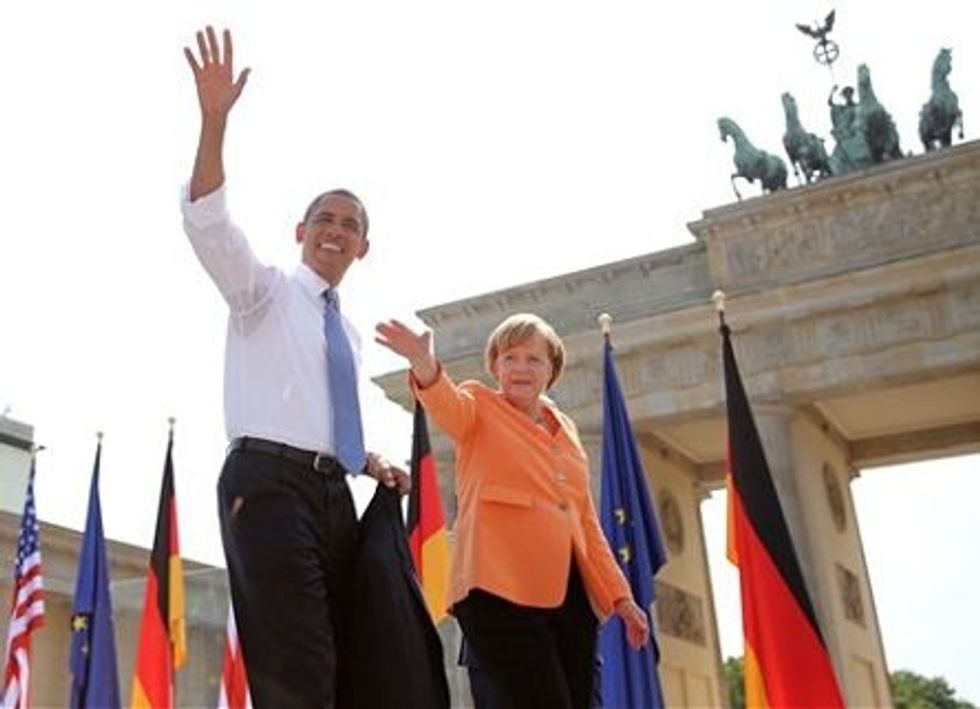 President Barack Obama called for a major reduction of the United States' nuclear arsenal during a Wednesday speech at the famed Brandenburg Gate in Berlin, Germany.
"So long as nuclear weapons exist, we are not truly safe," Obama told the crowd of 5,000 invited guests.
"We can ensure the security of America and our allies and maintain a strong and credible strategic deterrent while reducing our deployed strategic nuclear weapons by up to one third," he said. The president added that he also plans to push for negotiated cuts with Russia, in an effort to "move beyond Cold War nuclear postures."
The U.S. and Russia have already pledged to reduce their number of strategic nuclear missile launchers by half, under the terms of the New START treaty, which was signed by President Obama and then-Russian president Dmitry Medvedev in 2010.
Speaking at the Brandenburg Gate, which became a symbol of division during the Cold War, the president repeatedly alluded to Berlin's divided history.
"This square itself, once a desolate no-man's land, now it is open to all," Obama said. "So while I am not the first American president to come to this gate, I am proud to stand on its eastern side to pay tribute to its past."
"Because courageous crowds climbed atop that wall," the president said, "because millions across this continent now breathe the fresh air of freedom, we can say here in Berlin, here in Europe: Our values won — openness won, tolerance won, and freedom won."
The speech was the second major address in Germany of Obama's career. During his 2008 presidential campaign, some 200,000 Germans came to see then-Senator Obama deliver a major foreign policy address. Although Wednesday's crowd was significantly smaller, Obama is still very well-liked in German; according to a new Pew poll, 88 percent of Germans say they have confidence in Obama to do the right thing in world affairs.
A portion of President Obama's speech is below; the full speech can be viewed here.


AP Photo/Michael Kappeler,Pool