WATCH: Obama Pitches Climate Plan, Slams 'Flat Earth Society'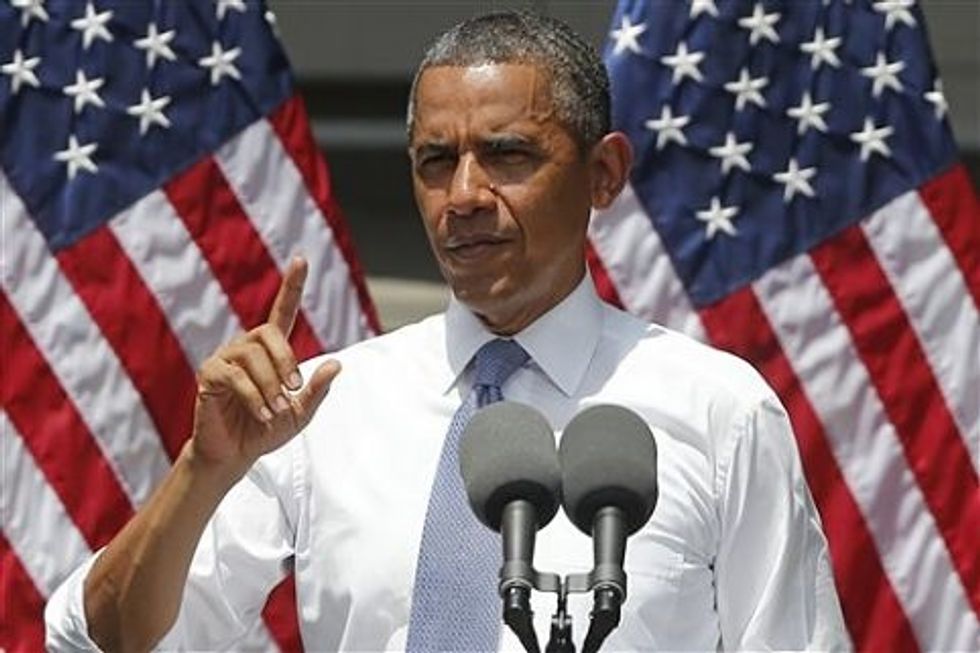 President Barack Obama presented his plan to combat the dangerous effects of climate change during a major speech at Georgetown University in Washington, D.C. on Tuesday.
"The question is not whether we need to act," Obama said. "The overwhelming judgment of science, of chemistry, and physics, and millions of measurements has put all that to rest."
"The question is now whether we will have the courage to act before it's too late," he added.
President Obama laid out his administration's new "climate action plan," which would include new federal regulations on carbon pollution from power plants, increased funding for clean energy technology with the goal of doubling wind and solar electricity generation by 2020, introducing new energy-efficiency standards, and issuing new permits for new renewable energy projects on public lands, among other initiatives.
The president also addressed the controversial Keystone XL pipeline extension, which would transport 830,000 barrels of crude oil a day, primarily from tar sands in Alberta to refineries in Texas. The extension has divided many of the president's supporters; while labor groups tend to favor the massive construction project, environmentalists fear its negative climate impact and the potential for a disastrous spill. While Obama did not divulge his decision on the project — he is not expected to issue a final verdict until this winter — the president insisted that "allowing the Keystone pipeline to be built requires a finding that doing so would be in our nation's interests." He added, "Our national interest would be served only if this project does not significantly exacerbate the problem of carbon pollution."
Almost all of President Obama's proposals would be carried out through executive actions, sidestepping Congress. With a Republican majority in the House of Representatives, there is almost no hope for any significant congressional action on climate change; to wit, in a prebuttal to Obama's speech, House Speaker John Boehner scoffed that the president's proposal is "absolutely crazy."
Obama took a shot at Boehner and his House colleagues in his address, saying, "We don't have time for a meeting of the flat-earth society."
The president's remarks echoed a speech he made in Berlin earlier this month, when Obama labeled climate change as "the global threat of our time," and warned that "for the sake of future generations, our generation must move toward a global compact to confront a changing climate before it is too late. That is our job. That is our task. We have to get to work."
Unlike Obama's speech in Germany, however, the world wasn't watching the president on Tuesday afternoon. Although the speech was arguably one of the most significant of his term, none of the major cable news networks carried it live.
Watch President Obama's speech below:

AP Photo/Charles Dharapak