WATCH: Obama Tours Boardwalk With Christie, Declares 'The Jersey Shore Is Back'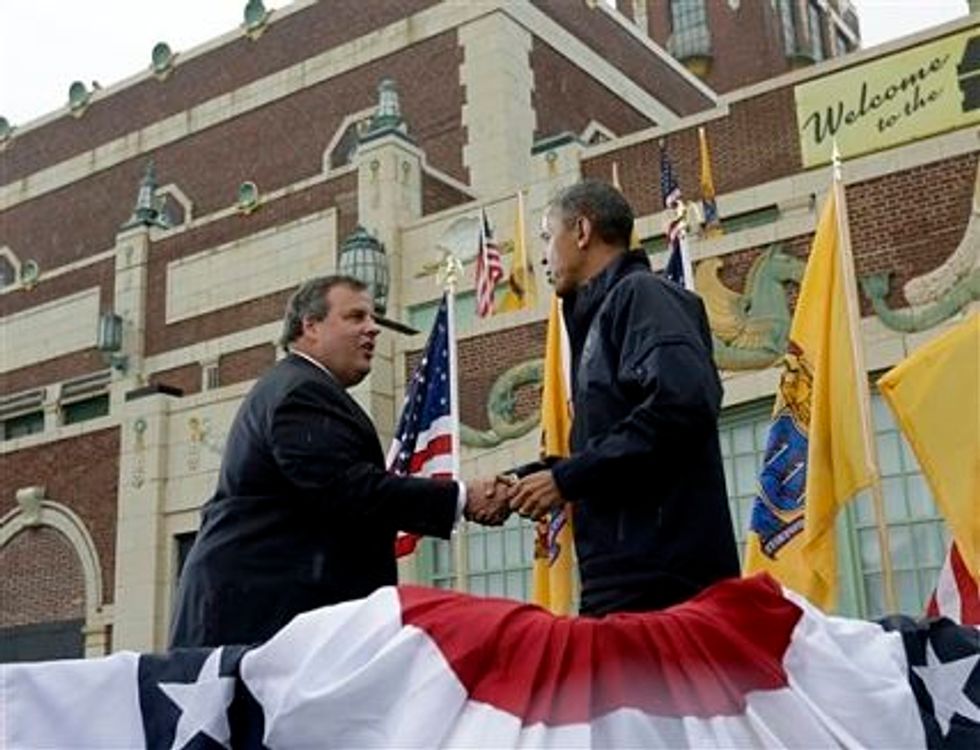 Seven months after Hurricane Sandy devastated the Eastern Seaboard, President Barack Obama declared the Jersey shore back and open for business during a Tuesday afternoon speech in Asbury Park, New Jersey.
"We all understand there's still a lot of work to be done. There are homes to rebuild. There are businesses to reopen," the president said during the energetic, campaign-style address. "But thanks to the hard work of an awful lot of people, we've got wonderful shops and restaurants and arcades that are opening their doors."
"You are stronger than the storm," Obama — echoing the state's current ad campaign — told the enthusiastic crowd. "The Jersey shore is back, and it's open for business."
After praising the Federal Emergency Management Agency's performance in the wake of the storm, the president sent a message to the victims of the tornado that recently hit Oklahoma. "When we make a commitment that we've got your back, we mean it," Obama said. "And we're not going to finish until the work is done."

Visit NBCNews.com for breaking news, world news, and news about the economy
Before Obama spoke, he was warmly introduced by New Jersey's Republican governor, Chris Christie. The two have formed a high-profile political alliance over their shared support for providing federal aid to Sandy victims — a position that has repeatedly caused tension between Christie and his fellow Republicans. Directly after the storm, which hit just days before the 2012 election, Christie effusively praised Obama and said that he doesn't "give a damn" whether Mitt Romney came to survey the damage — a combination that many Republicans insist cost Romney the election. Additionally, after the House of Representatives refused to vote on a Sandy relief bill before adjourning in January, Christie ripped the Republican majority and threatened to oppose John Boehner in the speaker's next primary campaign. As a result, the New Jersey governor was not invited to the Conservative Political Action Conference in March.
Although siding with Obama on disaster relief has hurt Christie's standing within the GOP — jeopardizing his oft-discussed 2016 presidential aspirations — it has undoubtedly helped his re-election hopes in reliably Democratic New Jersey. Obama carried the state by 17 percent in 2012, and Christie is on pace to beat that number in New Jersey's 2013 gubernatorial election. According to the latest polling, Christie leads his Democratic opponent, State Senator Barbara Buono, by over 30 points.
On Tuesday Christie made direct reference to the bipartisan streak that has helped boost his poll numbers, saying in his introduction that "we all came together because New Jersey is more important and our citizens' lives are more important than any kind of politics at all."
Before the event Obama and Christie toured the boardwalk together, surveying both the damage caused by the storm and the ongoing recovery of the local economy. At one point they stopped at the "TouchDown Fever" arcade game, where Christie won the president a teddy bear wearing a Chicago Bears jersey. The two then high-fived, creating a visual that would be pretty much unthinkable for Obama and any other Republican presidential contender.
AP Photo/Pablo Martinez Monsivais
Video of Governor Christie and President Obama's full speeches can be seen here.